MARKET515
Market515 is a one-day conference for the Central Iowa marketing professional. Attendees will hear from industry leaders about new marketing trends, strategies and tips. Catch the latest information on social media, data analytics, content creation and more. With two keynote speakers, three breakout sessions and a networking happy hour, Greater Des Moines marketers won't want to miss out!
WEDNESDAY, APRIL 17, 2019
8 a.m. - 4:00 p.m.
 
FFA Enrichment Center
1055 SW Prairie Trail Parkway
Ankeny, IA
REGISTRATION FEE:
General Public: $50
Students: $25
Catch Des Moines Marketing Partners: First two attendees per company/organization are FREE. The company/organization will be invoiced $25 per attendee for any additional registrations.
Catch Des Moines Meeting and Sports Planners: First two attendees per company/organization are FREE. The company/organization will be invoiced $25 per attendee for any additional registrations.
Not sure if you are a partner with Catch Des Moines? Look at our Business Directory to find out, or contact Kendal Burzacott at kendal@catchdesmoines.com.
On-site registration will be available. Accepted forms of payment are credit card, company or corporate check. Cash and personal checks will not be accepted. 
Attendees will be divided into three groups to participate in each of the breakout sessions after the first and last keynote speaker. These breakout sessions are 45 minutes each.
TIME
EVENT
TOPIC
DURATION

8:00 - 9:00 a.m.

Breakfast/Registration

 

(1 hour)

9:00 - 9:15 a.m.

Welcome

 

(15 min)

9:15 - 10:00 a.m.

Keynote Speakers

The DSM USA Story: Cultivating a Regional Voice

(45 min)

10:00 - 10:15 a.m.

Break

 

(20 min)

10:15 - 11:00 a.m.

Breakout Session 1

Digital Marketing + Analytics

Branding

Content Creation

(45 min)

11:00 - 11:10 a.m.

Break

 

(10 min)

11:10 - 11:55 a.m.

Breakout Session 2

Digital Marketing + Analytics

Social Media + Influencers

Content Creation

(45 min)

Noon - 1:15 p.m. 

Lunch + Keynote Speaker
Networking 101: How to Get More from Your Network

(1 hour and 15 min)

1:15 - 2:00 p.m.

Breakout Session 3

Branding

Social Media + Influencers

Events

(45 min)

2:00 - 4:00 p.m.

Networking Happy Hour + Tradeshow
 

(2 hours)
Keynote Speakers: 
Tiffany Tauscheck & Kristine Thompson, Greater Des Moines Partnership
Topic: The DSM USA Story: Cultivating a Regional Voice
Danny Beyer, Iron Horse Wealth Management
Topic: Networking 101: How to Get More from Your Network
Breakout Speakers: 
Marc Reifenrath, Spinutech
Topic: Effective Conversion Tracking
Randy Belcher, Strategic America
Topic: Mascots in Branding: GEICO Gecko
Chris Williams, 1460 KxNO/Cyclone Fanatic
Topic: Growing Your Audience: Authenticity, Community Building and Being Able (and Willing) to Zig When Your Competitors Zag
Whitney Warne, Brand Launch
Topic: The Rise of the Nano Influencer
Arren Wetzel, CLE
Topic: How Social Media and Data Analytics Drive your Event Creation
Tiffany Tauscheck

Tiffany Tauscheck, CDME, is the Chief Strategy Officer at the Greater Des Moines Partnership, the regional economic development and community development organization. Prior to joining The Partnership, Tauscheck spent eight years leading the Marketing and Development team at the Greater Des Moines Convention and Visitors Bureau as Vice President. Tauscheck helped create and manage the Iowa Caucus Consortium for the 2012 and 2016 elections.
Tauscheck's career has also included time as a television reporter at KGAN-TV and FOX 17 News, as well as overseeing the marketing and promotions of six stations at the Des Moines Radio Group. In 2015, Tiffany received her Certified Destination Management Executive (CDME) certification from Destination Marketing Association International. She is currently going through the process of attaining her Institute for Organization Management (IOM) certification through the U.S. Chamber of Commerce with an expected 2019 graduation date.
Tauscheck believes it is one's civic duty to give back to the community. She models this belief through involvement with numerous boards and volunteer committees, including UnityPoint Health – Des Moines Board of Directors, Bravo Greater Des Moines Board, Drake University National Alumni Board, Iowa Cultural Trust Board, Ballet Des Moines Board, Community Foundation of Greater Des Moines Marketing Committee and Chair of the Marketing and Communications Council for the Association of Chamber of Commerce Executives (ACCE) for North America.
Due to her supportive family, friends, colleagues and mentors, Tauscheck was the first female to be named Juice Young Professional of the Year in 2011 and the first recipient of the Business Record's Emerging Woman of Influence award in 2014. She was named the Metro Women's Network 2015 Woman of the Year, one of the nation's top Forty Under 40 leaders in nonprofits and associations by USAE in 2014 and Drake University's National Young Alumni Achievement Award Winner in 2018. In 2019, Tauscheck won an international 40 Under 40 Award for being a "rising star" in economic development.
Tauscheck was a 2008 Business Record Forty Under 40 Honoree and a 2009 graduate of the Greater Des Moines Leadership Institute, a 2017 graduate of Drake University's Executive Leadership Program and a 2018 graduate of the Association of Business and Industry's Leadership Iowa program.
Tauscheck graduated from Drake University with a Bachelor of Arts in Journalism and Mass Communications. She and her husband, Mark, have two children, Ty and Tenny. 
Kristine Thompson

Since 2015, Kristine Thompson has served as Director of Marketing at the Greater Des Moines Partnership — the economic and community development organization serving Greater Des Moines (DSM). Thompson's role includes marketing, advertising, research and branding efforts for more than 40 Partnership-affiliated entities, initiatives, campaigns and events. In 2016, The Partnership won a Grand Award for its Brand Standards and Style Guide from the Association of Chamber of Commerce Executives (ACCE), through its Awards for Communication Excellence competition.
A UNI grad, Thompson knows the Greater Des Moines market well having served in various marketing and communications roles at the Greater Des Moines Convention and Visitors Bureau for four years. Additionally, Thompson has a marketing agency background with prior experience at Two Rivers Marketing as well as Strategic Marketing Services and Amperage (formerly ME & V Advertising Agency) in Cedar Falls, Iowa.
Arren Wetzel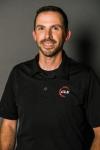 Arren Wetzel founded CLE in 2002 and remains an active part of the company today. He has over 30 years of audio and lighting experience, having started at an early age with his father's production company in Michigan. 
Danny Beyer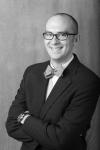 Danny Beyer is a networking specialist and bow tie aficionado. He helped organize the Des Moines Area LinkedIn Social – an event that connected hundreds of professionals from throughout the Greater Des Moines area to build in person relationships.  In 2013 he co-founded the Bow Tie Ball, a charity event centered on bow ties and networking that has raised over $80,000 for Variety, the Children's Charity.  His book, "The Ties that Bind:  Networking with Style" was published in 2015.
Danny is a keynote speaker on networking and building relationships. He has been a contributor to the Business Record and DSM Magazine.  In 2013 he was chosen as the Amy Jennings Young Professional of the Year through the Greater Des Moines Partnership's Young Professionals Connection and was selected to the 2014 Business Record 40 Under 40 group.
Whitney Warne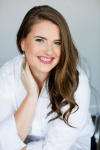 Whitney Warne is one half of the Brand Launch dynamic duo. In partnership with Emily Steele, Whitney specializes in building community brands using grassroots marketing techniques and nano-influencer strategies. Brand Launch introduced the #dshummingbird charm to Des Moines in July of 2018. #dsmhummingbirds are a group of vocal community builders who love trying new things and sharing their new-found products and services on social media. Together, Whitney and Emily are at the forefront of unconventional, people-focused marketing and they love spreading the word about incorporating authenticity and community into brand building strategies!
Randy Belcher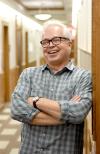 Randy Belcher is the Executive Creative Director at Strategic America. With a strong background in both branding and direct response, Randy spent 18 years at Doner Advertising in Detroit, where he worked on health care, home products and financial services. His clients included ADT, AAA, Owens Corning, Purell, Geisinger Health, Ohio Health, Bristol-Myers Squibb, Progressive and plenty more. Before joining Doner, Randy spent 12 years at The Martin Agency in Richmond, Virginia, where he helped to pitch and win the GEICO auto insurance business. This included writing the line, "15 minutes could save you 15% or more" and co-creating the GEICO Gecko, one of America's most beloved advertising icons.
Chris Williams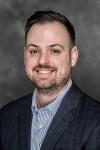 Chris Williams has published Cyclone Fanatic Media since 2009 and beside co-host Ross Peterson, can be heard daily from 4-6 on Des Moines Sports Station, 1460 KXnO. Williams, a 2007 graduate of Iowa State University, is also a staple on Cyclone football and women's basketball broadcasts throughout the season. Chris loves creating great content for his followers but is most passionate about creatively growing brands in the digital age. Chris is married to his wife Ashley and has a 4-year old daughter named Camryn. 
Marc Reifenrath

Marc Reifenrath is one of the founders and President of Spinutech, a premier all-digital agency based in the Midwest with offices in Chicago, Des Moines and Cedar Falls. Founded in 2000 as a web design and development company, Spinutech has evolved over the last six years into a full service digital marketing agency with 65 team members. In 2018 Spinutech was named to the INC 5000 list (2,045th) and continues to grow, serving clients in all 50 states and 10 countries. Marc lives in Parkersburg, IA with his wife, three children, and their dog.