CLIVE
There's a little something for everyone in Clive! Need a few ideas to get you started? 
​
Tour the Swanson House and take a trip back in time. Built in 1911 and run by Scennia Swanson, the Swanson House served as a general store and post office until 1929. It was returned to its original state in 1991 to allow visitors to see a part of the community that helped shape Clive. 
Put on your walking shoes, grab your friends, and stroll down this scenic trail in the heart of Clive. This 11.3-mile trail forms part of the central Iowa trails network through twists and turns along Walnut Creek. When hopping on this trail you have the choice of heading west toward the Heart of Warrior Trail and the Raccoon River Valley Trail, or east toward Waukee, Windsor Heights, Des Moines, and many other metro cities. The thick trees lining the path allow trail-goers to enjoy the peace of nature while offering the convenience of taking breaks at popular restaurants, stores, parks, and even the public library. And trail tidbit: make sure to hit the trail between May and September to see the Art Along the Trail exhibit. The installation features six sculptures crafted by local artists. At the end of the exhibition, one of the works is selected as a permanent sculpture in the city's public collection! 
Along the Clive Greenbelt Trail, you can find a small herd of goats that the city has to clean up invasive brush. As the goats graze on understory plants like garlic mustard and honeysuckle, native plants have the chance to grow back and return the area to its original landscape. This project will take a few years as the goats slowly move from section to section, but eventually, the aggressive weeds will be fully removed, and the trail's trees, shrubs, grasses, and wildflowers will be able to flourish. Clive Greenbelt Goat shirts are available for purchase through the city. $20 for adult sizes, $15 for child sizes.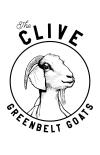 This microbrewery has a revolving line of beers, so expect a new combination of taps every time you visit. The agave lime wheat beer, Mexican Spring, is particularly popular - it won gold in the Fruit Wheat Beer category at the largest commercial beer competition in the world, the Great American Beer Festival® (GABF®) Awards! They also have another gold medal winner in their rotation of taps, the Belgian quadruple won gold in the Belgian Dubbel or Quadrupel category. 
CLIVE CRISIS RESOURCES
Dymond Public Safety Center: (515) 278-1312, 8505 Harbach Blvd., Clive IA
​Polk County Resources: 

Sheriff's Office: 1985 NE 51st Place, Des Moines, IA, 50313
Administration: (515) 286-3814
Communications/non-emergency: (515) 286-3333
Law Enforcement: (515) 286-3306