2023 Make-A-Wish® Iowa Jolly Holiday Lights
Top five must-see/do things at this year's Jolly Holiday Lights
#1: Wish Shop and Coupon Book 
Jolly Holiday Lights Wish Shop
We are excited to announce our Wish Shop will be back this year and open for business at the Outlets of Des Moines! Join us at this year's Wish Shop in suite 634 near Nike. We have already talked to Santa. He has cleared his busy holiday schedule and is excited to join us again at the Wish Shop and several special shopping events throughout the Jolly Holiday Lights season from Nov. 17–Jan. 7. You can take a photo with Santa, purchase Make-A-Wish merchandise, toys for the family and donate to support Make-A-Wish Iowa!  
One of our merchandise items this year is a Make-A-Wish Iowa star cookie cutter! When you purchase the cookie cutter, you will find wish kid Max's frosting recipe inside!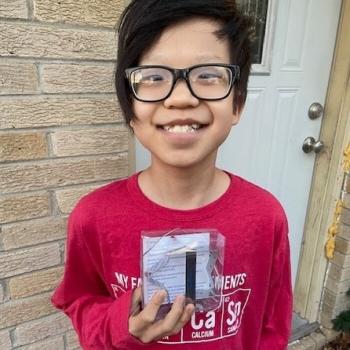 Jolly Holiday Lights Coupon Book 
Support wish kids in Iowa by purchasing a Jolly Holiday Lights Coupon Book! The coupon book includes coupons to various stores at the Outlets of Des Moines. Stores include Chocolaterie Stam, Levi's Outlet, Old Navy Outlet, Windsor and more! 
Only physical copies will be available to use. Coupon books can be picked up in the Wish Shop at the Outlets, suite 634, during the Jolly Holiday Lights season. Coupons are valid from November 17, 2023, through January 31, 2024. 
#2: Breakfast with Santa
Bring your family for an exclusive Breakfast with Santa event. This ticketed event is the perfect opportunity for children to share their wish lists with Santa while enjoying a delicious breakfast provided by Early Bird Brunch. Located in the Outlets food court, breakfast will be a build your own breakfast burrito/taco bar. Mini cinnamon rolls will be provided by Cinnaholic. An adult ticket is ages 12 and older. Child age is 3–11 years old. Children ages 2 and under are free to attend. The event is Saturday, December 2, 2023, from 8–10 a.m.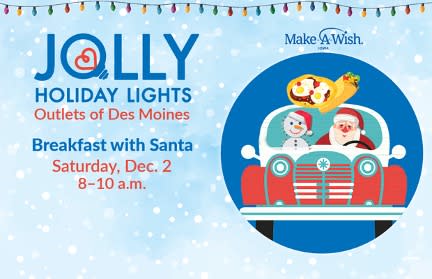 #3: The Daily Lights-to-Music Show and Photo Ops 
This year's event will feature the incredible Lights-to-Music Show that guests can immerse themselves in as they walk through a winter wonderland while shopping for friends and family.  The free Lights-to-Music Show will be every 30 minutes from 5 p.m. until 30 minutes before the mall closes. 
To view the light display directory, wish stories and play games, or if you are interested in sponsorship opportunities or want to learn more, visit www.jollyholidaylights.org or email jhl@iowa.wish.org. 
There will be no Lights-to-Music Show on the following dates due to the operating hours of the Outlets: November 22, November 23, December 24, December 25 and December 30. 
While you're visiting, be sure to have your picture taken with our life-sized teddy bear, polar bear or sitting in the candy throne! Don't forget to tag #JollyHolidayLights in your post!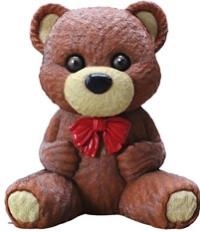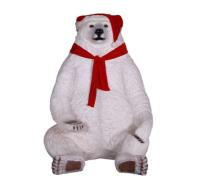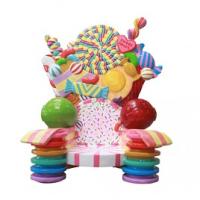 #4: Sip & Shop Night  
Grab your spouse or closest friends, call a babysitter and come enjoy a night of last-minute shopping with a drink in hand! Join us for a fun night of the best of both worlds — shopping and making a difference! 
Your Private Bar will provide beer, wine, mulled hot red wine sangria, holiday beers and hot chocolate. Millstream Brewing Co. will provide beer samples, and Lucky Wife Wine Slushies will provide wine slushie samples. Flavors include homemade ice cream, strawberry, pina colada, mojito, wild berry and green apple. 
The Midwest Local Vendor Market will also be at Sip & Shop Night! Several vendors will donate a portion of sales to Make-A-Wish Iowa. Tupelo Honey will provide small snacks and drink samples. Nothing Bundt Cakes will sell bundt cakes with 10% of sales donated to Make-A-Wish Iowa. 
Each guest will receive two drink tickets that can be redeemed at Your Private Bar. The event is located at suites 315 and 325 at the Outlets of Des Moines on Friday, December 15, 2023, from 5–8 p.m. Participants must be 21 or older to attend.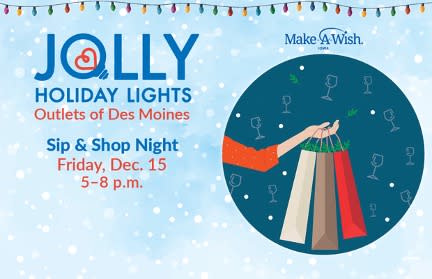 #5: Support Iowa Wish Kids 
Make-A-Wish Iowa started Jolly Holiday Lights over 25 years ago to raise money to grant wishes for Iowa children with critical illnesses. Since then, Jolly Holiday Lights has become the organization's largest fundraising event, funding more than 1,000 wishes to date. Make-A-Wish Iowa is excited about this year's new adventure at the Outlets of Des Moines, where families can carry on this holiday tradition.  
There are nearly 400 kids in Iowa waiting for their wish to be granted. Make-A-Wish Iowa serves all 99 counties in the state broken out into 11 area volunteer regions: Burlington, Cedar Rapids, Cedar Valley, Clinton, Council Bluffs, Des Moines, Dubuque, Iowa City, Mason City, Riverbend and Sioux City.  
Be a part of something bigger! Bring your family and friends to Jolly Holiday Lights to make a child's special wish come true. You can even bring your furry friend to our Pet Photos with Santa event on Dec. 6 or your little ones to enjoy a train ride around the Outlets Dec. 8 and 9. No matter what event you attend and who you attend it with, your participation can make a difference!