Des Best of the
Iowa State Fair
The Iowa State Fair is a mind-blowingly big deal. There are hundreds of food stands and hundreds of events across hundreds of acres … so where do you even start? Right here, of course, with the best "best of" lists ever made for the Iowa State Fair. Curated by Greater Des Moines' foremost authorities in their respective fields, these lists will help you have the best day ever at the best fair ever.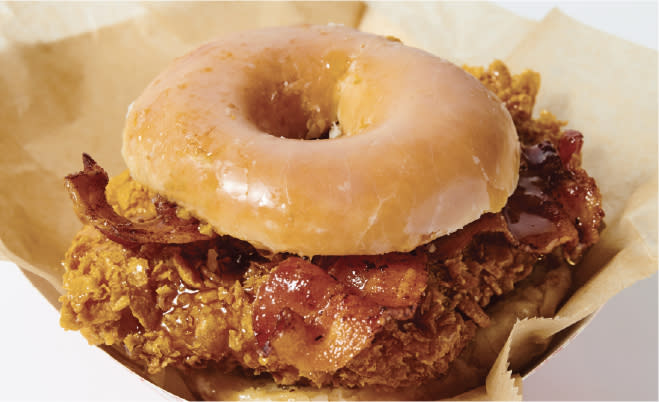 1. MEXICAN GRILLED CORN ON THE COB
Hey, there's no need to sell you on Mexican street corn with Iowa sweet corn. Just go ahead and join the cob-in club at, where else, but The Corn Stand.
2. JR's SOUTHPORK RANCH LOBSTER ROLL
The fair's most expensive food more than lives up to the hype (and the price tag). Trust us, this mountain of fresh Maine lobster nestled between two pieces of luscious Texas toast made our list of the best sandwiches not just at the fair, but in the entire city. JR's Southpork Ranch is located across from the Pavillion.
3. OMG CHICKEN SANDWICH
What else would you name a sandwich with cornflake-fried chicken on a fluffy cloud of a glazed donut bun? Experience one of these exclamation-worthy sandwiches at Chicken City, near the Susan Knapp Amphitheater on the Grand Concourse.
4. PORK BELLY ON A STICK
This elevated take on a certified Iowa State Fair classic earned a mention in our very own list of the best fair foods from last year. You can find it at Iowa Pork Producers Association in the Ag Building on Grand Avenue.
5. IOWA STATE FAIR LEMONADE
It can be your superhero on a sunny day. Or play the sidekick to anything else on this list. And yeah, you can find it quite literally everywhere at the fair.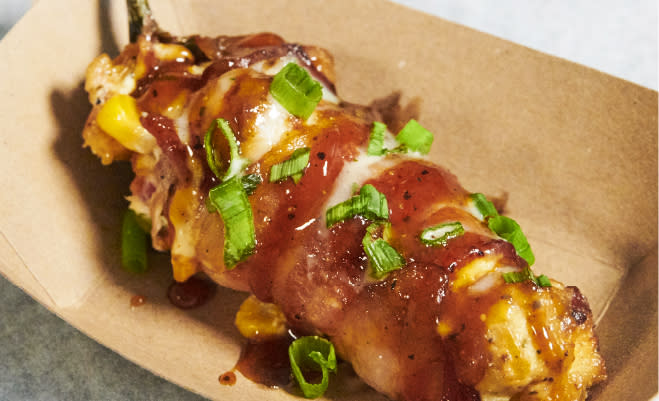 1. IOWA TWINKIE
This year, Whatcha Smokin' BBQ & Brew is introducing a new era for the bacon-wrapped jalapeno. Made with local ingredients and house-made sauces, this pepper is stuffed with pulled pork, sweet corn, cream cheese, ranch seasoning and drizzled with a Sweet + Sticky BBQ glaze. So, every bite is the perfect combination of Iowa nice with a little bit of spice. Find it just west of the Jacobson Building.
2. SHRIMP POKE BOWL
Looking for an escape from all the deep-fried deliciousness? Try Shrimp Shack's fresh poke bowl. This flavor oasis has edamame, pineapple, carrots, cucumbers, shrimp and crispy onion tossed with mayo and their special "sushi sauce" and placed on a bed of rice, creating a symphony of dynamic flavors that will leave your taste buds singing. Grab yours at their stand west of the Riley Stage.
3. GRINDER BALL
The Bacon Box's new take on the classic grinder sandwich will make any bacon lover's mouth water. These delicious bacon balls are stuffed with fresh mozzarella, wrapped in even more bacon and rotisserie smoked before being dipped in warm marinara sauce. What makes it even better? This ball of goodness has all the flavor, and it's completely gluten-free! Grab your Grinder Ball and a bottomless soda just north of the Varied Industries Building.
4. CHOPPED ITALIAN CHICKEN HOAGIE
You may have seen chopped sandwiches on social media, but no one makes them quite like Hagar's Hoagies. Overflowing with chicken, cheese, peppers and their secret sauce, the ingredients are chopped finely together, so you get all the best flavors with every bite. Located just west of the Jacobson Exhibition Center, you won't want to miss the chance to try the sandwiches so good, they're going viral.
5. DILL PICKLE FLAVORED CHEESE CURDS
Our obsession for pickles and cheese curds runs deep, and this year, longtime cheese curd vendors, Brad & Harry's, have married the two to create the ultimate savory snack. The dill-seasoned outside packs a crunch, while the ooey-gooey inside will have you racing to take a selfie with the perfect cheese-pull. Try them at either of their locations: outside the NE corner of the Varied Industries Building and/or just west of the Jacobson Exhibition Center.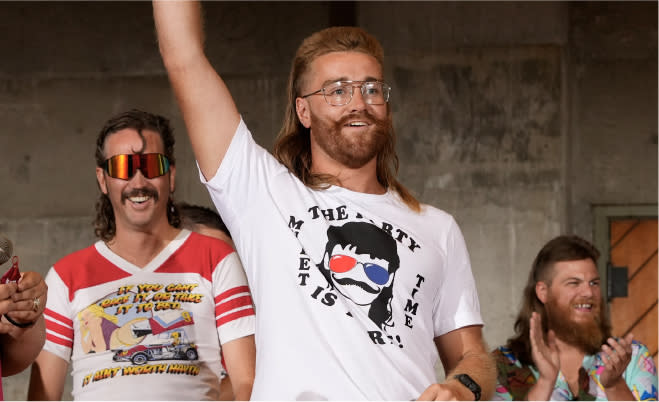 1. MULLET WATCHING AND RATING
The mullet is having a moment — and according to our foremost authority, a self-proclaimed "fearless member" of the mullet club — there will be a comprehensive range of ris on the hairstyle at the fair. The best of the best will go head-to-head in the Mullet Contest at 4 p.m. Sunday, August 20 in the Oman Family Youth Inn … but only one will be crowned champion.
2a. SELFIES WITH THE BIG BOAR
The winner of the 2022 Big Boar Contest was a 1,300-pound Hereford hog by the name of Pee-Wee. Per tradition, this year's big winner will also be available for photos with fairgoers inside the Swine Barn.
2b. HUSBAND CALLING CONTEST
Yes, it's real, and this TikTok of the 2017 contest is proof. You can listen to this year's contestants compete for the $5 grand prize anywhere within a few football fields of the Farm Bureau Pioneer Hall at 10 a.m. Friday, August 18.
3. YE OLD MILL
This float ride next to the Midway on Grand Avenue just might be the most legendary make-out spot in the state of Iowa. The vibes are delightfully, charmingly creepy like only a 1,500-foot, 100-year-old canal can be.
4. FREE STUFF
In addition to all the free entertainment, there will indeed be an endless stream of goodies given away all across the fairgrounds. But we'll let Andrew speak to the unifying power of free stu: "I love that every adult's inner child comes out when oered a free pencil, sticker, sponge, bottle opener, bottle of water, paper fan, and chance at a free trip to Fiji, while simultaneously being recruited for the Army and sold on a hot tub, sauna, and Slap Chop. (No judgment. I own two of those three.)"
5. UGLIEST CAKE COMPETITION
The Bret and Amy Doerring Ugliest Cake Contest will be judged at 2 p.m. Friday, August 11 in the Ewell Family Food Center, Room 4. Plus, take this pro tip from Des Moines' own master cake artist: "It's fun to go look at the food in the cases on the last days of the fair because they are all rotten and moldy — and I find that delightful."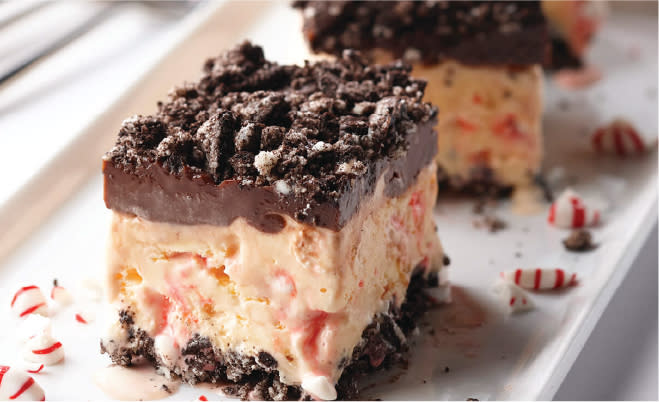 1. MINI FUNNEL CAKE
If you get a decadent rush from cracking open one of mini cans of Coca-Cola, then this fun-sized funnel cake will make for the perfect treat. Not to mention the cute factor for photos. Feed you and your followers at Baby Cakes, which is east of the north VI entrance on Grand Avenue.
2. CRESCENTI
Crescenti's Sandwiches, which are generally just called a "crescenti" by seasoned fairgoers, use fried bread as the canvas for both sweet and savory toppings. Get one for breakfast, lunch and/or dinner in the southeast corner of the Administration Building.
3. PINEAPPLE WHIP
This pineapple soft-serve needs no introduction. Besides a bad case of brain freeze, there's absolutely nothing stopping you from going to the southwest side of the Administration Building and downing a half dozen.
4. BAUDER'S ICE CREAM BAR
Bauder's ice cream bars come in three flavors: peppermint, mocha and an extra chocolaty pecan. The peppermint bar is the icon of the trio, with two inches of peppermint ice cream drizzled with hot fudge sandwiches between Oreo cookie crusts. But feel free to try one, two or three of each on the west side of the Agriculture Building.
5. NITRO ICE CREAM
Without getting into a bunch of science stu, this ice cream is flash-frozen with liquid nitrogen instead of boring old ice cubes — and the results will rock your socks (or Birkenstocks, if you're sockless). And guess what? The process was developed by chemical engineering students at Iowa State University, making this ice cream the best thing invented in the state of Iowa since sliced bread.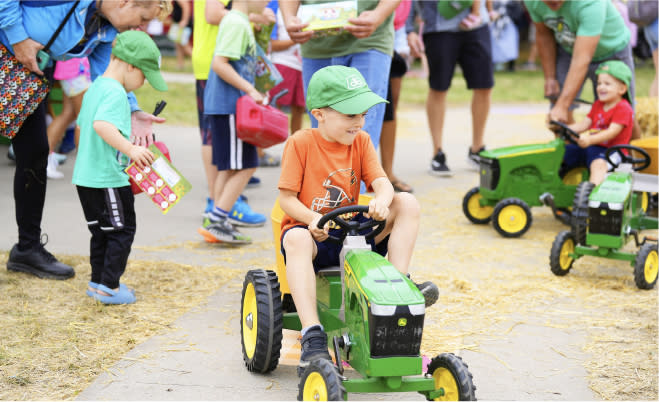 1. LITTLE HANDS ON THE FARM
Kids can become farmers and learn all about agriculture at this free, hands-on exhibit in the Kids Zone. The exhibit's journey from farm to grocery store gives kids the opportunity to feed pigs, pick apples, ride around on tractors and more. But most importantly, they also get to wear adorable aprons, so you're guaranteed to get great photos.
2. GIANT SLIDE
Just in case you haven't been in a few years, the Giant Slide is located southeast of the Varied Industries Building. But don't worry, it's still yellow and green … and gloriously giant.
3. BUTTER COW
To see the Butter Cow through the eyes of a child is to rediscover the magic of life itself. You and your family can behold the David of Iowa inside the Ag Building, just like always.
4. SKY GLIDER
When your dogs are barking after a whole lot of walking, it's time to rest your weary legs on the sky glider and let them dangle in the air above thousands of fellow fairgoers.
5. SENSORY-FRIENDLY MORNING
It's awesome to see this back after such a successful launch last year. The 2023 Sensory-Friendly Morning will bring down the lights and sounds a notch or two for children and adults with autism or sensory processing disorders. Head over to the fair's site to learn all about the event.