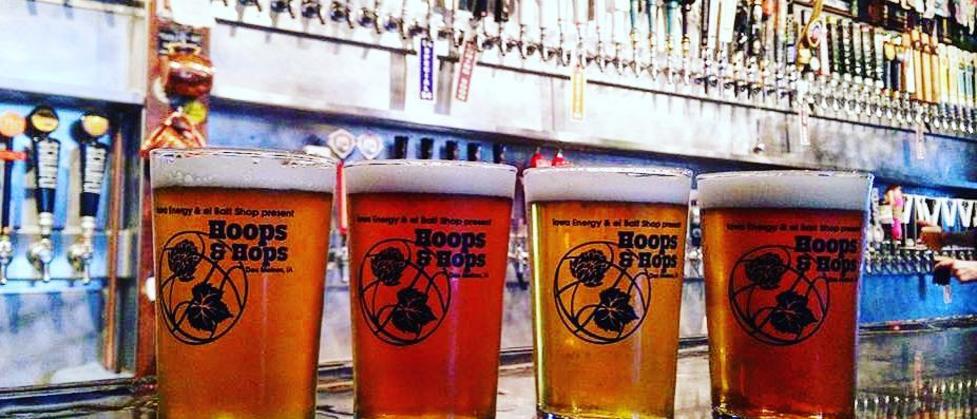 St. Patrick's Day weekend in Des Moines is almost here! Whether you are looking to enjoy the traditional St. Patrick's Day activities or just want to grab a drink with your friends, Greater Des Moines has something for you. Put on your green (or don't) and spend the weekend enjoying food, sports, music and more. We pulled a list of events happening Thursday through Sunday. Here are seven things you and your friends can enjoy in Des Moines this St. Patrick's Day weekend!
Beer Mug Painting at Peace Tree Brewing
Before you start drinking green beer this weekend, paint your own mug at Peace Tree Brewing Company. Paint your own Starry Night beer mug or choose an iconic Peace Tree image to go rogue with. One of their talented artists will guide you through the painting process. With the cost of registration, you'll receive free beer samples, all art supplies, artists-led instruction, and two take-home beer mugs.
Blake Shelton
If country music is your style, check out Blake Shelton when he comes to Wells Fargo Arena March 14! Featuring special guest Laura Alaina, Shelton will be rocking the Wells Fargo Arena stage with songs from his 11 albums. On his "Friends & Heroes 2019" tour, Shelton has special appearances by the Bellamy Brothers, John Anders, and Trace Adkins. Grab your ticket and see who will be appearing in Des Moines.
St. Patrick's Day Parade 2019
The St. Patrick's Day Parade is a staple for the Greater Des Moines community and a must watch for anyone in town Saturday. See all things Irish as lads and lasses stroll through the parade route, following floats and handing out green beads. You may even spot a leprechaun or two. The parade starts at noon at 15th and Mulberry streets and travels north to Grand Avenue, continuing east to Eighth Street!
Hoops and Hops
Head down to Cowles Commons on March 16-17 for St. Patrick's Day, to watch all the hoop action and Selection Sunday at The Iowa Craft Beer Tent! The heated Iowa Craft Beer Tent has a 50-foot wall of televisions and heat and offers a cold drink tailored towards anyone's liking. For more information about Hoops and Hops click HERE.
St. Pat's Day
Grab your favorite lad or lass and take on St. Pat's Day with The Hall, Sully's, The Front Row and Mickey Finn's. The St Pat's Day party offers free shuttles between the four locations, live music, food and of course, beer! Whether you're wanting to join an Irish Jam Session or rock out with the Jeffery Scott Band live at The Hall, the St. Pat's Day party will be fun for all!
Court Avenue
If you're looking to grab something besides a green beer, check out Court Avenue! With over 20 places to grab a drink in a three-block span, Court Avenue has an option for everyone. Featuring a stock market style bar and of course, an Irish bar, Court Avenue is one of the best places to grab a drink and enjoy the nightlife in Greater Des Moines.
St. Paddy's Dodgeball Tournament
Visit Smash Park and sign up for the St. Paddy's Dodgeball Tournament. With teams of six, the dodgeball tournament is great for anyone looking to get in a workout before the festivities. Come decked out in your favorite Irish attire to be in the running for a $200 Smash Park Gift Card. Make sure to be on the lookout for pop-up games to win food and drink specials!
Share your Des Moines St. Patrick's Day experience with us on social media using our hashtag #catchdsm for a chance to be featured on our channels!