Des Moines' food scene has been rapidly trending up over the last decade. Des Moines just recently had three local chefs named semifinalists for the 2014 James Beard Foundation Awards, which is often described as the Oscars of the food world. Having grown up in Central Iowa and living in Downtown Des Moines, I have had the chance to try many different restaurants and many different cuisines in the Metro. With everything from great French and Italian cuisine to Japanese sushi and hibachi, it's never a problem finding an amazing place to eat. Trying to decide on one is another story, so I am going to do my best to keep it simple. And sometimes what's simpler than heading out with a good friend or co-worker to get a burger? I decided to try to rank my top five favorite burgers in Des Moines. This was A LOT more difficult than I had anticipated, but I think I've got a "well-done" list. (pun intended)
5. Raccoon River Brewing Company – "The Hooligan"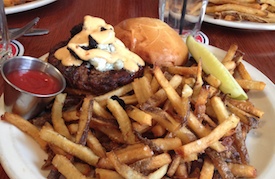 Cool name, better taste. All of the burgers at Raccoon River Brewing Company are made with 8 oz. of premium Iowa beef. The Hooligan is topped with blackened beef tips with chipotle mayo. It is also topped with world-renowned Maytag blue cheese crumbles.
4. Zombie Burger – "Raygun"
Zombie Burger + Drink Lab is extremely popular in Downtown Des Moines' East Village. Zombie artwork and décor fills this restaurant that serves some pretty wild burgers and shakes. With a selection of more than 20 different burgers with names such as "Juan of the Dead," "Undead Elvis" and "They're Coming to Get You Barbara," I usually opt for my go-to burger, the "Raygun." It comes in a single, double or triple patty option and is topped with Monterey jack cheese, fried jalapenos, caramelized onions, bacon, guacamole and chipotle mayo.
3. Django – "Le Cheeseburger"
Better known for their fine-dining French cuisine, Django also makes an amazing burger. This burger has no need for a unique or intriguing name. All burgers are ground fresh in house and are served on a local artisan bun from South Union Bakery. You have the choice of Swiss, Gorgonzola or white cheddar cheese and the option to add smoked bacon.
2. B&B Grocery, Meat & Deli – "Quadzilla"
B&B Grocery is a local, family owned and operated grocery store and deli that opened in 1922. Last year, Andrew Zimmern of the Travel Channel, named B&B Grocery one of the top burger joints in the Midwest. They are known for their "Killer" sandwiches, which are massive. The "Quadzilla" is usually one of my go-to meals the day after a night out. This burger consists of four grilled beef patties totaling more than a pound of beef. It is made with American cheese, ketchup, mustard, lettuce, tomato, union and pickles on a grilled bun. This one is very tough to finish, so if you are up for a little challenge, go for it!
1. B-Bops
B-Bops is a double drive-thru restaurant that was founded here in Des Moines in 1988. They have been voted as "Best Burger in Des Moines" for years by different publications and I can say it has always been my favorite burger also. I usually go with the ½ pound cheeseburger every time. Also, make sure to get a chocolate shake. You can thank me later.
-- BK