Wake up and smell the BBQ. In Greater Des Moines, we smoke our meat for hours, make our own rubs and sauces and as a result deliver award-winning BBQ to hungry visitors and locals. Whether you like it piled high on a plate or sandwiched in a bun, it's easy to get your BBQ fix in Greater Des Moines.
With six locations across the metro, this BBQ joint is known for its delicious menu and sports bar feel. Their success is thanks to a wood fire smoker and a special BBQ rub sauce. All of Jethro's recipes and side dishes are made from scratch daily, which is why patrons love every bite of the large portions they put on the table. Dip into sides like mac and cheese or jalapeno cream corn. Their meat is slow smoked over oak and hickory chips, ensuring a smokey, juicy and tender result. Patrons rave about the ribs, wings and well… just about everything!
RELATED: Greater Des Moines Restaurants
RELATED: Discounts at Greater Des Moines Restaurants, Retailers & Attractions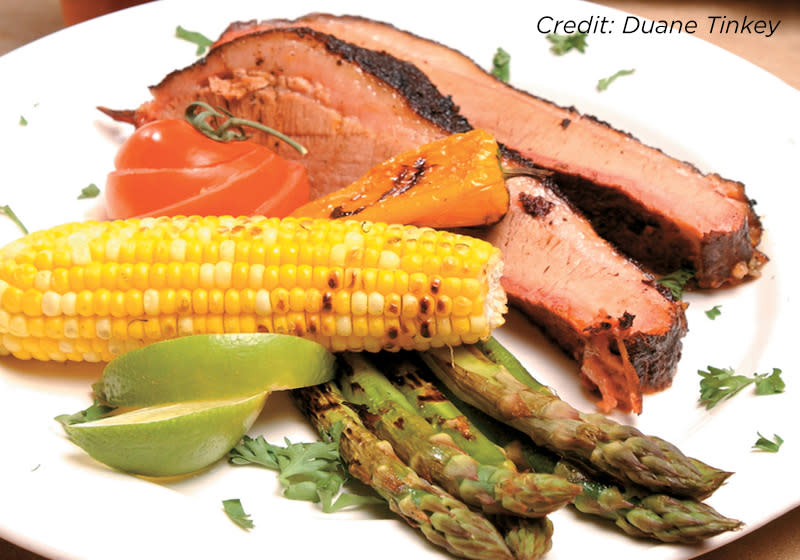 Flying Mango
Nestled in the Beaverdale neighborhood, Flying Mango developed its reputation because of its award-winning, succulent southern barbeque and bold flavors of the Caribbean. Since 2003, this restaurant has garnered attention locally and nationally, including an appearance on Diners, Drive-Ins and Dives. People rave about their 24-hour cherry-wood smoked beef brisket. The crust on the brisket is cooked to perfection and some say it doesn't even need the house barbeque sauce! Patrons can add two side dishes with their meat including, grits, braised collard greens with bacon, cornbread with honey butter and oven-roasted spiced apples.  
RELATED: As Seen on TV Restaurants in Greater Des Moines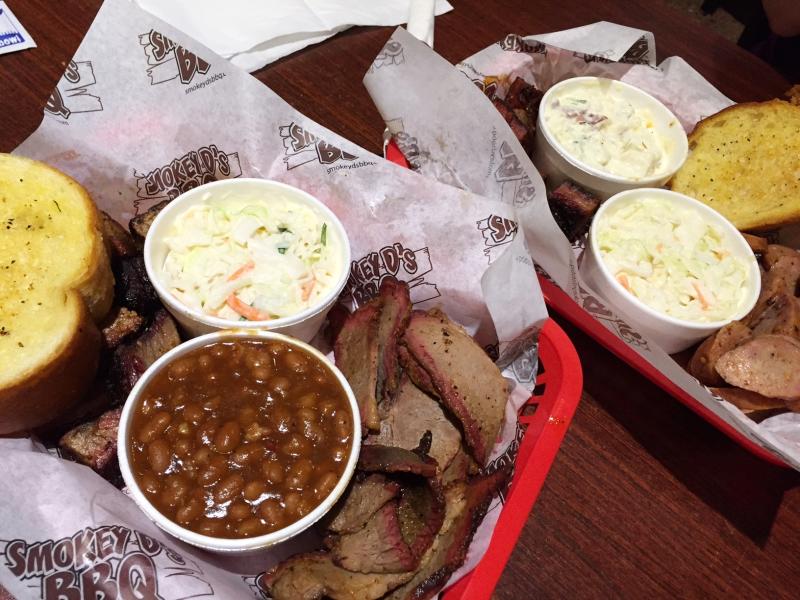 Smokey D's
If you want award-winning BBQ, look no further than Smokey D's. The owners have won more than 60 state BBQ Championships and more than 700 local, regional and national BBQ awards. Enjoy a classic BBQ sandwich, ribs or their delicious burnt ends. The restaurant started as a food trailer and now has three locations across the metro, going through about 1,200 racks of ribs a week. Meals come with made-from-scratch sides such as their potato casserole and mac and cheese. Don't forget an apple dumpling dessert!
RELATED: Food & Drink Events in Greater Des Moines
Famous Dave's Bar-B-Que
If you're looking for BBQ near West Des Moines, make sure to try Famous Dave's Bar-B-Que. Their BBQ starts in a live-wood smoker with genuine hickory logs. Their pit masters hand-run the meats with a custom blend of spices and cook for hours to extract natural flavors. Ribs are a staple to Famous Dave's Bar-B-Que. The ribs are pulled out of the smoker and tossed on the grill to caramelize the sauces, creating chargrilled sweetness on the outside locking in the deep smoky flavor, all before hitting the table. When dressing your ribs don't forget their award-winning sauces. From Rich & Sassy to Sweet & Zesty to Pineapple Rage, Famous Dave's original sauces let you create your own legendary BBQ experience. With more than 700 awards, Famous Dave's Bar-B-Que is a staple to Greater Des Moines BBQ.
Woody's Smoke Shack 
Located right off Drake University and downtown Des Moines, Woody's Smoke Shack is a BBQ gem in the metro. Woody's Smoke Shack has been serving up top notch smoked meats to visitors and natives alike for decades. Try some of their delicious half pound ribs, chicken, pulled pork or brisket. For a side, try their cheesy potatoes, potato salad or mac and cheese. Before you leave make sure to put in an order for some of their fresh baked cornbread. Whether you're looking to grab a half pound of ribs or a pulled pork sandwich, Woody's Smoke Shack has it all.
Butchers BBQ & Brews
With the slogan "we like our meats moist and our drinks stiff," Butchers is serving up some great BBQ and ice-cold brews. The signature meats at Butchers are smoked low and slow once a day. Adding secret rubs and smoking techniques aids to the one-of-a kind BBQ experience.  Start your meal off with truffle fries, fries tossed with garlic truffle oil and topped with parmesan cheese and balsamic glaze. Next, grab a 1-2-3 meat plate and pile on some of their cooked brisket, pulled pork, chicken ribs or sausages. If there's still room, try their cobbler of the week and wash it down with one of their signature drinks. From mules to sours, Butchers BBQ & Brews has something for every visitor.