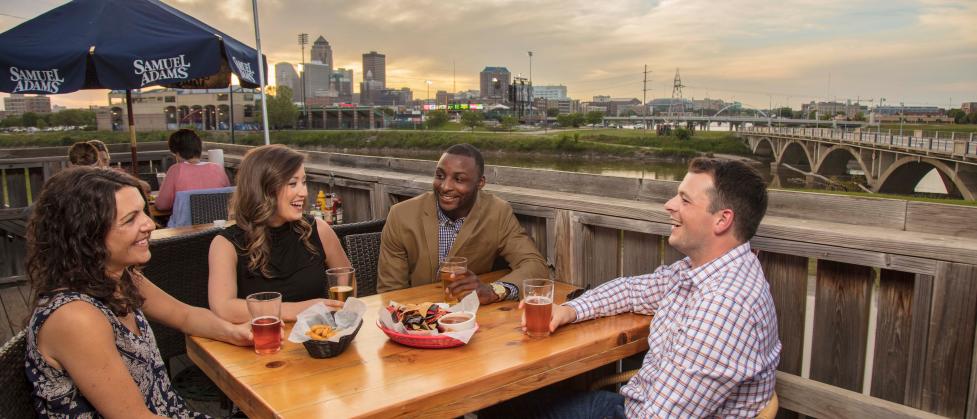 Have you been cooking too much the past few months and miss your favorite restaurants? Good news! Greater Des Moines has plenty of outdoor dining options, ready to welcome you back safely. Dine outside at any of these restaurant patios and enjoy some fresh air, tasty bites, and refreshing beverages, all at a safe distance. 
Malo 
The Des Moines destination for Latin cuisine, Malo, is an urban oasis surrounded by the cityscape. The patio includes umbrellas to shade you from the sun and bistro lights for relaxing ambiance after dark. Don't sleep on the tasty sangria and seafood nachos! View Malo's menu. 
Location: 900 Mulberry St. Des Moines, IA 50309  
Eatery A 
Eatery A is known for the wood fired pizza and delicious Mediterranean small plates. But let's be honest, what they're most known for is the best happy hour deals in town, from 3pm – 6pm every day. Enjoy the good life on their large outdoor patio overlooking Restaurant Row on Ingersoll Avenue. Check out Eatery A for the full menu. 
Location: 2932 Ingersoll Ave. Des Moines, IA 50312 
Gilroy's Kitchen + Pub + Patio 
When "Patio" is in the name, you know you're in for a good time at Gilroy's! Famous for Moscow mules and weekend brunch, you can enjoy your favorite elevated pub fare on the covered patio at Gilroy's. Check out the menu full of "stylish American comfort food" at Gilroy's Kitchen.
Location: 1238 8th Street, West Des Moines 
The Beerhouse 
With twinkling lights and fragrant flowers climbing the pergola over the patio, The Beerhouse truly puts the "garden" in beergarden. Feel like you've escaped to a tropical paradise even though you've just traveled down the street to this neighborhood pub. View the menu featuring 35 taps at The Beerhouse.  
Location: 4810 NW 86th St, Urbandale 
Jasper Winery 
Just because we're not wine country doesn't mean we don't appreciate a heavy pour of vino with a view. That's what you'll get at the beautiful Jasper Winery, located just south of downtown Des Moines. Taste local wines and listen to music on the vast front lawn with plenty of room to spread out and enjoy a picnic. 
Location: 2400 George Flagg Pkwy. Des Moines, IA 50321 
Mullets 
You know what they say about mullets. Business in the front, party in the back (patio). Don't let Mullets unassuming vibe fool you...these patio views are perhaps the classiest in the city, overlooking two rivers, Principal Park, and the downtown skyline.  Visit the Mullet's website for their delicious eats. 
Location: 1300 SE 1st St. Des Moines, IA 50315 
Ernie's Boondock 
A hip "new" dive bar in the East Village that feels like your grandpa's favorite bar, as evidenced by the Schlitz on tap and mounted buffalo head on the wall. Try their signature frozen coffee drink (Folgers and Black Velvet) while you dine on a greasy burger from the renovated 1972 Winnebago food truck, all under the glow of patio lights.   
Location: 440 East Grand Ave., Des Moines, IA 
The Hall DSM 
This spacious, modern beer hall is located in historic building that originally housed boxcars. The Hall now houses over 54 beers on tap, nine rotating food truck options and one of the buzziest patios in the metro. The beer garden often features live music and seats over 140 people, making it the perfect place to catch up or get away. Check out The Hall website for their menu.
Location: 111 S 11th St, West Des Moines 
Iowa Taproom 
All Iowa beer in one great place. The Iowa Taproom features 99 taps from 35 different Iowa breweries, enjoy your brews and elevated bar food in front of their Instagram-worthy mural on the patio. See Iowa Tap Room for the full list of food and drinks.  
Location: 215 East 3rd Street, Suite 100. Des Moines, Iowa 50309 
Exile Brewing Company 
Speaking of Instagram-worthy murals, Exile is home to the obligatory "Cheers From Des Moines" photo op. It's also home to some of the most popular beers in Des Moines with a full food menu that is as creative and inspired as the beers. View the menu. 
Location: 1514 Walnut St, Des Moines, IA 50309 
Hessen Haus 
You'll feel like you're in Oktoberfest no matter the season at Hessen Haus, a popular German pub.  Drink an authentic hefeweizen from a boot (or more traditional glassware) and nibble on soft pretzels and schnitzel while soaking in the ambiance of downtown on their large outdoor patio. Lederhosen optional. Find tasty German favorites on the Hessen Haus Bier Menu. 
Location: 101 4th St. Des Moines, IA 50309 
Rita's Cantina 
Is it margarita time yet? (SPOILER: the answer is always yes). Check out downtown Rita's Cantina, Des Moines' buzzy new summer hotspot, serving tacos along with margarita flights AND queso flights on their huge outdoor patio. See, 2020 isn't all bad.  See a full list of food and drinks. 
Location: 401 SE 5th Street. Des Moines, Iowa 50309 
The Chicken Orilla 
A classic roadhouse joint, The Chicken Orilla the perfect outdoor stop for bikers looking for a bite to eat or cold brew located right off the Great Western Trail. You don't have to be a biker to enjoy their chicken and waffles though. The heart wants what the heart wants. See The Chicken Orilla full menu.
Location: 4221 S Orilla Rd. West Des Moines, IA 50061 
1908 Draught House 
With locations in Johnston, Norwalk, West Des Moines, and downtown, you can dine comfortably *almost* year-round on one of the most inviting patios in the metro, fitted with heaters and fans. As in, literal fans and Cubs fans.  Taco pizza, cold beer and day baseball. There are worse ways to spend an afternoon. Find your favorites on the Draught House menu. 
Location: Multiple locations throughout Greater Des Moines 
Trellis Café 
Located in the stunning Greater Des Moines Botanical Garden, Trellis is the perfect spot for lunch in the East Village. Open for lunch from 11 am - 1:30 pm Thursday-Saturday, enjoy the plant-inspired menu on their outdoor patio overlooking the lush gardens. You wish your garden at home looked this good. View the menu. 
Location: 909 Robert D. Ray Drive, Des Moines, IA 50309  
Smash Park 
You can't write a blog about patios and leave out Smash Park, the self-proclaimed "largest patio in Iowa!" At Smash Park, you can lounge with your friends in your own private hangout space, play pickleball and lawn games, and dine on food and drink that will make you feel like a kid again! Alcoholic capri suns anyone? Learn more about Smash Park everything you need to know before you go.
Location: 6625 Coachlight Dr, West Des Moines 
Click for a listing of even more Greater Des Moines restaurants, bars, breweries, wineries, and distilleries with patios.