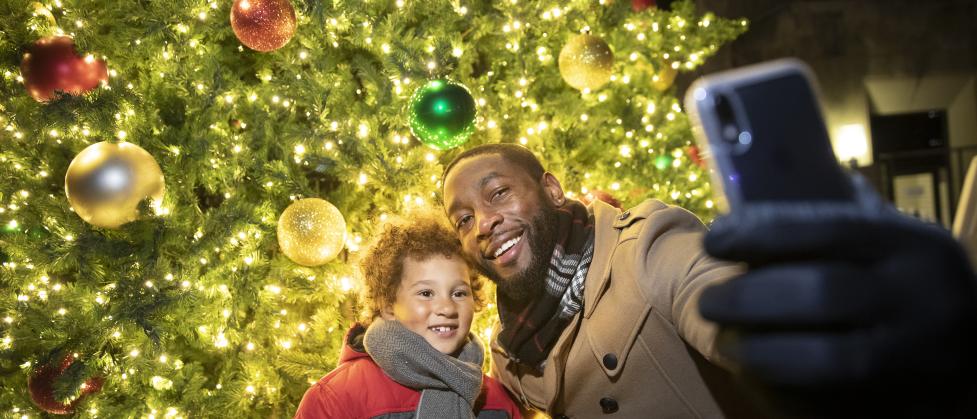 Few things get us in the holiday spirit more than cranking (responsibly) some Christmas tunes and taking in the luminescent glow of holiday lights. Thankfully, we've got a list (and we've checked it twice) of the nicest holiday displays in town. Here's the lowdown on where to go, when to go there, and even where to eat before to get your bodies into Santa shape. Make sure to use #CATCHdsm when you're enjoying these light shows!
Jolly Holiday Lights
The granddaddy of Greater Des Moines light shows and biggest light show in the state, Jolly Holiday Lights celebrates its 24th year and the fourth year since moving from Water Works Park to Adventureland in Altoona. This holiday tradition for families across the metro includes a 2.5 mile stretch of over 100 different light displays. A $20 donation per car is required, with 100% of proceeds benefitting Make-a-Wish Iowa. After the light show, stop off at Santa's Wish Shop to enjoy cocoa, cookies and meet the big guy himself.
Where: Adventureland, 3300 Adventureland Drive, Altoona
When: 5:30pm – 10:00pm November 29 – December 30. Wish Shop open nightly until 10:00pm through December 30. Closed Christmas Eve and Christmas Day.
Tickets: Tickets are available on for $20 per car on-site and at Des Moines are Hy-Vee, Casey's and the Make-A-Wish office.
Where to eat: Guadalajara Mexican Restaurant, 3221 Adventureland Drive, Altoona
Gingerbread Lane, Ankeny
Want to hear the story of the gingerbread boy? (Rhetorical question, of course you do.) Head over to Richland Court in Ankeny, where this suburban neighborhood transforms into a holiday lane, with each festively lit home having signage that tells the story of gingerbread boy.  Bring your best non-perishables, as every weekend, Santa and Mrs. Claus collect canned goods for Food Bank of Iowa.
Where: SE Richland Court, Ankeny
When: 5:30pm – 10:00pm December 6 – December 31
Where to eat: Leaning Tower of Pizza, 512 SW 3rd Street, Ankeny
Beaverdale Holiday Lights
Over 50 homes in this Beaverdale hood do their best Clark Griswold impression, competing for bragging rights in this annual light show. Subtlety is not an option, as light displays, both cutting edge and classic, light up the neighborhood. There's even a sign at the entrance that tells you what radio station to turn it to in order to sync up with the light displays.
Where: Ashby and Wallace Avenues, East and West of Beaver Avenue
When: 6:00pm – 9:00pm through December 31
Where to eat: Christopher's Restaurant, 2816 Beaver Ave, Des Moines
Historic Valley Junction
Not only can you enjoy over 150,000 lights, but you can also get your holiday shopping done at Historic Valley Junction's cool vintage and handmade stores, and then refuel at one of their unique bars and eateries. Check out Jingle in the Junction on Thursday, December 5, 12 and 19 from 5:00pm – 9:00pm for free horse-drawn carriage rides, Santa and caroling.
When: 5:00pm – midnight through January 1
Where: Fifth Street and Railroad Ave, West Des Moines
Where to eat at: G Mig's 5th Street Pub, 128 5th Street, West Des Moines
Boone and Scenic Valley Railroad – Santa Express
It doesn't get much more Christmas-y than this. The popular Santa Express train, named one of the 30 Best Holiday and Christmas Trains in the US, is a one-hour round trip journey to the quaint but festive "North Pole". Along the way you'll hear the story of Santa's Scenic Valley Ride, sing Christmas carols and enjoy hot chocolate and cookies. This unique experience has become a memorable family tradition for families across Iowa. Pro-tip: holiday pajamas are encouraged, no matter your age!
When: Friday, Saturday and Sunday through December 22. 6pm Friday, 10:30am – 6:00pm Saturday, 10:30am – 3:30pm Sunday. $18-$45
Where: 225 10th Street, Boone, IA 50036 
Where to eat: Whistle Stop Café, 1102 Story Street, Boone