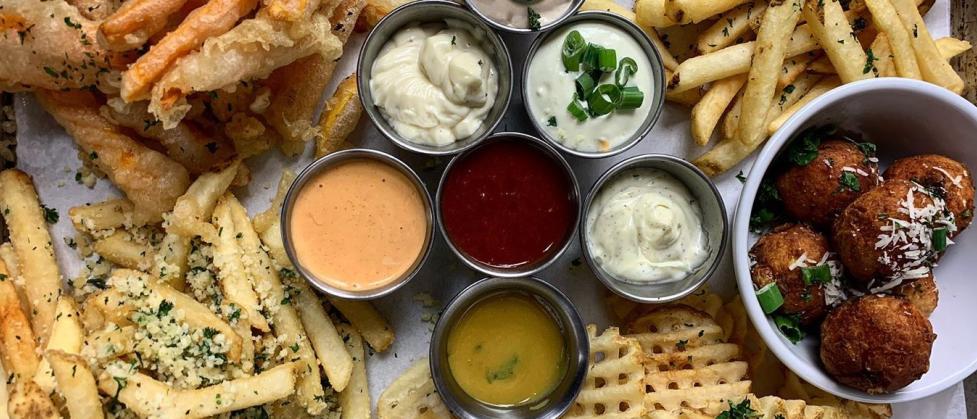 Cold weather calls for warm comfort food. From casual to date night, these Greater Des Moines restaurants are so good you'll almost wish it was winter all year long. Almost. 
Mi Patria 
Don't let the unassuming strip mall façade fool you. One of the true hidden gems in Greater Des Moines, it's been featured on Diners, Drive-Ins and Dives and has legions of dedicated fans. Don't be intimidated…this is hearty, rib-sticking goodness. 
Order This: Mi Patria for Two – a combination of slow-roasted pulled pork, grilled steak, grilled chicken, potato patties, white corn, fried egg, white rice, beans and fried plantains
High Life Lounge 
Just like grandma's house, minus all the afghans. Serving old school classics such as goulash, chicken pot pie, meatloaf, and pizza burgers, washed down with beers that would make your grandpa nod in approval. 
Order This: Hot beef with mashed potatoes, side of bacon-wrapped tater tots
Cheese Bar 
Its original location, The Cheese Shop, was named the #1 Cheese Shop in America. But this is the location where you'll find their blissfully gooey grilled cheeses, paired with one of the most impressive beer lists in town. 
Order This: House fondue, side of cast-iron mac and cheese
Flying Mango 
Des Moines is an underrated BBQ town, but only one BBQ place elevates the game with a Cajun twist. This Food Network fave is "date night" BBQ where the side dishes don't take a backseat to anything, not even the infamous 24-hour brisket. 
Order This: 24-hour beef brisket, side of cornbread and cinnamon butter
Harvey's Diner 
Located in the historic Hotel Pattee, this diner isn't to be confused with other greasy spoons that bear that moniker. Harvey's is destination dining, with one of the most innovative yet approachable menus in the area. Pro tip: get one of the fresh fruit-infused margaritas and thank us later. 
Order This: Fried chicken with loaded mashed potatoes 
Wasabi 
You can't go wrong with any of the Wasabi locations, but for comfort food, we're partial to the Johnston location, which specializes in ramen. A hot bowl of ramen on a cold day goes a long way in making the winter more tolerable. 
Order This: Old School ramen, side of crispy brussels sprouts 
Latin King 
Listen, if you want to get their famous chicken spiedini, we won't stop you. But that Steak de Burgo. Just look at this. 
Order This: Steak de Burgo, if you're lucky, strawberry shortcake
Mamma's tacos
The new kid on the block was the ridiculously popular Mamma's food truck for a while. Lucky for us, it now has a brick and mortar companion. It specializes in flour "puffy tacos" …think Tasty Taco's, but with lots of TLC. 
Order This: Puffy tacos, side of nachos
Cooper's on 5th 
Historic Valley Junction is an underrated foodie mecca and Cooper's may just be the best of the bunch. You can't even read the words "port braised short ribs" or "maple butter salmon" without getting hungry. 
Order This: Port braised short ribs, garlic white cheddar mashed potatoes
Simon's 
We don't know anyone that doesn't love this place. Get there early because a line usually forms - and for a good reason too. It's unique, charming, and pretty much everything we love about Des Moines. And if you're nice, you may even be rewarded with red velvet cake at the end. 
Order This: Manicotti, half and half (marinara and alfredo)
Francie's 
This is the type of place you probably won't find in a Zagat guide, but that locals all know and love. Dark, unpretentious, and welcoming, Francie's is the kind of place you wish someone had told you about a long time ago. You're welcome. 
Order This: Patty melt, crinkle-cut fries
Clyde's Fine Diner 
This new East Village hot spot is already earning raves for its chic interior, killer drink list, and small yet delicious menu of elevated diner favorites like beef stew, fried green tomato BLT and Not Nashville Hot Chicken. 
Order This: Not Nashville Hot Chicken, Brownie Sundae 
Skip's 
Skip's does many things, all of them well. While it might not be the trendiest place in town, it just might be the best place in town. From steak to pecan-crusted chicken strips and chicken piccata, there's something for everyone at Skip's. 
Order This: Bowtie creole pasta, onion rings
Hessen Haus 
You may know it for its giant boots of hard to pronounce German beer, but you should also get to know its easier to pronounce German food as well. There's something oddly comforting about a plate of schnitzel, and it's fun to say too. 
Order This: Bavarian Stroganoff, Giant Bavarian Pretzel 
South Union Bread Company 
Sometimes you want comfort food for lunch too. There's a reason that many of downtown's best restaurants serve this weekday-only, lunch-only spot's bread. But what if I told you that you could have that same bread served with ham, roast pork, salami, onion, pickle, mayo and mustard? Right?
Order This: GE's special, potato salad