Greater Des Moines Parking
With more than 30,000 parking spaces throughout the city, finding a spot is no problem in Des Moines. Here is some helpful information to navigate finding a parking spot when you visit Des Moines: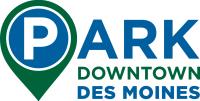 Parking in downtown Des Moines:
There are many options for parking in Downtown Des Moines. You can find 3,500 metered parking spots, 3,400 of which are City of Des Moines SmartCard Parking Meters. This is a pre-paid parking card.
Court Avenue District parking has recently been updated. Meters in the area of Walnut Street to Vine Street, 5th Avenue to 2nd Avenue now charge Monday – Saturday from 9 a.m. – 9 p.m. Meters in Court Avenue District also accept credit cards.
Parking garages are a great option when attending an event in downtown Des Moines. Public garages hourly rates are $1/hour with a $10 daily max. Click for a complete list of parking garages in downtown Des Moines >
Free parking options:
Nearly 300 FREE off-street parking spaces can be found in Court Avenue District. The Polk County lots are free for public use Monday – Friday from 5 p.m. – 5 a.m. and all day on weekends. Parking at meters and ramps is FREE on Sundays. Other free parking locations:
5th & Cherry Street Courthouse Lot
5th & Wagner Courthouse Lot
NE corner of 2nd & Court Avenue Polk County Administration Lot
SW corner of 2nd & Court Avenue Election Office Lot
For the latest news and updates about parking in downtown Des Moines visit parkdowntowndesmoines.org.
Book

Your Hotel