Greater Des Moines Parking
With more than 30,000 parking spaces throughout the city, finding a spot is no problem in Des Moines. Here is some helpful information to navigate finding a parking spot when you visit Des Moines: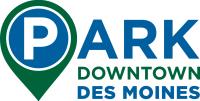 Parking in downtown Des Moines:
There are many options for parking in Downtown Des Moines. You can find 3,500 metered parking spots, 3,400 of which are City of Des Moines SmartCard Parking Meters. This is a pre-paid parking card.
Court Avenue District parking has recently been updated. Meters in the area of Walnut Street to Vine Street, 5th Avenue to 2nd Avenue now charge Monday – Saturday from 9 a.m. – 9 p.m. Meters in Court Avenue District also accept credit cards. Downtown meters range from $0.25 - $1.25 an hour. View parking meter zones and pricing at parkdowntowndesmoines.org.
Parking garages are a great option when attending an event in downtown Des Moines. Public garages hourly rates are $1/hour with a $10 daily max. The Garages at 3rd and Court, 4th and Grand and 8th and Mulberry will charge a $5 flat rate fee for the Downtown Farmers' Market. Click for a complete list of parking garages in downtown Des Moines >
Free parking options:
Nearly 300 FREE off-street parking spaces can be found in Court Avenue District. Parking is free on the bridges over the Des Moines River, including Grand Avenue, Locust Street, Walnut Street and Court Avenue. Spaces with a green bag over the meter are free 24/7. Spaces without those bags are free after 6 p.m. and all day weekends.
For the latest news and updates about parking in downtown Des Moines visit parkdowntowndesmoines.org.
Book

Your Hotel