Greater Des Moines Meeting Planner Toolkit
Greater Des Moines is a city where you can expect event success! Our Planner Toolkit gives you an overview of our offerings, capabilities and what makes Greater Des Moines the perfect destination for your next meeting or event. Whether you are considering Des Moines for an event or have already booked your event here, this toolkit will provide you the resources and information you may need. Of course, our team is always here to customize, strategize, and answer your questions too. Consider this just the starting point to planning your perfect event in Greater Des Moines.

 
WHY DES MOINES?
Why select Des Moines to host your convention or event? The answer is simple. Greater Des Moines is affordable, easy, and surprisingly cool. We're a city that offers planners the food, culture, and facilities they are looking for without the long lines, traffic and big price tag. Des Moines is safe, clean and walkable. We're easy to get to and easy to get around. We encourage you to see why hundreds of planners select Des Moines each year. Here's 10 quick Des Moines facts that may surprise you: 
Capital city of Iowa – home to more than 600,000 people
Located at the intersections of Interstate 80 and Interstate 35
Downtown Des Moines is 4 miles from the Des Moines International Airport
Des Moines International Airport offers direct flights from 22 destinations, 90 daily flights and more than 8,600 daily seats
13,000+ hotel rooms, 5,000 largest block
Third largest international insurance center in the world with major corporate headquarters including Principal Financial and Wells Fargo
4-mile, climate controlled downtown skywalk system open 24/7 that connects hotels, restaurants, shopping, and meeting facilities
1,000+ locally-owned restaurants featuring James Beard Nominated chefs and As Seen on TV destinations
148 pieces of public art including a 4.4 acre, 30-piece sculpture park in the heart of downtown valued at more than $40 million
800+ miles of biking and running trails

Our knowledgeable team has decades of industry experience and can help you every step of the way. Greater Des Moines offers an abundance of volunteer and team building opportunities, as well as unique off-site venues and activities. Pair our state-of-the-art facilities and first class hospitality with our award-winning restaurants and family-friendly attractions and you will catch the best meeting you've ever had in Greater Des Moines.
BEFORE YOU BOOK
Considering Greater Des Moines for your meeting, convention or sporting event? Our knowledgeable staff has national expertise and a wide variety of industry involvement. We are ready to help you find Des Moines hotels, facilities, and suppliers. We can provide you suggested itineraries, recommendations, pre-conference services, and marketing support. Take a look around at what our city has to offer or give us a call and see what we can customize for you! Here's a quick list of things you may find helpful in your decision process:
AFTER YOU BOOK
When you select Greater Des Moines as your host site, you can expect first-class service, knowledge and support from the Catch Des Moines team. We will work with you every step of the way to ensure that your convention or event is a success. Ask our team about how we can help you build attendance, garner media coverage, or provide a unique, exclusive experience for your attendees. Here are our complimentary services:
Additional Pre-conference Services and Marketing Support
Ask your service representative about additional ways that our marketing team can support your event. We can help you identify the promotional support and services that will work best for your group. Think everything from traditional and digital advertising to signage, giveaways or media support. We're here to help you spread the word!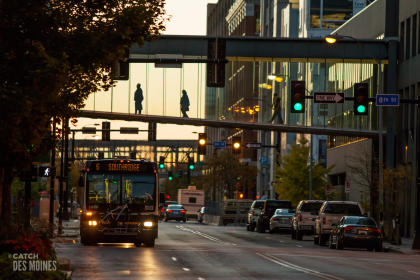 ACCESSIBILITY
Greater Des Moines is easy to get to and easy to get around. Our central location, located at the intersection of Interstate 80 and Interstate 35, makes it only a day's drive for one-fourth of the U.S. population. The Des Moines International Airport has direct flights from 22 destinations and 120 domestic flights each day. Once you are here, enjoy the ease of getting where you need to be in twenty minutes or less. Browse our long list of transportation resources. Hop in a Des Moines cab, Uber, or take the DART. Downtown Des Moines is walkable and easy. You can utilize our 4 mile, climate-controlled, downtown Des Moines skywalk system to get to hotels, meeting facilities, and restaurants. Or you can hit the streets and enjoy dozens of public art pieces, public pianos, and pockets of green space along the way. In Greater Des Moines you are always a quick ride or a few steps away from where you want to be. Catch a city that's accessible and convenient. Experience the ease of Greater Des Moines.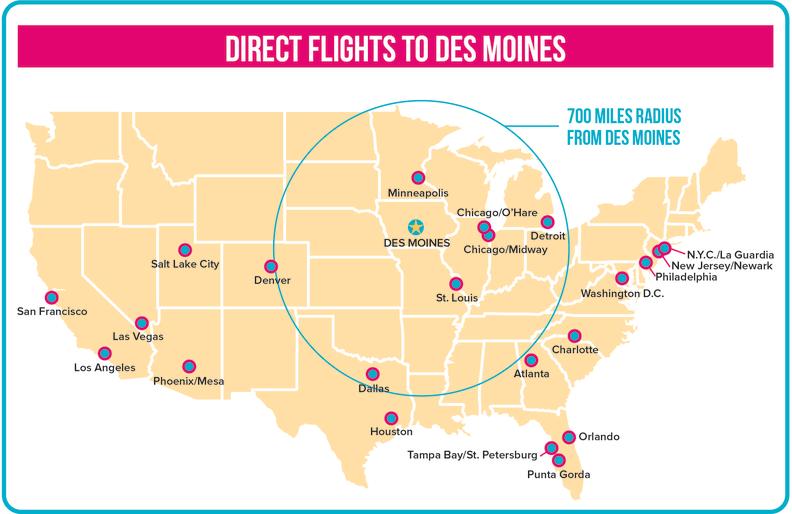 TESTIMONIALS
We work hard to ensure every event is a success and that attendees enjoy their time in Greater Des Moines, but don't just take our word for it! Check out this list of Greater Des Moines testimonials below to see what meeting planners from across the globe have to say about our city and working with our team.
"Every person from CVB and the hotel made this event outstanding due to their professionalism and information supplied...Everybody complimented me on the way things went and were handled."
Barry Archer, UDORN Research Group
September 2016
"The help with banners, event goodies, marketing supplies, obtaining permits and of course the financial assistance made this event not only possible, but a great success. Individuals from all over the country and Canada were really impressed with Des Moines area bicycle trail system."
Patrick Coughlin, Midwest Tandem Rally
September 2016
"Des Moines really delivered for our association's meeting. Our attendees were pleasantly surprised to find such a vibrant, welcoming city with a burgeoning local food scene."
Nora Weiser, American Cheese Society
July 2016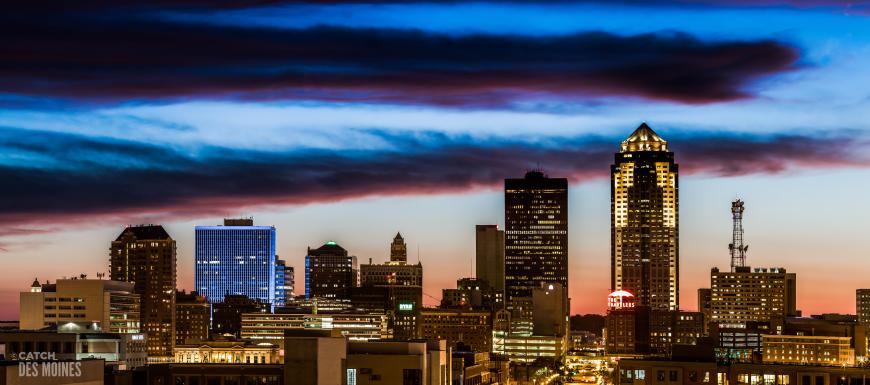 RANKINGS
There's a reason more than 600,000 people call Greater Des Moines home and meeting planners from across the U.S. select Greater Des Moines for their event each year. Our city continues to pick up steam and others are taking notice. Publications, research companies, and other media outlets have ranked Greater Des Moines everything from a top 10 hippest mid-sized city to a top place to watch for sports! Our list is long, but we combed through it and found a few we want you to know about. Check out these Greater Des Moines rankings below and then check out our complete list of rankings here.
HOUSING SUPPORT
Catch Des Moines' housing bureau works as a connector between the planner and hotels allowing the planner to focus on executing the event while we handle all of your housing elements. We can create a custom booking site using Meetingmax allowing attendees to make their reservations in one central location 24/7 or create a custom hotel listing to place on your event website. Our staff can assist with gathering hotel contracts, support for guests making reservations, gathering pick-up and complete invoicing as necessary. Contact Jayne Durnin at Jayne@catchdesmoines.com or (515) 699-3446 for more information about housing support.