Meetings & Events in Des Moines
Why Greater Des Moines?
Iowa's capital city is known for going above and beyond when it comes to hosting meetings and events. So while there are many fantastic reasons for you to choose Greater Des Moines for your meeting destination, let us highlight the following three!
Facilities  
See your vision come to life in Greater Des Moines. Enjoy the first-class service and versatile size of the Iowa Events Center, Des Moines' premier convention center featuring a 28,000 square-foot ballroom, 150,000 square feet of exhibit space, and 32 meeting rooms. Discover the perfect off-site venue and create memorable experiences. With a wide variety of options, you'll find the right-sized venue complimented by one of the city's 145+ hotels. 
Accessibility  
Located in the heart of the country, Greater Des Moines is easily accessible by land or air. For those who prefer a road trip, the city is situated at the intersection of I-80 and I-35. For the frequent fliers, Des Moines International Airport offers 160 flights a day, including 20+ direct flights to major U.S. cities. Upon arrival, your attendees will appreciate the quick commute (less than 10 minutes!) and walkability of downtown. The downtown district is well connected with a four-mile skywalk system offering climate-controlled access to many venues and attractions. Rideshare services are readily available, as well as bike rentals and 800+ miles of connected recreational trails.
Big City Amenities   
This capital city is rich in culture and booming with business. Year after year, Des Moines ranks as one of the three largest cities for financial, insurance, and ag-bio industries. Home to numerous corporate headquarters, this savvy metropolitan continues to produce big-city attractions, high-profile sporting events, coveted national acts and performing arts, world-class festivals, award-winning farm-to-table cuisine, and impressive art collections to maintain its position as an industry and entertainment leader.    
Here are a few more reasons to choose Greater Des Moines.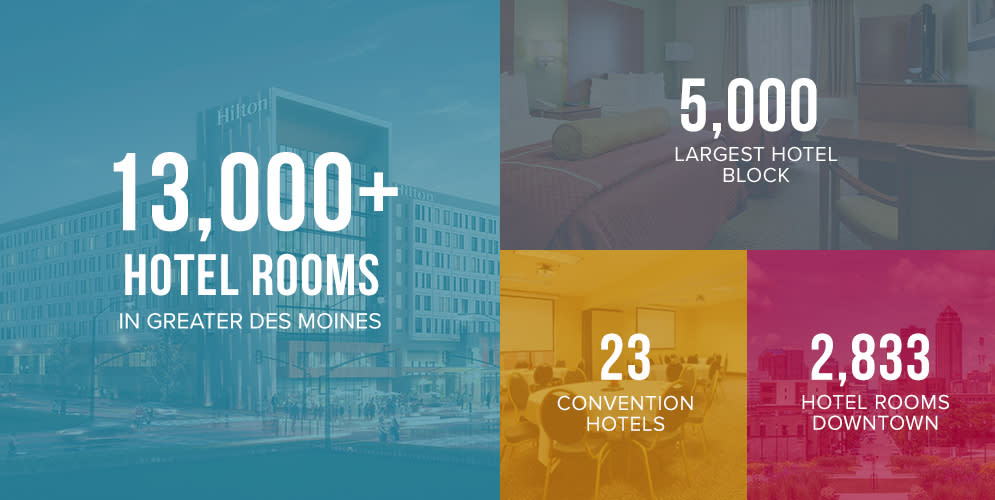 Planners' Guide
Make planning a meeting in Greater Des Moines easy! Work with us and utilize our free, Catch Des Moines Planners' Guide. This guide is completely digital and interactive, allowing you to watch videos, enlarge maps and so much more! Use this guide to find information on Des Moines hotels, meeting and event facilities, local services and suppliers, transportation, and things to do in Greater Des Moines. Whether you are planning an event for 10 or 100,000 people, we can help bring your ideas to life!