This past weekend marked my fifth bachelorette party in Des Moines over the course of five years. From drinks and dancing. To party buses. Silly games and gifts. Every bach party has been uniquely different!

This Friday's festivities were in celebration of a longtime friend, Sydney. About 15 of us got dressed up and headed out to dinner at Stuffed Olive, a new martini and tapas restaurant/bar downtown on Court.

With over 100 martini flavors on the drink menu, their Friday night drinks special is pretty stellar—$2 off any martini starting with F, R or I. The most popular martini choice from our group was the Flirtini, a concoction with raspberry vodka, peach schnapps, moscato d'asti and pineapple juice with a hint of raspberry schnapps. Yum!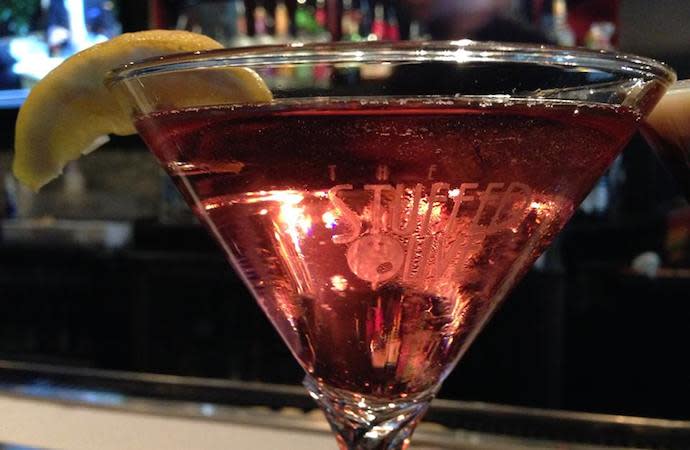 When it came time to order dinner, the majority of our group went for either a burger or the mac 'n cheese—both hearty choices before a night out.  I must say, the parmesan and olive oil French fries with a side of house-made ranch were my favorite part of the meal. A few gals ordered dessert, all opting for the crepes which were filled with chocolate hazelnut sauce. Drool.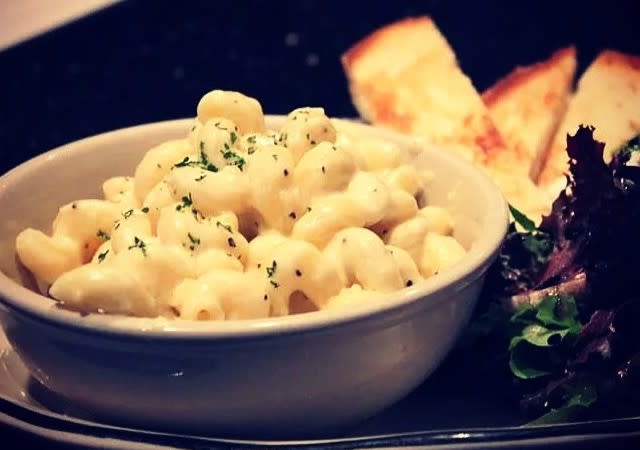 Next we walked to Embassy Suites for some champagne, cupcakes, gifts and girly games. Mums the word on those details…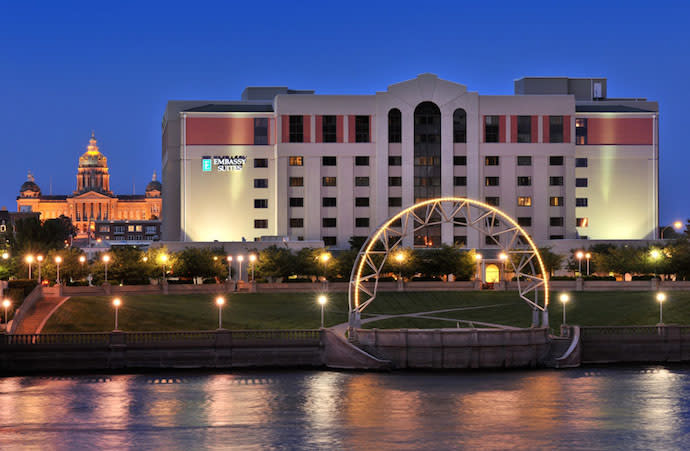 After showering the bride with gifts, we headed back to Court Avenue. We opted to again walk the five blocks, although Embassy Suites has a shuttle available for guests. We went to Mickey's, a mostly outdoor bar with an Irish pub feel. With live bands on Fridays and Saturdays throughout the summer and into the fall, we sat outside, listened to the music and sipped on some cocktails. Downtown Des Moines was the perfect place to be for this group and everyone had a great time! The next morning, a few of the girls even hit up the Downtown Farmers' Market for breakfast. 
After experiencing five bachelorettes in Des Moines, I've picked up a few tips and tricks to share:
1. Devise the night around the bride's personality. A year ago, I planned a bach party in Des Moines for a friend that isn't into bars and nightlife. We went to Skyzone instead and had a blast. I've also suggested Wine & Canvas to a friend in a similar situation—and her bride love it!
2. Dinner is important. Most ladies want something nice, but not too pricey to break the bank before the night begins. A few I've experienced with bachelorette parties include Raccoon River Brewing Company, Granite City and Bravo! Cucina Italiana.
3. Regardless of if you like country music, you must go to a country bar to dance. I don't even like country music but call me crazy and try it. You'll love it! My top picks are Miss Kitty's, Shotgun Betty's or Beer Can Alley.
4. Save a few cab numbers in your phone beforehand. Or download the Uber app, new to DSM!
5. When all else fails, rent a party bus or limo.
Cheers!
--KR
P.S. For even more ideas for girl's night out, visit the Catch Des Moines Girls Getaway pinboard on Pinterest.