80/35 Music Festival began in 2008 with the sole purpose of encouraging music discovery. Since then, the two-day festival has hosted musical talents such as Kesha, MGMT, Weezer, Wu-Tang Clan, Death Cab for Cutie and many, many more. Keep reading to learn about all the excitement happening at this year's 80/35 Music Festival. 
Event Details
Festival Location: 12th and Locust St.
Friday: gates open at 4:00 p.m., music ends at 11:00 p.m.
Saturday: gates open at 11:00 a.m., music ends at 11:00 p.m.
Admission: exchange your ticket for a wristband upon arrival or buy a ticket at the Ticketing Tent located on Locust St., between 10th and 12th St. You will only receive one wristband for the entire weekend. 80/35 is not responsible for lost or broken wristbands and cannot issue new ones — even if you have a ticket stub or broken wristband. If you only want to experience the free areas of the festival, you can enter the festival grounds anywhere. 
Allowed: chairs (only in designated areas), blankets, small non-frame backpacks, one empty water bottle per person, one factory-sealed water bottle, a small snack, empty camelbacks, personal pocket-sized point and shoot only cameras.
Not allowed: illegal drugs, weapons, fireworks, pets, coolers, beach tents, outside beverages (except one sealed water bottle and one empty water bottle), large frame backpacks, audio recording devices, professional photography equipment, including cameras with interchangeable lenses and SLRs.
MidAmerican Energy will be providing phone charging stations at 12th and Locust St. 
Lineup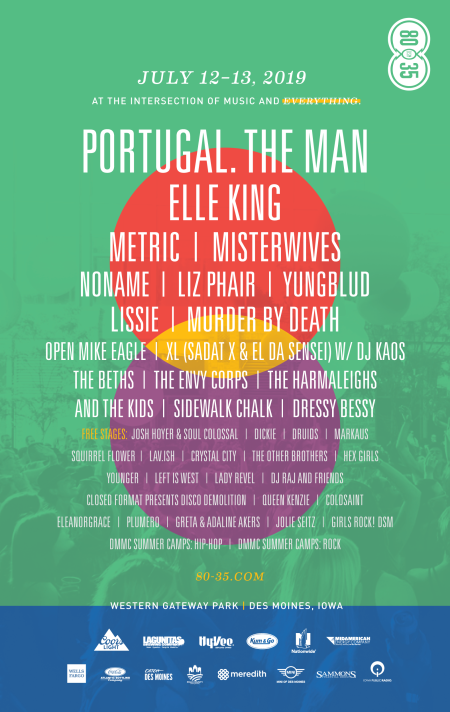 View the full schedule HERE.
Activities
Monster Energy Breakdancers
Shopping
Vendors: Toaster Press, Iowahenna, Unkl Ruckus's Smoking Emporium & Skate Shop, Larissa Loden, Loose Lucys, Found + Formed, DSM Henna, True Roots Chiropractic, Crystal Healings and Writing Analysis, Happie Hippie Design, Native World, Go Hemp With Me, The Collective.
Performing Arts Showcase
Located on Grand Ave near the Nationwide Stage. Free admission. 
Friday
5:30 p.m. D2G SocaFit (dance fitness program)
7:30 p.m. Seize the Sway (belly dance troupe)
Saturday
1:30 p.m. Step Into Swing (swing dancing)
5:30 p.m. Cirque Showcase (aerialists and circus artists)
7:30 p.m. FlashForce University (burlesque dancers)
Sammons Kids Zone
Large inflatables, face-painting, hula hooping, and other kid-friendly activities will be available on Friday from 4:00 p.m. to 7:00 p.m. and Saturday from 1:00 p.m. to 7:00 p.m. 
Additional activity details can be found HERE.
Food Vendors
| | | |
| --- | --- | --- |
| Caribbean Kitchen | Hardenbrook Concessions | Thelma's |
| Scornavacos Restaurant | The Outside Scoop | Top Bun Food Truck |
| Gusto Pizza Co | Kona Ice | Brafford Concessions |
| Karams Mediterranean Grill | Dumpling Darling | Roadside Tacos |
| Banh me | Edible Elegance | Taco Loco |
| Grumpy J's Gourmet Sliders | Flame |   |
After Parties
Friday

Saturday

80/35 Official After Party: DJ Set by Emily Haines of Metric

Wooly's, 10:30 PM, $5.00 - $10.00

80/35 After Party: Poly Mall Cops / Blood Spell / Quick Piss / Gleaner

Vaudeville Mews, 10:30 PM, FREE

80/35 After Party: MemCave / Coughman + Sister Zo / White Flashes

Vaudeville Mews, 10:30 PM, FREE

80/35 After Party: Hex Girls / The Other Brothers

Des Moines Yacht Club, 10:30 PM 

Mae Simpson

Gas Lamp, 9:00 PM, $7

The Hooten Hallers w/ Crystal City

Gas Lamp, 9:00 PM, $10

Last Call w/ Max Wellman

Noce, 10:30 PM, FREE

Light Night Cabaret w/ Preshia Paulding

Noce, 8:00 PM, FREE

Johnathan Cochran

Beer Can Alley, 9:00 PM

Ancient Elm / Superquiet / Dead Emperors / Dire Wake

Lefty's, 9:00 PM

80/35 After Party ft. Tom Hummer

Brightside Aleworks, 9:00 PM, FREE

 
View additional after party details HERE. 
Transportation/Parking
Bus: DART will be providing a late-night service on Route 60 for the festival. On Friday and Saturday buses will run every 20 minutes, the pick-up/drop-off location is at 12th and High St. 
Bike: Free bike parking will be provided by Meredith Corporation, located on Locust St. west of 13th St. 
Parking: 
Street parking: meters are free between 9:00 p.m. and 9:00 a.m.
Parking Garage: the Nationwide ramp at Mulberry and 12th St. is free after 5:00 p.m. on Friday and all day on Saturday.