I like to pretend I'm a runner. I run about three to four races a year, so I've been around the block a few times (or 30, depending on the distance). Disclaimer: you won't catch me running anywhere near a five minute mile or finishing in the top 50 of any race. 
Des Moines is a huge running destination. With miles of trail systems, numerous running clubs, plus hundreds of walk/runs and competitive races, Des Moines earned the much-deserved title of Runner-Friendly Community by Road Runners Club of America in 2012. Also in 2012, Des Moines broke attendance records for most number of participants than any previously held Color Run, with attendance peaking 30,000. Not to mention the Drake Relays—the über-popular track meet slash homecoming celebration at Drake University that tends to boast a sold-out stadium every year.
With so much information-overload, how do you pick the race that best fits you? Whether beginner, semi-experienced or self-claimed pro, here's my rundown on upcoming races and what to expect: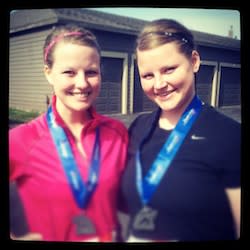 Grand Blue Mile | April 22, 2014 – Perfect for dialing in to your personal level of physical ability with a one-mile race through Downtown Des Moines. I typically run the Recreational Division, designed for casual joggers, power walkers and moms with strollers. This division is for families. Then comes the Competitive Division, recommended for sub-eight minute milers. Lastly, the USA Championships Division, featuring all-star American track milers. In 2013, the male winner finished in 4:02.79, with the female winner finishing at 4:43.02. Regardless of your skill, it's a fun festival atmosphere and exciting to watch.
Hy-Vee Road Races | April 27, 2014 – My favorite. With kids race, 5k, 10k and half marathon to choose from. If you're into extreme competition, this is the route to go with a healthy prize purse up for grabs. Last year I topped out my highest mileage at the 10k and am training for the experience again later this month. This race runs in conjunction with the Drake Relays, starting off near Drake Stadium, weaving through Downtown Des Moines, then back towards Drake campus and ending on the famous Blue Oval track. One drawback, the courses between the races are somewhat interconnected. Last year my running partner-in-crime (i.e. my sister) and I got passed by the front pack racing to the finish line for the half marathon. The half marathon winner finished in 1:02:27. I pulled in around 1:05:25 for the 10k. You win some, you lose some!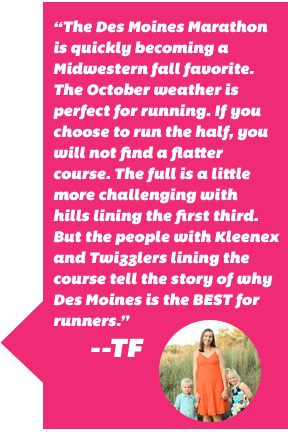 Dam to Dam | May 31, 2014 – Iowa's Distance Classic is switching it up this year. Dam to Dam will again offer a 5k, but instead of the traditional 20k this popular Des Moines race is now a half marathon—that's just .681 miles longer. I ran the 5k last year and took it super easy (see skyline shot taken while running the race). I've heard nothing but amazing things about the 20k, and am confident the half marathon will be just as well loved. After all, the view from the start at Saylorville Dam looking towards the downtown skyline with the finish line in the distance cannot be matched, nor can the feeling of accomplishment once it's over. Registration is capped and usually sells out—so sign up NOW if you have even a glimmer of interest. You won't regret it!
Color Run | July 12, 2014 - Dubbed "the Happiest 5k on Earth," prepare to get colorful. This run is an experience, not a competition and not timed. At the starting line, everyone is pristinely decked in white clothing. Then throughout the route, you're doused with various colors of the rainbow. At the finish line, a full-fledged party ensues with high-energy music and the opportunity to plaster your friends with more color! I saw all ages, from young kids to grandparents, getting in on the action.
IMT Des Moines Marathon | October 19, 2014 – Start your training plan now! This event includes kids run, 5k road race, marathon relay, half marathon and marathon races. I haven't had a chance to experience this one, but take it from resident long-distance lover, Trina Flack, aka TF in the CAUGHT! blog world.
For more much-loved races in Des Moines, check out the Hy-Vee Triathlon 5150 US Championship, August 31; Susan G. Komen Race for the Cure, October 4; Living History Farms Off-Road Races, November 22.
Catch the competitive spirit. Glory. Pride. Your winning moment. Catch your greatness in Des Moines! Do you have what it takes to run DSM? Share your Des Moines race photos on Twitter and tag @catchdesmoines.
--KR