Attracting over 10,000 bacon-lovers and recognized as the world's premier bacon fellowship organization, Blue Ribbon Bacon Festival has taken place annually in Des Moines since 2008. This sizzling occasion offers participants extensive bacon sampling, bacon lectures, bacon-inspired dishes, bacon competitions, an annual bacon queen, bacon awards, and live entertainment.
Location & Hours:
Saturday, March 7
Horizon Events Center, 2100 NW 100th Street, Clive, IA
Doors open at 11 a.m
Tickets
Purchase your tickets HERE.
Transportation:
Parking is $5 at the Horizon Events Center grounds. If additional parking is required, directions will be posted at the venue.
Accessibility:
The Horizon Events Center is ADA-compliant. Please contact if in need of specific assistance.
Food & Drink:
Bacon Fellowship Hall - Featuring the event mainstage, FREE bacon samples from a variety of purveyors, bacon-inspired dishes from an array of food vendors, sponsor tables and beverage concessions.

Blue's Midway – Featuring a second stage, FREE bacon samples from a variety of purveyors, games, bacon-inspired dishes from an array of food vendors, reserved tables and beverage concessions.

Outdoor Area – Weather permitting, there will be an area outside offering beverage concessions, and an opportunity to enjoy some fresh air.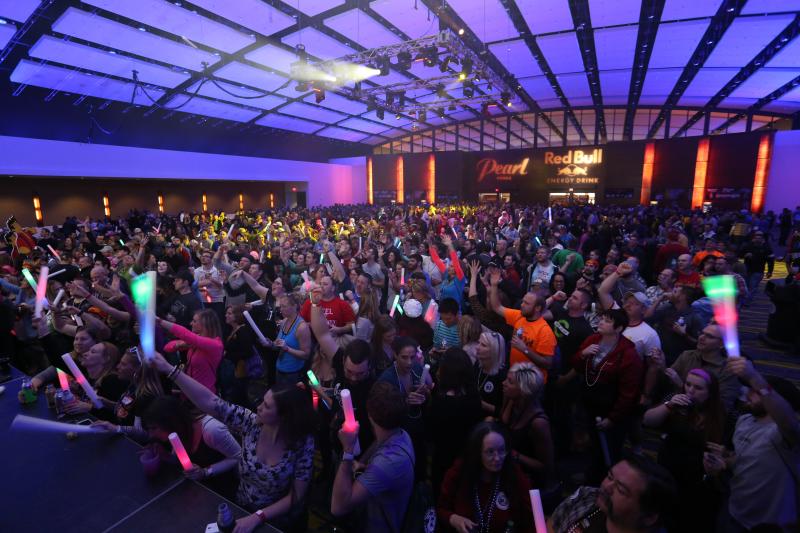 Entertainment:
Silent Disco – Tune into the sounds of the ocean with silent bacon yoga, or let your grass skirts sway later in the day as masterful DJ's take over for a silent disco.

Chamber of Bacon Enlightenment – In this area, find a bacon educational lecture, Teehee's Comedy Hour, and the infamous "Club Sizzle";  Iowa's only pop-up club complete with lights, smoke, DJs and dancers.
Contests
Bacon Queen
Bacon Eating contest
Dance Contest
Costume Contest
Best Bacon
Best Bacon Dish
About Blue Ribbon Bacon Festival/Bacon Fellowship
In 2001, a group of guys began celebrating bacon during an annual weekend retreat at the Porter Cottage in Spirit Lake, IA. Six years later, they pursued a deeper understanding of their favorite meat by earning "All About Bacon" diplomas from Living History Farms.
On March 1, 2008, officially organized under the Iowa Bacon Board and led by Brooks Reynolds, they went on to found the world's premier bacon festival:  a festival with the mission of improving the enjoyment of all things bacon by providing education, recognition, advocacy and research on behalf of the masses.
To promote international bacon fellowship, the Iowa Bacon Board works tirelessly to share their message of joy, acceptance and celebration. Encouraging people throughout the world to put aside their differences, get goofy, have a few beers and break bacon together.