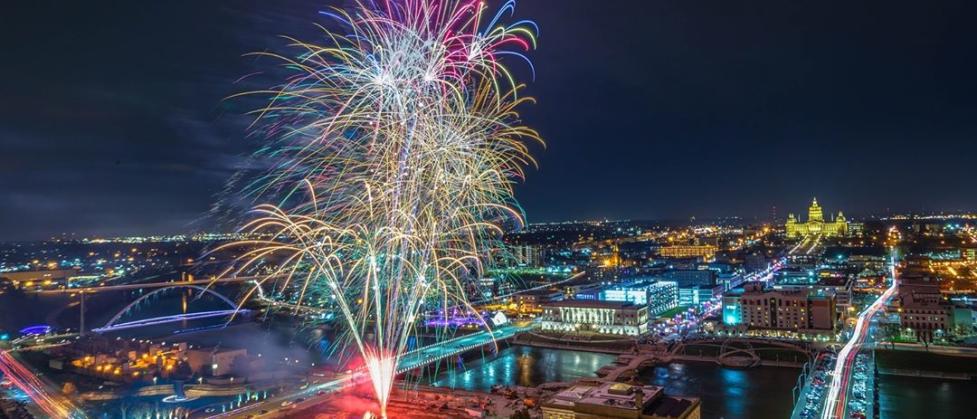 Is there any better place to celebrate America than smack dab in the middle of the heartland? We think not. Whether it's live music, hitting up the pool or watching fireworks, Greater DSM has got a little slice of Americana for everyone. Check out these ideas that will assure your Fourth of July holiday pops off!  
Adventureland
Want to be outside for Fourth of July Weekend? Head out for a day of thrills and chills at Adventureland Park and Resort. Ride their brand-new rollercoaster, The Dragon Slayer, before heading down to Adventure Bay waterpark to cool off from the July heat. After your long day of fun, Adventureland will have fireworks at 9:30 p.m. on July 3 and 4. Take in the views from the top of the Ferris Wheel for the ultimate experience.  
Prairie Meadows
Head on over to Prairie Meadows for their All-American Extravaganza on July 3! This event not only features fireworks at dusk, but their full slate of horse races starting at 4 p.m. as well. Plus, enjoy an outdoor concert by Standing Hampton at 5:30 p.m. Who doesn't love fireworks and some horsing around? 
Good Guys Car Show 
Everyone's favorite car show is back this year! Head to the Iowa State fairgrounds to take in all your dream cars in one place. Featuring more than 4,000 Rods, Customs, Classics, Muscle Cars, and Trucks thru '87, you're sure to see beautiful automobiles all over. Enjoy Good Guys all weekend, with a special firework show on July 3! Tickets range from $10 – $25. 
Yankee Doodle Pops (Virtual) 
Everyone's favorite Fourth of July event is back, but in a very 2021 way – virtually. They will be putting on their legendary concert, and you'll be able to see it from the comfort of your home. Out of town for the Fourth? Tune in on your phone so that you don't miss out on your favorite tradition. The show will perform time honored patriotic favorites, as well as other unique selections. Tune in to Iowa PBS at 8:30 p.m., Friday, July 2, and see the rest of the schedule for The Des Moines Symphony Annual Yankee Doodle Pops.
Big Country Bash 
One of the biggest country festivals of the year, Big Country Bash in Saint Charles is the biggest party of Independence Day weekend. With two days full of country superstars, if you're looking for music, this is the place for you. Featuring country stars Lee Brice, Josh Turner, Jon Pardi, Brett Young, and so many more, Big Country Bash will definitely have you dancing. Camping, vendors, and fireworks. Tickets are still available, but going fast.
Boomers 
Boomers in Waukee gives you the best of both worlds. A fireworks shop where you can get everything you need to entertain the kids and scare the neighbors and somewhere to go watch fireworks, listen to live music, and drink beer. Come listen to Party in the Sky on Saturday, July 3 and Jesse Jaspers & Chad Bearden Band on Sunday, July 4. These concerts will also feature food trucks and drinks, and of course a fireworks show. Admission is $5.
Urbandale
If you are looking for an entire weekend event, you're going to want to head over to Lions Park in Urbandale! They start out their Holiday weekend by opening a carnival on Friday afternoon, as well as an evening full of live music and vendors. Wake up Saturday morning and participate in a 5K, or by watching a 2-mile parade. There is also a bags tournament, as well as live music throughout the weekend. Wrap up your Holiday by watching a magnificent fireworks show on Sunday night, taking in all the memories from the spectacular weekend! 
Windsor Heights 
Windsor Heights is hosting their Independence Day Spectacular once again. Saturday night you can enjoy a parade, and the kids can get all hyped up on sugar. Sunday features a Community Band Concert, as well as a Horseshoe tournament. There will be a wild fireworks display as well, it's not Independence Day without one. The perfect way to end your holiday weekend.