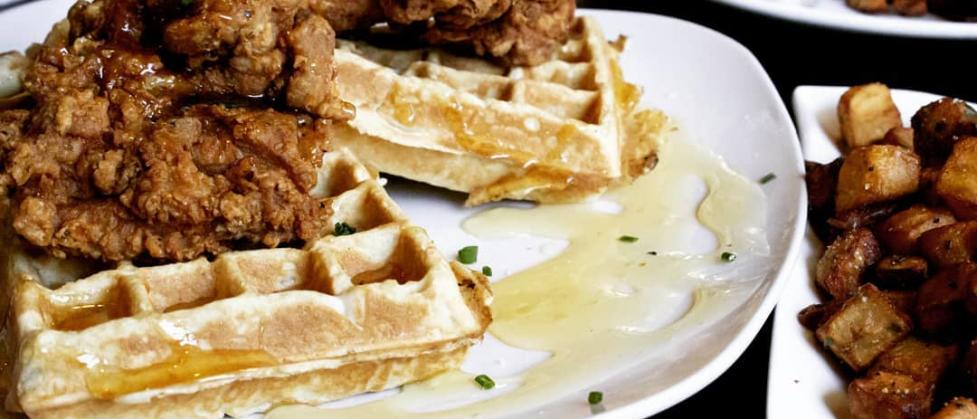 Photo credit: Eggs and Jam
Whether you're looking for a full course buffet or bottomless mimosas, Greater Des Moines has a brunch location that will suit your entire brunch crew. 
Drake Diner
Served all day
One thing is for sure; you'll never leave Drake Diner hungry. Bask in the old-school diner ambiance while enjoying one of the local favorites such as Santa Fe grits, corned beef hash, pumpkin pancakes, potato pancakes, cinnamon French toast, waffle dogs, or just lots and lots of hash browns.
Eggs and Jam
Served all day
This place checks all the boxes. Cheesy plantain fritters? Check. Breakfast sandwich with a waffle bun? Check. Salmon cakes over eggs, breakfast tacos, and mimosa flights? Check, check, and check! This restaurant claims they "got the goods," and we can confirm. With large portions, hip-hop themed menu items, and 90's soundtracks, they definitely have the goods.
Jethro's BBQ
Served all day
Jethro's is known for its fantastic BBQ and insane Emmenecker Challenge, but did you know breakfast also fits into its wheelhouse? With options like breakfast quesadillas, breakfast nachos, and create-your-own skillets, Jethro's is a must-stop for those in need of a hearty, Iowa brunch. Insider tip: At the Jethro's BBQ 'n Bacon Bacon location, there are peanut butter banana pancakes, chocolate chip cookie dough pancakes, and a BUCKET of bacon on the menu!
Waveland Café
Served all day
This neighborhood diner is home to the "best hash browns in the galaxy," plate-sized pancakes, and is a personal favorite of actor Jason Momoa. They make a mean breakfast skillet, but nothing else about this diner is mean. The majority of the waitstaff have served at Waveland since 1992, and they make sure to treat everyone like family.
St. Kilda
Served all day
Take your best mates out for a brunch they are sure to remember! This Australian-inspired eatery is perfect for expanding your palate by experiencing a twist on brunch classics. Order a glass of Australian iced coffee to go with your plate of salmon and eggs, or a bloody mary to go with your beef and polenta with a poached egg. 
Mullets
Monday – Friday: 7 a.m. – 12 p.m.
Saturday – Sunday: 7 a.m. – 2 p.m.
Choices on the menu range from breakfast meatloaf topped with eggs and a gooey cheese sauce, to a personal favorite, the chicken and donuts! And don't forget - brunch isn't all about food. Try the breakfast cocktails where they feature a mimosa with Malibu Rum.
University Library Café
Saturday – Sunday: 8 a.m. – 2 p.m.
This hidden gem is located in the Drake Neighborhood and is home to a range of eclectic brunch items: breakfast burritos smothered in chili and cheese, breakfast burgers with gravy and potatoes, hangover hash, hummus melt, and most popular – a mound of cheesy, delicious breakfast nachos.
Machine Shed
Monday – Friday: 6 a.m. – 10:45 a.m.
Saturday – Sunday: 8 a.m. – 2 p.m.
Fresh, homemade cinnamon and pecan rolls the size of your head…need we say more? If you're looking for a homemade, homestyle, hearty breakfast, then the family-friendly Machine Shed is the brunch spot for you.
Americana
Saturday – Sunday: 9 a.m. – 3 p.m.
With more than 40 brunch items this bombshell brunch buffet will satisfy all cravings and appetites. Check out Americana's custom grilled cheese station, loaded mashed potato bar, build-your-own breakfast taco bar, gluten-friendly dishes, and so much more! Oh, and did we mention the bottomless mimosas and bloody marys? Because there are bottomless mimosas and bloody marys.
Gilroy's
Saturday – Sunday: 9 a.m. – 2 p.m.
At this brunch buffet, choose from a long list of breakfast options such as cornflake French toast, breakfast pizza, biscuits and gravy, made-to-order eggs and omelets, mimosa and bloody mary bars, and stacks and stacks of pancakes! Bonus for families – kids under the age of six eat free! Insider tip: the breakfast fun at Gilroy's isn't restricted to just the weekends. Monday through Friday, enjoy a breakfast happy hour from 7:45– 10 a.m. with $4 mimosas, screwdrivers, sunrise mules, and bloody marys!  
The Fletcher Kitchen + Bar
Sunday: 10 a.m. – 3 p.m.
We love this brunch because the menu is ever-changing. Week to week, The Fletcher's chef crafts a new menu incorporating seasonal ingredients. From custom-made pancake art to fresh seafood to hot-out-of-the-oven pastries, this brunch has the most delicious surprises.   
Malo
Saturday – Sunday: 10 a.m. to 2 p.m.
The Bandit Brunch has food options for even the pickiest brunch guest. A departure from the typical breakfast buffet, Malo's brunch has an extensive menu, from tacos to tortas!  
Bubba
Sunday: 10 a.m. – 2 p.m.
One of the newer kids on the block, Bubba generates buzz for their swanky-yet-cozy atmosphere and tasty southern classics. So if you're looking for a Southern-style brunch consisting of shrimp and grits, creole omelets, fried green tomato benedict, or chicken fried steak and eggs, then look no further than Bubba in downtown Des Moines. 
Django
Saturday: 11 a.m. – 2 p.m.
Sunday: 10 a.m. – 2 p.m.
This cozy French restaurant is known for its wide variety of seafood, burgers, and vegan-friendly options, but brunch, it also does exceptionally well. Try Django's seafood biscuits and gravy, bleu eggs and ham sandwich, or the crêpes Lorraine and see for yourself! 
Eatery A
Tuesday – Sunday: 10 a.m. – 3 p.m.
Savor a diverse, unique spread with hints of Spain, Morocco, Egypt, and Italy from Eatery A's Mediterranean-inspired menu. Wake up your flavor palette with wild crab benedict, lemon ricotta pancakes, Nutella French toast, hanger steak hash, quiche Florentine, or chilaquiles – you really can't go wrong with any of their menu options!