About Catch Des Moines
The Greater Des Moines Convention & Visitors Bureau and the Des Moines Area Sports Commission, collectively known as Catch Des Moines, markets the region as a visitor destination, increasing economic growth and enhancing the visitor experience.
Catch Des Moines is an accredited Destinations International organization. As the visitor's and meeting professional's trusted partner, we are the heart, the soul and the energy of our destination. Our focus is to drive economic success and enhance the quality of life in the Greater Des Moines municipalities we represent.
CATCH DES MOINES REPRESENTS 14 MUNICIPALITIES
 CATCH DES MOINES BOARD MEMBERS 
David Adelman, Cornerstone Government Affairs
Bob Andeweg, Mayor, City of Urbandale
Ann Atkin, Prairie Meadows Casino Racetrack & Hotel
Bobbi Bentz, Councilperson, City of Ankeny
Jeremy Boka, Councilperson, City of Altoona
Jay Byers, Greater Des Moines Partnership
Dan Carlino, Hilton Des Moines Downtown
Chris Connolly, Iowa Events Center
Paula Dierenfeld, Mayor, City of Johnston
Jeff Fleming, Des Moines Art Center
Sarah Haines, ITA Group
Brian Hardin, Drake University
Greg Hudson, Councilperson, City of West Des Moines
Mike Jones, Mayor, Windsor Heights
Eric Klein, Councilperson, City of Clive
Amanda Lundstedt, Councilperson, Pleasant Hill
Scott Mikkelsen, Mayor, City of Grimes
John Parker, Jr., Councilperson, City of Indianola
Angela McKenzie, Councilperson, City of Bondurant
Steve Peters, West Des Moines Marriott
Katie Weber, Principal Financial Group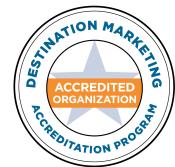 The Greater Des Moines Convention and Visitors Bureau was awarded with the Destination Marketing Accreditation Program (DMAP) seal by Destinations International in recognition of the organization's commitment to industry excellence and meeting the industry standard for performance and accountability of destination organizations around the world.
The accreditation program requires a destination organization to successfully comply with a multitude of mandatory and voluntary standards that span a variety of performance areas to gain this momentous achievement. The standards cover nearly all aspects related to the management and marketing of destination organizations including governance, finance, human resources, sales, communications, destination development and research. The Greater Des Moines Convention and Visitors Bureau joins the ranks of over 200 destination organizations who have obtained DMAP recognition.
"By achieving DMAP accreditation, Catch Des Moines has demonstrated that they have developed strategies for the direction of their destination and the policies and procedures to safeguard the use of public dollars" - Maura Allen Gast, FCDME, executive director at Visit Irving.