Are you finding yourself with a case of cabin fever, but winter's barely begun? It's the perfect time to seek out a festival or event and invite friends and family to join you. These Greater Des Moines winter events offer the best in cold weather entertainment for visitors and locals alike.
Winter Blues Fest - Downtown Marriott, Des Moines, February 15 and 16, 2016
Enjoy two days of smokin' hot blues to chase away the late winter chill. Enjoy more than a dozen acts performing on six different stages. The festival, presented by the Central Iowa Blues Society, is the ultimate place to spend Valentine's weekend with your favorite blues fan. Who doesn't love live music?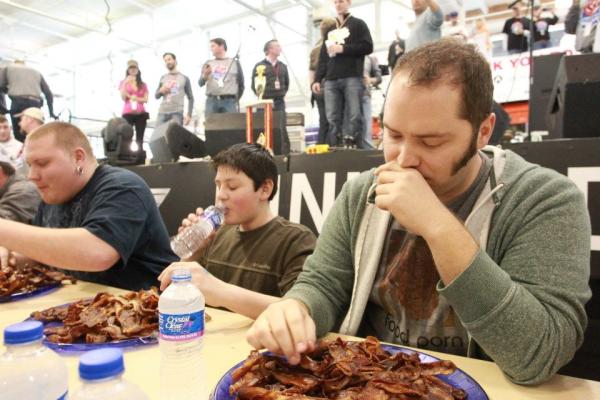 Blue Ribbon Bacon Festival - Iowa Events Center, Des Moines, February 20, 2016
You've likely heard about this one! On February 20, thousands of bacon lovers will gather under one roof for live music, bacon dishes and samples, cooking competitions, bacon-centric bars and other wild and wacky entertainment. What could be better than an entire festival dedicated to bacon? Tickets tend to sell out fast, so purchase yours ASAP to get in on this annual tradition.
4th Annual Des Moines Area Bluegrass Festival - Stoney Creek Inn, Johnston, February 26 & 27, 2016
Jam sessions, workshops, bluegrass stars and plenty of fan fellowship are just a few of the reasons to travel to Johnston in February. Bring the whole family to experience what bluegrass music is all about!
Want even more? There are plenty of other special events with broad-based appeal. Here are just a few more:
• For the arts and culture lover in search of winter entertainment, Des Moines Metro Opera will stage Schubert's Winterreise as a multimedia production January 29-31.

• The Des Moines Symphony doesn't let a little cold weather slow it down either, with a Brahms program the last weekend in January and a production of Peter and the Wolf on February 13.

• For those already itching for warm weather, the 38th Original Fisherman's Swap Meet and Boat Show will have anglers from all over coming out of winter hibernation and gathering at the Iowa State Fairgrounds during the last weekend in February.
With so much to see, taste and experience in Greater Des Moines the next few weeks, there's no reason to give in to cabin fever.