Do you have a staple food you always order when you go to a restaurant? I do – WINGS! I love chicken wings and love finding out who makes them best. The choices are endless. Boneless or Traditional? BBQ, buffalo, mild, hot, Cajun, teriyaki, parmesan garlic…and the list just goes on and on. It is also fun to find out the differences between the "same" sauces. So whenever I go to a restaurant, especially if it is for the first time, I order wings.
Once I find a good chicken wing location, I tend to go back…and back again. For example, Buffalo Wild Wings – you just can't go wrong! 16 different wing sauces and 5 different dry rubs! (Cue mouthwatering now.) If I am not visiting on a Tuesday or Thursday (deal days) I order the Traditional and boneless wing combo. Simply because I can never make up my mind! This combo also comes with a side of fries. Pair that with their southwest ranch dipping sauce and I am in heaven.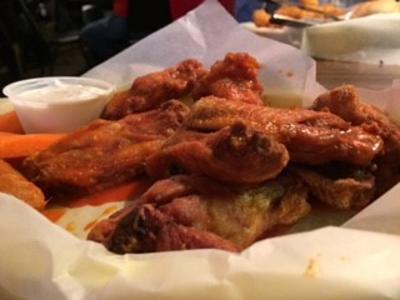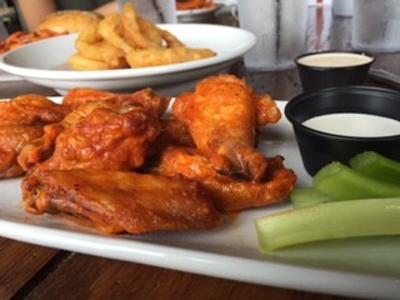 Another favorite of mine is the moist, crispy, yet saucy wings found at El Bait Shop. I crave these wings! Pair it with a side of crinkle fried to soak up the extra sauce. I am the traditional mild buffalo sauce kind of girl, but I think I may give the High Life Tang Sauce a shot next time! With the relaxed atmosphere and one of the 185 cold beers on tap, I can't think of anything better.
A new location in the Historic East Village has also been added to the wing list – Iowa Taproom.  Choose from their 9 sauces (BBQ, Porter BBQ, Bourbon BBQ, Honey Sriracha, Peanut Chili, Buffalo, Spicy Dry Rub, Dragon's Breath, Crispy breaded) and let your taste buds do the rest. The wings came out hot and ready to be devoured. I chose the classic buffalo sauce with a side of blue cheese, but next trip there I think I will venture to try the bourbon BBQ or Dragon's Breath. (We will see how adventuress I am!) It is a perfect spot for beer, wings and sports! More than 100 beers on tap and a lot of TV's throughout the restaurant. *Fun fact for the history buffs – the Iowa Taproom's building dates back to 1882, check out all the unique and rustic features!
Well now I am starving and craving wings… where should I try next, any advice?
Want to stay up to date on the latest buzz around Greater Des Moines?
​Subscribe to our blog or sign-up for a Catch Des Moines Newsletter.