Craft beer has become more and more popular throughout the country. Today, there are more breweries in the United States than at any point in history. Everywhere you look, more options seem to pop up. Head to your local grocery store and you are bound to find dozens of different craft beers of all different styles. Bars and restaurants have been pushed into providing a larger, more diverse selection. Des Moines is no exception. 
Great local breweries can be found throughout Greater Des Moines. Places like Court Avenue Restaurant and Brewing Company and Raccoon River Brewing Company have been well known for a while in Downtown Des Moines, while newer breweries like Exile Brewing Company and Confluence Brewing Company have made a name for themselves recently. 515 Brewing Company in Clive and Number 7 Brewing Company in Ankeny are also on the rise with popularity in the Metro.
Peace Tree Brewing Company has been a favorite of mine for quite some time. It is based in Knoxville, Iowa just a little ways outside of Des Moines. However, you don't have to travel outside of Des Moines to taste it. Peace Tree focuses on providing their beer to various restaurants and bars in Greater Des Moines and it is very easy to find.
The first time I tried one of their beers was a couple of years ago after work at El Bait Shop in Downtown Des Moines. (Note to readers: If you love craft beers and you love variety, then you MUST go to El Bait Shop. The bar has over 100 beers on tap, which makes it the biggest selection of American Microbeers in the world!) A couple of co-workers and I went there to have some wings and beers but also to pre-register our team for Devour Des Moines, which is a part eating event, part triathlon event to raise awareness for buying local food and living an active lifestyle.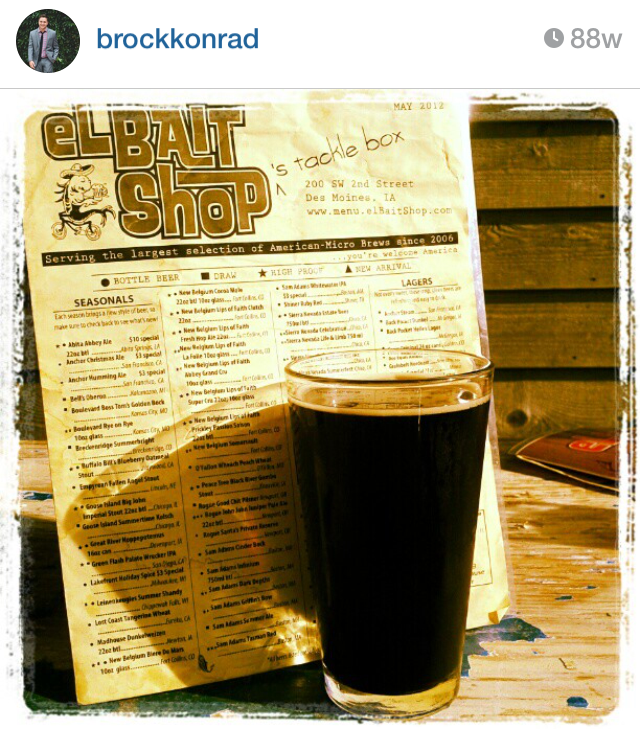 Anyway, the first Peace Tree beer I tried was their Rye Porter. It's a really flavorful and smooth porter with hints of caramel and chocolate but doesn't overpower you. At the time, the Rye Porter was in their regular rotation of beers that were distributed year-round. Now it is a seasonal brew that makes its appearance in late fall and winter. It was the first Peace Tree beer I tried and remains my favorite. The three main year-round beers you will find from Peace Tree are the Red Rambler (American Amber Ale), Hop Wrangler (IPA) and Blonde Fatale, which is probably their most popular. The Blonde Fatale is a Belgian-style Blonde Ale, with a higher alcohol content than most beers at 8.5% ABV. The name "Fatale" was given to it because if you're not careful, it will catch up with you!
They also have several seasonal beers that get distributed throughout the year such as their Black River Gumbo Stout, Imperial Stout and Hop Sutra (double IPA). If you visit their taproom you will have an even larger selection available as they often brew several very small batches of seasonal beers. They had about 10 different beers on tap when I recently visited their taproom. However, their most popular seasonal beer is probably the Cornucopia. The Cornucopia is a farmhouse-style ale that is brewed with local Iowa sweet corn. It is usually made and distributed in the fall.
The only downside about the Cornucopia is that if you want this beer you will need to act quickly. I missed out on this beer the first couple of seasons. There isn't a ton of it made and it flies off the shelves very quickly. Luckily this past season I was able to snag some from the Hy-Vee on Fleur thanks to a heads up from Peace Tree's Twitter handle. Ahh, you have to love social media!
Whether visiting a local bar, restaurant or brewery taproom -- Des Moines continues to become a great destination for great American craft beers. Cheers!  
-- BK