I'm sure the kids in school are getting a little restless thinking about their fast-approaching spring break. I'm also sure this restlessness is transferring to all of your homes. We've needed some early bedtimes to calm the seas. J Don't fret though, Des Moines has plenty of options to fill up your spring break week and change those crazy kiddos into entertained ones. To ease your stress, I've got three ideas that will most certainly translate into spring break success!
1.  Take the entire family (mom, dad, kids, grandparents, cousins) to the Pappajohn Sculpture Park in Downtown Des Moines. We're talking 28 big, gorgeous sculptures in an outdoor, park setting created by some of the world's most celebrated artists. The Sculpture Park was created in 2009 through a generous donation of public art from John and Mary Pappajohn. Since then more incredible sculptures have been added to the original collection. A must-see that has become a Des Moines landmark – and my favorite sculpture – is Nomad. As the kids are oohing and aahing at the massive structure, sneak in a little learning over Spring Break and have them find all the letters in their name. Or every letter in the alphabet. They'll have fun and you'll win parent-of-the-year points with the kids' teachers!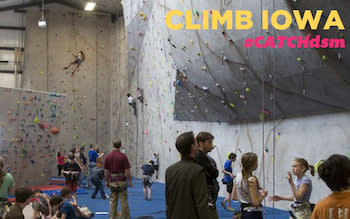 2.  If the weather isn't cooperating during spring break week or you're just looking for something to do inside…and don't mind a physical challenge…Climb Iowa is the place to be.  Located in Grimes, Climb Iowa is Iowa's largest indoor climbing and training facility, with more than 10,000 square feet of climbing, 200 routes and problems, a fitness room and a yoga studio. According to an employee at Climb Iowa, if you can climb a ladder, you can handle their easiest climbing route.  If you're an experienced climber or somewhere in the middle, there's a route for you too. The minimum age to climb is four (my daughter's age) so an outing to Climb Iowa has just been added to our family's spring break must-do list! Expect to spend about two hours there to get the full experience. And a little insider's tip...the facility sees a slow down after 3 p.m. so schedule a late afternoon climb.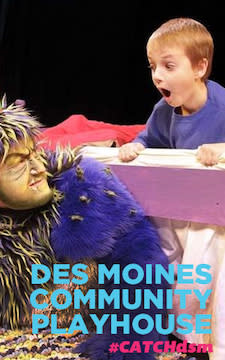 3.  Have a budding actor or actress on your hands? Then get them signed up for a spring break workshop at the Des Moines Community Playhouse! Students in grades 1-2 will explore "A Whole New World" and those in grades 3-8 will rehearse and present "Disney's Aladdin KIDS," as part of the theatre's Performance Academy. The kids will take part in creative drama, role-playing and lots of hands-on activities. I know I've got a drama queen (in more ways than one!) in my house who would love to get on stage. The theatre has presented a full season of shows since 1919 chock full of talented, local actors. There aren't any main stage shows going on during spring break but Les Misérables debuts March 21 so be sure to catch that as well.
With all there is to do, Des Moines is THE destination for spring break 2014! Make it great!
-- JL