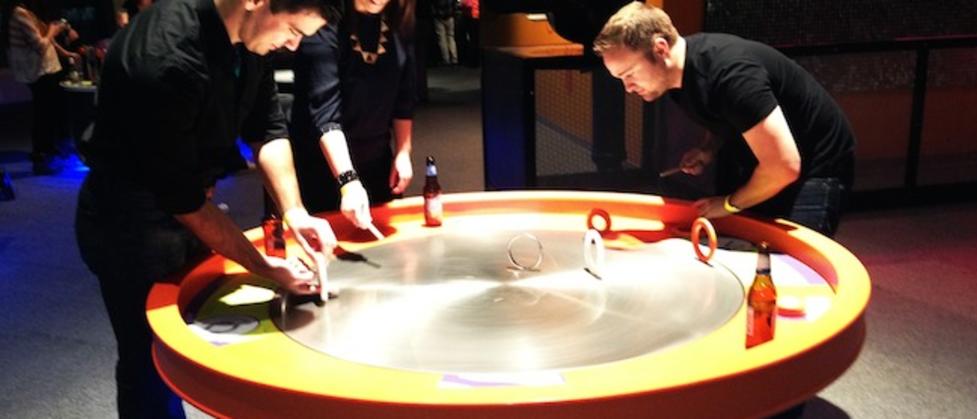 A few weeks ago I experienced Mixology at the Science Center of Iowa for the first time ever. The theme that night was "salsa," complete with Latino band and salsa dancers. We walked in, grabbed a few drinks and started exploring.
We played with the air cannons, the boys enjoying the effect of messing with the girls' hair. Added bonus: we even got a science lesson from the engineer in our group. We experimented with a contraption that reminded me of the retro game, Mouse Trap. Then packaged up fake eggs and launched them off a platform to see whose egg would crack the least. We also spent significant time building paper rockets, a competition ensuing for whose rocket could go the furthest distance. (I lost. Mine instantly fell flat, inches from the launch pad.)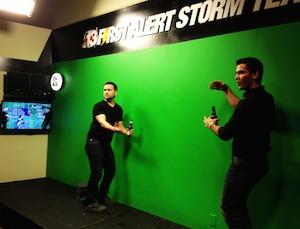 Then we wandered through the What on Earth? platform, featuring native species to Iowa. I had to cringe at the slimy, slithering snakes. Ick! But then came WHO-TV's green screen where the station gives live weather reports daily. The guys in our group hammed it up, portraying their best impersonation of a meteorologist—it was a huge hit!
Bottom line: I can honestly say I underestimated the amount of fun we would have. I was instantly entertained and felt like a kid in a candy store! No embarrassment for acting childish and super cheap at only $5 admission!
The next night, the same group hit up a new arcade bar in the Historic East Village—UpDown. The place was packed. I challenged our group to life-sized Jenga—a free game, where most of the arcades cost 25 cents a pop. After making a pretty big racket when our Jenga blocks tumbled, we played a few old favorites like Terminator, Skeeball, the Simpsons, Mortal Kombat, Alien Invaders and Pac-Man.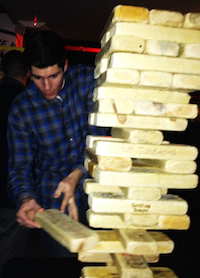 I consider myself a pretty mean pinball player, and hit up a new twist on an old classic with a South Park theme.  Then we settled in to the plaid couch and box TV in the back corner to play everyone's childhood favorite: Super Mario Brothers on old-school Nintendo.
I should also mention, both American Gladiators circa 1989 and WWF wrestling featuring Hulk Hogan and Macho Man Randy Savage were playing on the TV system in the background—if you're into that kind of thing. J
Bottom line: The venue was no frills, but a unique hangout for a Saturday night. Games were cheap at just a quarter, and drinks were priced fairly low. I'd go again—and plan to very soon!
Overall, I'm always looking for something new and fun to do on the weekend in Des Moines. Do you have suggestions on new hotspots for YPs in DSM? Share your favorite local things to do as a young professional in the comment space below—and I might just blog about it!
-- KR