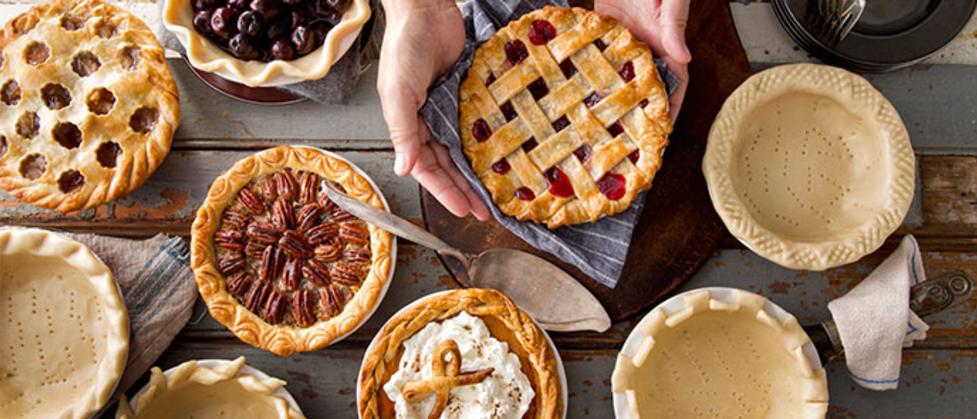 Every year I swear the holiday season sneaks up on me earlier and earlier. So much focus is already on Christmas and shopping so I want to shift the focus back to one of my favorite holidays...Thanksgiving! Think about it...all we have to do on Thanksgiving is eat, spend time with loved ones, watch football and reflect on what we're thankful for. Other than cooking, not too much work. Simply time to relax and enjoy great company. Low stress holidays make this mama happy!
I come from a family of planners so the Thanksgiving meal fixings have already been assigned to each person. This year I got pie. YUM! And since I love a low stress holiday, I will be buying my pies instead of trying to figure out how to make the perfect crust.
I've been eyeing a few places around Greater Des Moines that have incredible pie options.
Here are three I know you will love!
1. Iowa Orchard

Their Dutch Crumb Caramel Apple Pie is just incredible! Flaky crust, ooey gooey filling, delicious crumbly topping and a caramel drizzle that sets this pie over the top. Iowa Orchard's other pies...pumpkin, pecan, peach, strawberry rhubarb and many others...are all homemade and just as good, but the Dutch Crumb Apple wins my heart every time. Their storefront is located in Urbandale where you can get pie, apples, cider and lots of other yummy goodies. They request a one day notice for larger orders so be sure to plan ahead.
2. Cache Bake Shoppe
 
 
 
 

 

Check out these individual serving pies! My friend Naomi bakes up thousands of these each fall and you can't go wrong with any of her flavors.

How cute would these look at each place setting? You could even get a mixture of flavors to let everyone choose their favorite. There's a variety of fruit fillings as well as lemon meringue, pumpkin, French silk, pecan and many others.

Plus you can add a crisp or cobbler topping to any of the fruit pies. Yes, please!
3. Crouse Café
Located just south of the Des Moines Metro in Indianola is Crouse Café. The café's cherry pie was voted THE BEST pie in Iowa last year through the Iowa Tourism Office's contest. Locals and visitors alike voted and crowned Crouse Café as the grand champion. The cherry pie also made Des Moines Register's list of "100 Things to Eat Before You Die." I'd say this pie needs to be on your Thanksgiving table!
Other assorted varieties are available daily including their apple, peach and coconut cream...all homemade each and every day!
Sorry if you're starving now! But hopefully you have some ideas of what to serve for dessert at your family Thanksgiving. 
--JL