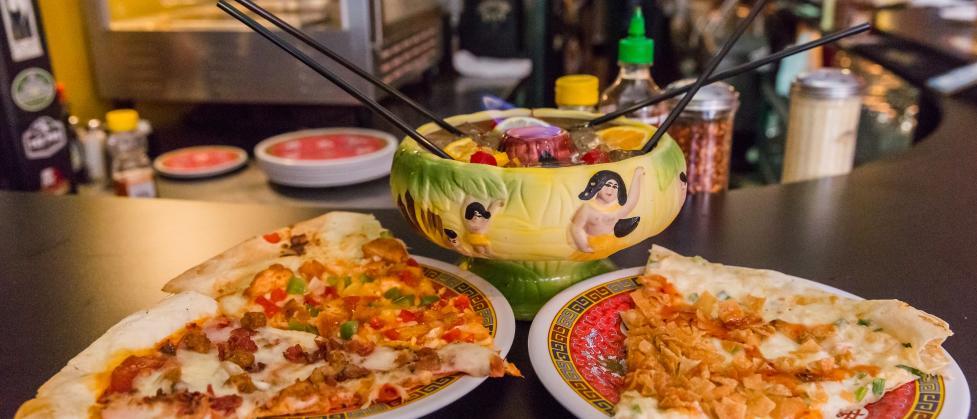 Fong's Pizza in Greater Des Moines. Locals love it and visitors flock to it. They serve up delicious food, fun drinks and a unique atmosphere that has people from all over posting their love for it online. Fong's Pizza is an Asian influenced pizza joint with a dive bar feel. It's been featured on Food Paradise and other TV shows and was named the Best Pizza in Iowa by Food Network Magazine. This spot is a staple of the Greater Des Moines food scene and we want to make sure you don't skip over it next time you're in town.
Just heard people in the skywalk say "I would never go somewhere called Fong's Pizza" and thought to myself "LOLZ out-of-towners."

— Annah Backstrom (@AnnahBackstrom) March 21, 2014
When you walk in you will likely find "Fongolians" (those who eat at Fong's) wearing kamikaze helmets. Most people like to put them on for photos and others wear it while taking a kamikaze shot. Don't worry, the helmets, and shots, are optional and you can join in on the fun or just appreciate it from afar. It's all part of the unique ambiance Fong's Pizza provides.
RELATED: Discounts at Greater Des Moines Restaurants, Retailers & Attractions
Let's start with the most iconic dish at Fong's, crab rangoon pizza.  It's #2 on the menu and features a crab rangoon base, surimi, green onion, asiago and mozzarella topped with crispy wontons and sweet chili lattice. It sounds outrageous, but it's just outrageously delicious. We could tell you about how great it is, or we can let others inform you:
All I want in life is unlimited crab rangoon pizza from Fong's

— Becca (@becca_steffes) July 21, 2016
If you're into food comas, go ahead and get you some Crab Rangoon Pizza from Fong's Pizza #DesMoines #Iowa #😴💤💤💤

— James Jones (@jamesjones_99) April 7, 2016
RELATED: Food & Drink Events in Greater Des Moines
We should also note a few more delicious bites to eat (although the entire menu is amazing). Patrons can also enjoy sweet and sour chicken pizza, egg roll pizza, mac and cheese pizza and many other out-of-the-box creations. For appetizers, or "DSM Openers" as Fong's calls them, we recommend the meat egg rolls or the thai sticks. The pizza rolls are good too but if you are going to order pizza, we recommend trying something non-pizza to start!
That brings us to their tiki bar. For those 21+ you can pick from a long list of fusion cocktails. Try the Tiki Torch or the Fong's Fizz, which includes Bacardi torched cherry and Pimm's served over muddled limes and cherries with a splash of fresh lemon juice, OJ, and lime juice and topped with soda. The drinks come in unique and cool cups such as the ones below. Oh, did we mention they also serve local beer? That makes it even better.
The drinks at Fongs pizza own my soul

— Oriana 🍷 (@OrianaLogan) August 18, 2016
RELATED: Bars & Nightclubs in Greater Des Moines
Two Fong's Pizza locations can be found in Greater Des Moines. The original in downtown Des Moines and a second spot in Ankeny. If you happen to stumble past the downtown spot after midnight on Friday or Saturday, you will likely find a line out the door. It's a hot spot for a late night bite to eat if you missed dinner or need some food after a few drinks. However, both locations deliver the same delicious food and drinks and have plenty of helmets around for you to wear.
Fong's Pizza is reason enough to get in your car and get to Des Moines. Pizza lovers not only recommend it, but some say it's life changing and well, we agree. 
Crab Rangoon pizza from @FongsPizza changed my life. #DesMoines

— Lauren Cunningham (@LaurenSlypig) March 18, 2016