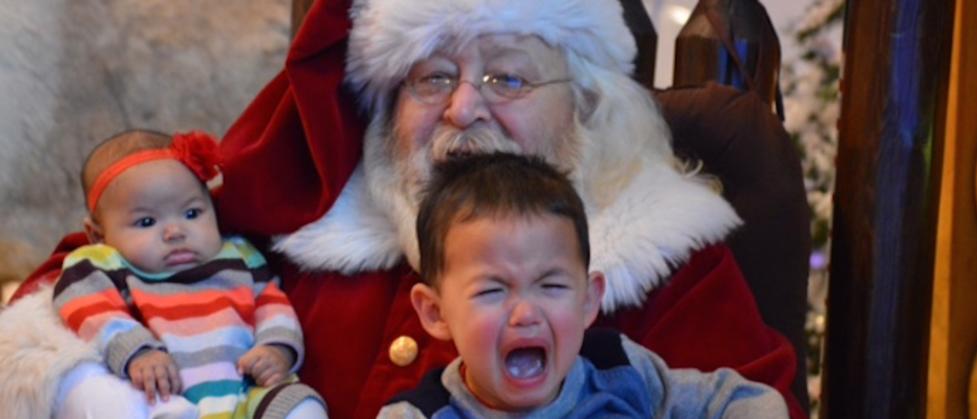 Tis the season! I absolutely LOVE Christmas time with kids. There is nothing better than seeing their smiles and the magic of believing. Of course, sitting on Santa's lap is all part of the magic. Just ask my friend Ashley—her kids clearly loved it. And while it seems like you can see Santa just about anywhere this time of the year, here are a few options that make the experience a little extra special:
1.  Blank Park Zoo: Santa AND his reindeer will be at the zoo on Saturday, December 13 from 10 a.m. – 2 p.m. You can get your picture taken, write a letter to the North Pole, have hot cocoa and see the zoo animals too! It's winter season so not all of the animals are out, but there is still plenty to see. The tigers, lions, penguins, rhinos, sea lions and seals, plus the Discovery Center are just a few of the exhibits still open. Zoo members can see Santa and visit the zoo for free, otherwise regular zoo admission charges apply.
2.  Center Grove Orchard: The Orchard has great events the next two weekends where you get to see Santa AND Rudolph! Kids are able to visit with and write a letter to Santa, have brunch and participate in a coloring contest. In addition, on December 13 and 14, there are horse drawn wagon rides (weather permitting) and cookie decorating. On December 20 and 21 you can participate in an old fashion Christmas and paint your own wooden ornament. The menu differs each weekend and tickets are $7.95 for ages three and up ($5.95 for two and younger). I feel like participating in BOTH weekends just to give me an excuse to go shop in the Orchard store. They have the BEST cider donuts!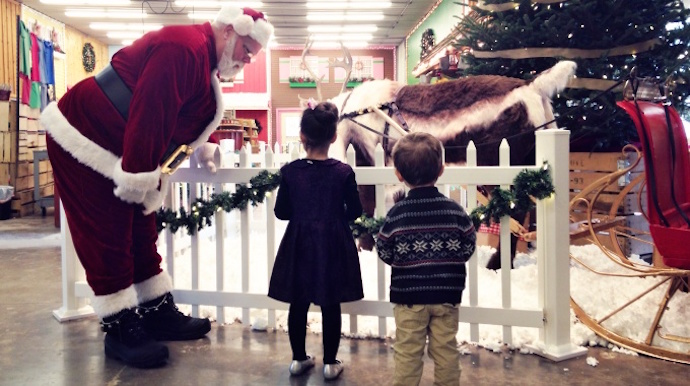 Photo Credit: centergroveorchard.com
3.  Bass Pro Shops: This is more of a traditional Santa setting. But better. We make a trip to Bass Pro each year to see Santa because he is great and they make it so easy. For starters, you get a Bass Pass when you arrive. This is a virtual spot in line so you can wander the store until it is your turn. They don't always need them during the week but definitely use them on the weekends. You get a free printed picture with Santa and a candy cane, and the kids can make an ornament and play games in the village—including remote controlled trucks and a foam shooting range. They can also mail letters to the North Pole. Everything is free!
4.  Science Center of Iowa: On December 20 and 21 Santa will visit the Science Center. Meet Santa and have breakfast. See the Polar Express in IMAX. Then stay to experience all things SCI. This is a ticketed event, and there is a charge for both SCI members and nonmembers.
Have you visited Santa yet? Where is your favorite place to see the jolly old man?
--TF