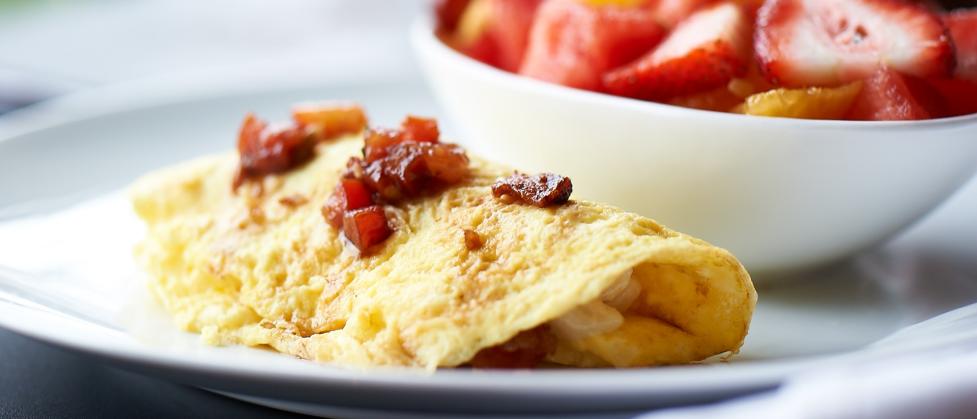 If you're someone who finds it difficult to determine which meal you like best, then brunch may be your ticket to success. In Greater Des Moines, brunch options are plentiful and delicious. Some come with bottomless Bloody Mary's and others are served with a side of breakfast potatoes. Here's a quick guide to seven of the hot brunch spots in Greater Des Moines.
Americana (Brunch 10a.m. - 2:30p.m.)
You're here because of the drinks. Americana offers a bottomless Bloody Mary and Mimosa Bar at a rate of just $14. If you're hungry, try the buffet for just $18. With drinks and food it comes to an even $30...well worth it.
With 30+ items to choose from, they offer a fajita station, assorted pastries and a customized grilled cheese station. Nothing like warm melty cheese topped with Cheetos to cure a hangover.
Mullet's

 (Brunch 7a.m. - 1p.m.)
After a night of drinking all a hangover wants is food, food and more food. Mullets, the usual pregame bar for Iowa Cubs baseball games, has one of the best brunch menus to cure your hangry attitude.
Choices on the menu range from breakfast meatloaf that is topped with eggs and a gooey cheese sauce to a personal favorite, the bacon chorizo hash browns! Choose from a variety of omelets or decide to build your own.
Don't forget....brunch isn't all food. Dabble in the breakfast cocktails where they feature a mimosa with Malibu Rum labeled the Malimosa!
Malo

 (10a.m. - 2p.m.)
A menu that features bottomless tacos, burritos, omelets, excellent chicken and waffles and biscuits and gravy. The chicken and waffles are outstanding and appropriate for any time you arrive. What I like best are the tacos, they are small with great flavor and there are thirteen different kinds to pick from.
Do your best to try all thirteen in one sitting (ok... that may be pushing it)!
Louie's Wine Dive (9a.m. - 2p.m.) 
The reason brunch is so likeable is because it offers the best of both worlds, breakfast and lunch. Louie's Wine Dive offers you a breakfast pizza flatbread that is to die for! Mexican chorizo, poached eggs, tomato sauce, green onions and cilantro...mmmmmmmm! Go for the croque madame with spicy capicola, Swiss cheese, an over easy egg, hollandaise sauce and an English muffin!
Again...Don't forget to get a drink! Choose from four different mimosas, three different Bloody Marys or sangria! (Tip: Go for the pitchers instead of just a glass, you'll thank me later.)
Le Jardin (9 a.m. to 1:30 p.m.)
Nestled in the Beaverdale neighborhood, this French restaurant serves up delicious brunch. Choose from a wide range of cocktails including the traditional Bloody Mary, two different flavored spritzers, and a mango mimosa and an Adams avenue mimosa. If you are looking for something different, try the sweet potato, spinach and brie omelet. If you want something sweet than the baked crème brulee French toast is a must. With a Carmel-baked bottom, brioche toast, grand Marnier custard and maple syrup, it's hard to resist. Of course, as you would expect from a French restaurants, you can pick from five different crepes too including savory ones such as the mushroom and goat cheese crepe to the sweet like the caramel apple crepe.
Gilroy's (7 a.m. – 2 p.m.)
Unlike most, Gilroy's serves brunch every day of the week! This restaurant opened up in 2016 and has been delighting patrons ever since. Start things off with the breakfast nachos, a pile of bacon, eggs, fried corn chips, black bean, corn…you get the point. Plus you can add guacamole! Then when it comes to the main course for brunch, options are endless. Pick from a long list of omelets, three different styles of eggs benedict, waffles, pancakes, and even breakfast pizza. Steak & eggs? Check. Biscuits & Gravy? Check. Or if two eggs, bacon and a piece of toast is more of what you are looking for, that's there too. As for the drinks, we recommend going big at Gilroy's and ordering the Crazy Soul-Less Redhead Bloody Mar. For $12 you get a delicious bloody plus bacon, pepperoni, cheese cubes, olives, peppers, a beef stick and celery.
Bubba (10 a.m. – 2 p.m.)
If you are looking for a Southern brunch, look no further than bubba in downtown Des Moines. One of the new kids on the block, they have generated buzz for their swanky yet comfortable atmosphere and tasty southern menu. Think shrimp and grits, biscuits and gravy, chicken and waffles and spicy sweet potato hash. Side dishes are just as delightful with cheesy grits, andouille, and pecan-smoked bacon (just to name a few).

Where will you brunch this weekend? Don't forget to share your experience with #catchdsm & #desmoineseats

Good luck Brunchers!