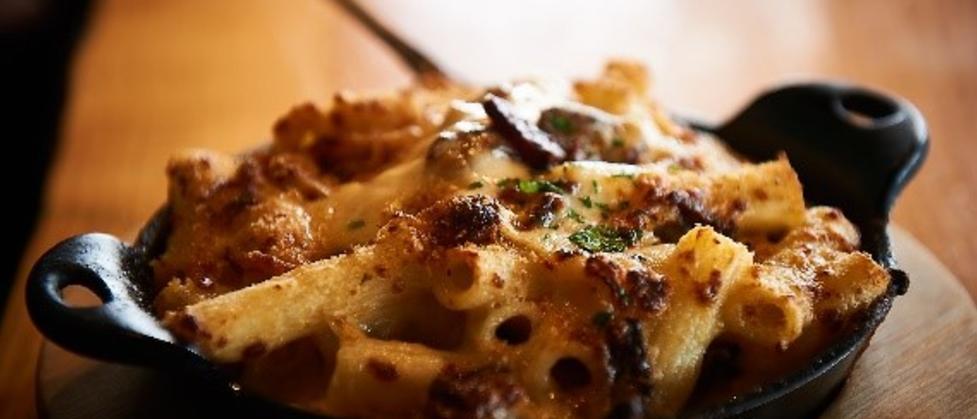 I love cheese! A lot. Which is why I'm disappointed that it took me so long to experience The Cheese Shop of Des Moines. The cozy spot offers dozens of cheeses, craft beers, wines and a delicious menu. They take their cheese seriously and anyone who's open to trying new things will see why The Cheese Shop is a must experience in Des Moines.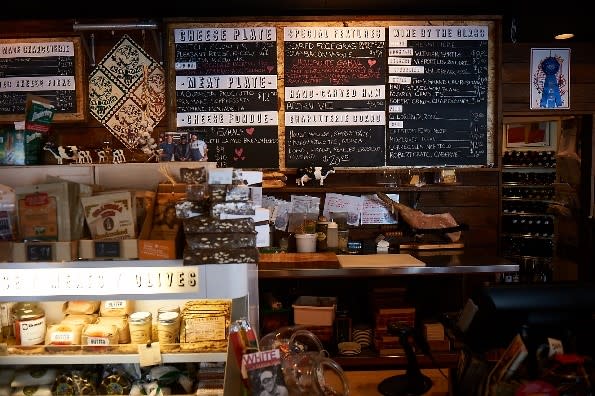 Let's start with the menu. First up, a meat and cheese plate! Our group referred to the chalkboard for the cheese and charcuterie of the day. I'll be honest, I hadn't heard of most of the cheese on the board but I trusted it would all be delicious. We asked our server a lot of questions! However, everyone at The Cheese Shop truly know the ins and outs of what they offer. Upon bringing it out, they explained what our order featured, where it came from and what we could expect in texture and taste (as you see below). All of it was delicious. Plus, I learned about what I was eating which is always something I enjoy!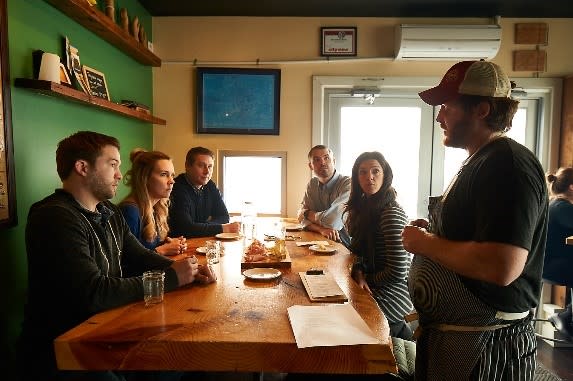 Now on to the main course! I ordered a dish where cheese is truly the staple ingredient. I went for their Classic Toastie, a grilled cheese with Milton Creamery quark and Prairie Breeze and Frisian Farms Gouda. I'd be lying to you if I didn't say that this toastie forever changed my expectations of what a grilled cheese sandwich should be. In fact, I left feeling like every grilled cheese I've had leading up to this one was a fake. The flavor was so rich, delicious and insanely satisfying that I've vowed to never eat a Kraft single again (well…maybe). The portion size was perfect. Here's a photo of the deliciousness!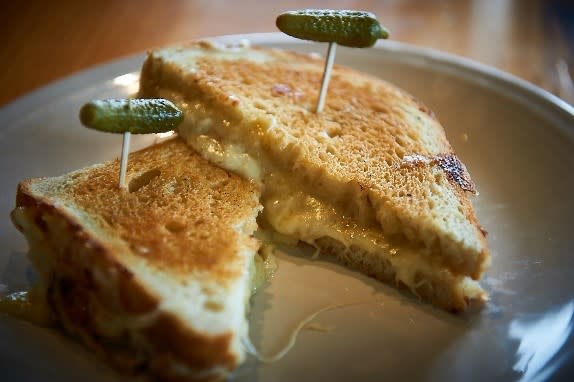 My friend ordered the Cast-Iron Mac & Cheese, which included Frisian Farms Gouda, Hook's Four Year Cheddar, Rustichella D'Abruzzo Rigontoncini Pasta, Monray Sauce and breadcrumbs. It looked delicious and smelled delicious. He raved about it and finished the entire dish. I was lucky to get a picture before he devoured it. Here it is: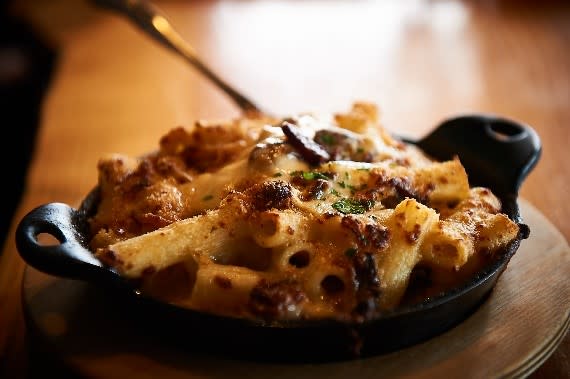 If you are looking for a meal, a small bite to eat or a place to grab and go, The Cheese Shop should be on your list! Impress your family and friends and stop in to grab a bottle of wine and some local cheese and crackers to take to the next get-together. Patrons can always sample a bite of any cheese they have available, so you can feel confident about what you're buying. You don't have to be a cheese expert to enjoy what The Cheese Shop brings to the table. You just have to be willing to taste, learn and enjoy! Also, on Wednesday's they have cheese fondue. Need I say more?
-- AB