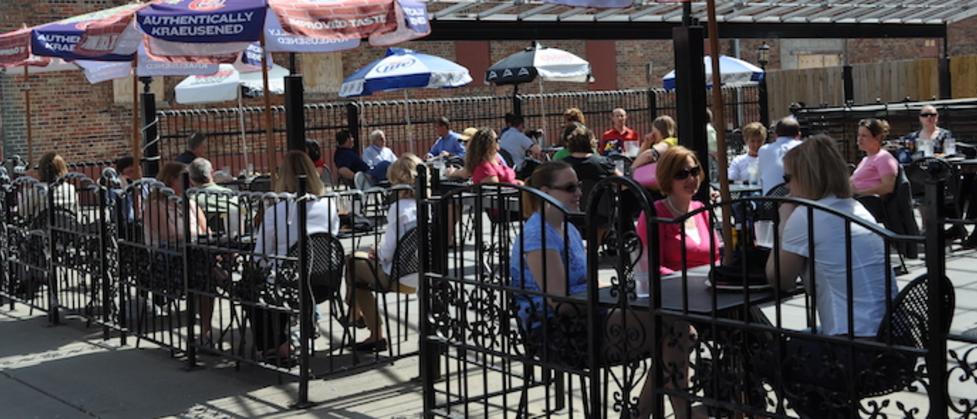 No more coats and jackets. Now we can look forward to sunshine and birds chirping. Yes, spring has arrived. More importantly, patio season has arrived. Nothing shakes off a long winter like having some food and drinks outside while enjoying some of Greater Des Moines' amazing neighborhoods!
I am going to share with you my top 5 favorite patios in Greater Des Moines: 


1.  Saints Pub + Patio
The combination of the amount of seating with the open-air bar puts Saints near the top. What makes it my favorite is the fact that they have several TVs outside including a huge projector screen on the wall. They also have some pretty darn good food!
2.  Mullets
For starters, just the name of it makes it great. Mullets has a ton of awesome photos of people rocking the mullet hairdo. It has a great double-decker patio to catch some of the best views of Downtown Des Moines' skyline. It also sits just across the river from Principal Park and is basically located on a bike trail.
3.  Tally's
It's tough to beat a rooftop patio, especially one that has very good food. Also, the patio overlooks Beaverdale's other fun restaurants and shops.  On weekend mornings, you can "build your own" bloody mary with their extensive condiments including slices of bacon!
4.  Dos Rios
The fresh guacamole made tableside at Dos Rios is amazing. Pair that with a margarita or sangria, some sunshine and a really nice patio area and you're all set! Another great thing about Dos Rios' patio is that it is located in the heart of the Court District so it makes for a fun and entertaining time.
5.  Wellman's Pub – West Des Moines
Wellman's Pub has two great patio areas to enjoy. They have a large street-side patio to sit and enjoy some of the great food that Wellman's serves. You can also make your way upstairs to enjoy views of West Glen from their rooftop patio. The rooftop has an open-air bar so it is great spot to spend the evening out for drinks.
There are many great patios in the Metro and choosing my top 5 was very difficult. So, I decided to give an honorable mention to Mickey's Irish Pub in Downtown Des Moines. Mickey's has a huge patio area with a very large bar right in the middle and also has a lot of booths and tables. You can also catch great live music on many nights there.
Did I not mention one of your favorite patios in Greater Des Moines? Comment below and tell me about it. See you out there!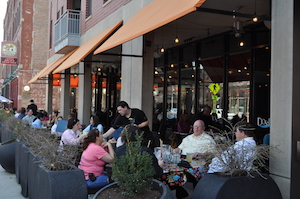 -- BK