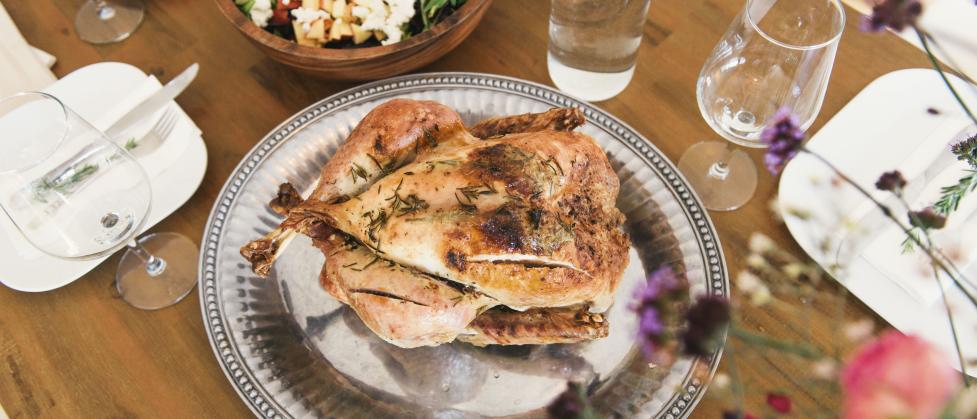 Thanksgiving always comes with a little bit of stress— like figuring out how to look good and still wear an elastic waistband, which pie to eat first, or how to get out of scraping the dirty pans after dinner. This year, when many extended families are choosing to meet virtually for the holiday, the question becomes, "How do I feed my family when I don't know how to cook anything except dessert?" Thankfully, many Greater Des Moines restaurants have prepared a cornucopia of to-go menu options to give you one less thing to worry about this year.  
Show your gratitude for our local businesses this season while making your family's dreams of turkey, stuffing, and sweet potatoes come true! (Check out the social accounts of each place for more info!) 
AJ's Steakhouse – AJ's Steakhouse at Prairie Meadows: Order by November 19th for curbside pick-up on Thanksgiving Day! The menu feeds groups of four or eight and includes all your favorites, from turkey breast to chive whipped potatoes. If you'd rather, AJ's offers a dine-in option on Thanksgiving as well.  
Americana – This popular downtown eatery offers a Thanksgiving take & bake with turkey breast, white cheddar mashed potatoes, Iowa corn souffle, green bean casserole, sage stuffing, and pie. $110 and serves 4-6 people. Preorder by November 24th.  
Bubba Southern Comforts - If you know you can roast poultry like the Food network greats, then focus on the bird and leave the sides to the comfort food professionals. Bubba is offering traditional sides to-go including buttermilk biscuits and cornbread with whipped honey butter, pimento mac and cheese, smoke green beans and bacon, and other holiday essentials – all a la carte. Order by November 24th at 5 pm for next day pick-up 
Catering by Cyd - Eliminate the fuss and leave the Thanksgiving prep to a professional caterer. Catering by Cyd is offering a traditional Thanksgiving menu including a fresh seasonal salad, garlic knots, and pumpkin pie complete with fresh vanilla bean cream. The meal feeds four for $98 plus delivery fee.  
Club Car – The Club Car in Clive offers a take & bake menu that includes either dinner for six or 12, with both turkey and prime rib. The meal consists of potatoes, corn, stuffing, spinach and artichoke dip, rolls, and all the fixings. Orders due by Friday, November 20th.    
Court Avenue Brew Pub – This might be the only Thanksgiving deal that offers growler fill add-ons. Get dinner for four, including bacon-wrapped pork tenderloins, sweet potato hash, pretzel stuffing, and more. $125, and growler fills start at $18—order by Friday, November 20th at noon and pick up November 24th or 25th.  
Fleming's – Celebrate at home with their 3-course dinner that includes a starter, herb-roasted turkey, and choice of dessert. You can also swap out the turkey for filet mignon or prime rib; this is a steakhouse, after all. Customize your order for up to 12 people. Orders must be placed by November 24th.  
Gateway Market – Family-style entrees are served with signature sides. Choose from full birds ranging from 10-24 lbs. to bone-in turkey breasts from 6-8 lbs. Add a floral arrangement, wine, and even appetizers. Pick-up and delivery options are available.  
Gilroy's – Take-and-bake your Thanksgiving dinner for $125. There are great add-ons, too, including mac and cheese, brussels sprouts, parmesan scalloped potatoes, blueberry salad, and various growlers! Order by November 18th at 8 p.m, for pick-up on November 24th or 25th.  
Great Caterers of Iowa and Rib Shack - This year, no need to worry about slaving over a hot stove all day. Great Caterers of Iowa and The Rib Shack have you covered! Build your Thanksgiving meal for four or 12 with your choice of delicious sides and you can even add on a la carte options such as smoked beef brisket, pork ribs, prime rib, and applewood smoked boneless ham. Remember to place you order by Friday, November 20.  
The Hall – This is neat: The Hall in West Des Moines will give away 200 meals on Thanksgiving Day starting at 11 a.m. Just bring a canned good, and you'll get a roasted turkey leg, mashed potatoes, and a vegetable. Dine-in or carry out. We're guessing this will go fast!  
The Machine Shed – Serving up traditional holiday fare for four, including their legendary pie and sweet potato casserole, for $69.99. Orders must be placed 24-hours in advance.  
Range – Pro tip: The Range may be known for golf, but they have great food too! Put that claim to the test with their take and bake menu for $25/person, including turkey, white cheddar mashed potatoes, mac and cheese, a side salad, and a slice of pumpkin pie. Order by November 23rd at 10 a.m. with pick-up on November 25th.  
The River Center – Offering an Iowa based menu, including Berkwood Farms and South Union products. Orders for groups of varying sizes (4, 8, 12, 18) will be accepted through November 22nd for pick-up on November 25th.  
Tangerine Foods – Upscale meets traditional with this menu. Feed four or more for $159 and include a charcuterie tray or chocolate hazelnut dacquoise—order by Thursday, November 19th for pick-up on November 25th.  
Beer Styles – More than just good beer, Beer Styles is offering up to-go kits in multiples of 4. Turkey breast, mushroom and asparagus casserole, garlic mashed potatoes, cheddar biscuits, and pumpkin bread pudding are a few of the offerings. To top it off, they have suggested wine and cocktail pairings that you can add to your meal. Order by November 23rd at 5 p.m. and pick up November 24th or November 25th.  
Cactus Bob's – This BBQ joint on Merle Hay offers fully cooked 7-8lb turkey breasts (all white meat) that feed between 12–15 people. Order by November 22nd and pick up any time before November 25th.  
The Cheese Bar – Your favorite place for cheese (and wine…and beer) is offering an elevated family style take & bake menu. Get a full or half tray of their famous mac and cheese, a turducken roulade (we told you it was elevated), cheesy potato casserole, cheese boards, and dessert—order by November 21st for pick-up on November 24th or 25th.  
Dinner Delights – Everybody knows the sides are the best part, so why not commission a personal chef to cook them on the best eating day of the year? Dinner Delights offers sides like mashed potatoes and gravy, stuffing, scalloped corn, glazed carrots, and butternut squash risotto that feeds 6-8. Oh, and pies! Always pies. Thanksgiving orders due November 19th.  
Hy-Vee – So many choices, turkey and not, to feed two people or many more. Starting at $29.99, and most can be ordered the day before. The grocery store convenience means options aplenty and allows you to pick up anything else you need.   
Irina's – Stress-free is the name of the game with Irina's in Urbandale, where you can get a complete feast for a family of four for $70. Turkey, butter squash bisque, cranberry marmalade, and more.  
Kue'd Smokehouse – Speaking of sides, have you tried the sides at Kue'd? Talk about #blessed. While you're at it, snag a whole turkey (roasted or smoked) or ½ ham for $49.99, both of which feeds 10 people. Or go the whole hog and get a whole brisket or prime rib, because why not? It's 2020—order by November 20th. 
Montana Mike's – This steakhouse is offering a la carte to-go selections including sliced turkey and ham for $6/pound, along with mashed potatoes, candied yams, sweet carrots, and more. Forty-eight hours notice on all orders is required, and they offer both pick-up and delivery.  
Smokey D's – This award-winning local BBQ favorite is offering family bundles with a choice of smoked turkey or maple bourbon-glazed ham. You can forego the bundles and order a la carte as well, including options like prime rib and brisket. Online ordering available.    
St. Kilda – There is no better way to impress your family and Instagram followers than a Thanksgiving feast from St. Kilda. Their dinner box is $30/person and includes turkey, potatoes, sourdough stuffing, sweet potato casserole, chocolate bread pudding, and more. Pre-order before Friday, November 20th, with pick-up at St. Kilda Surf and Turf on the 24th or 25th.  
Surety Hotel - Sample flavors from Greater Des Moines' newest hotel. The holiday to-go menu includes two Cornish hens, mac & cheese, maple glazed sweet potatoes, brussels gratin, and mini pumpkin pie for dessert. For the culinarily challenged, fret not, Surety includes an instruction card to ensure you're able to properly heat up each item. Add on a bottle of wine for $25. Email mulberry@suretyhotel.com or call Surety Hotel 515.985.2066 to order by noon on November 23rd. 
Whole Foods – Pre-made turkeys are sold out online, but they've got sides, pies, appetizers, and platters (including vegan options) if you want to supplement your feast. 
Bonus Dessert Options! 
If you feel confident in your cooking abilities, but want to order out for the after-dinner sweets, try these experts of indulgence: 
Chocolaterie Stam – Set a fancy tablescape with Harvest Bonbons at each place setting, make a giant chocolate turkey your table's centerpiece, and kick off the holiday season with Stam Advent Calendars for the kids!  
Chocolate Storybook – Order an assortment of their famous chocolate-covered sandwich cookies for your dessert display with themed candy decorations, including fall leaves and cute turkeys.  
Crème Cupcake + Dessert – Outsource the treats AND the cocktails to the alchemists at Crème Cupcake. They will happily prepare and deliver pies, cakes, and alcohol, including mimosa kits, sangria flights, bottles of wine, and local craft beer. 
Molly's Cupcakes – Place your order now for traditional Thanksgiving pies and cheesecakes with an abundance of options, including cheery, pumpkin, Dutch apple, French silk, turtle, and caramel.   
Scratch Cupcakery – Order up a dozen pie-inspired cupcakes to cap your feast with flavors like banana cream and orange cranberry.