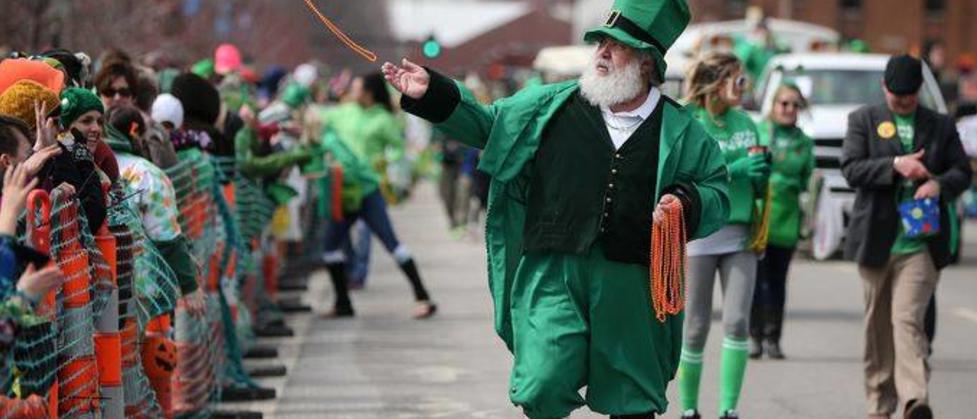 Looking to check out some family-friendly activities this St. Patrick's Day weekend? Here's a list of 7 activities the whole family can enjoy in Greater Des Moines!
Underneath A Magical Moon
Grab the kids and head down to the Temple Theater and check out "Underneath A Magical Moon" on Saturday! "Underneath A Magical Moon" is set in an ordinary back garden with three children, Wendy, John, and Michael. Wendy just can't get to sleep and she begins to tell her brothers the story of "Peter Pan." Slowly they are drawn into the famous tale and fly, swim and fight battles in Neverland.
St. Patrick's Day Parade 2019
The St. Patrick's Day Parade is a staple for the Greater Des Moines community and a must watch for anyone in town Saturday. See all things Irish as lads and lasses stroll through the parade route, following floats and handing out green beads. You may even spot a leprechaun or two. The parade starts at noon at 15th and Mulberry streets and travels north to Grand Avenue, continuing east to Eighth Street!
Iowa Wild vs San Antonio Rampage
Have an avid sports fan in the family? Check out Wells Fargo Arena for a weekend full of semi-pro sports. The Iowa Wild take on the San Antonio Rampage Saturday, March 15. Winding down an above .500 season, the Iowa Wild always pack Wells Fargo Arena with energy! Make sure to stop by the concession stands to grab a pretzel and stick around for the post-game skate.
Iowa Wolves vs Wisconsin Herd
If basketball is more your speed, cheer for Iowa's only G-League team as they take on the Wisconsin Herd Saturday. Being the last game of the season, the Iowa Wolves are sure to bring their versatile offense to Wells Fargo Arena. Keep an eye out for their mascot, Alpha, but make sure you're back for half time to catch the crazy balancing act by Red Panda. 
Iowa Flower, Lawn & Garden Show
Take in the beauty this weekend at the Iowa State Fairgrounds with the Iowa Flower, Lawn & Garden Show. Visit the large and beautiful landscape displays throughout the show and don't forget to say "hi" to Jerry Kluver, the Flower Spokesperson, and manager of seminars. The Iowa Flower, Lawn & Garden show has more than 300 vendors all under one roof for the whole family to enjoy.
Science Center
If you're looking to experiment, check out The Science Center of Iowa! SCI is great for families and individuals of all ages. One minute you're exploring Iowa's native habitats, the next you're a TV sensation! Stop over to the WHO-HD weather studio to live out your dreams as a newscaster and try your hand at forecasting weather in front of the green screen. Make sure you stop and play at the new Brick by Brick exhibit! Build and test structures to withstand earthquakes and heavy winds, explore unconventional LEGO building techniques to solve design challenges and more.
Botanical Garden
Jump into spring by stepping inside the dome of the Greater Des Moines Botanical Garden. The Garden invites visitors to indulge in natures beauty all year round. On Thursday make sure to check out the HortEcology: Planting and Gardening class and come back Sunday for Botanical Blues! Featuring artist Bryce Janey, The Garden has an activity for people of all ages. Before you leave stop by Trellis Café and grab something from their plant-based menu.
Share your Des Moines St. Patrick's Day experience with us on social media using our hashtag #catchdsm for a chance to be featured on our channels!