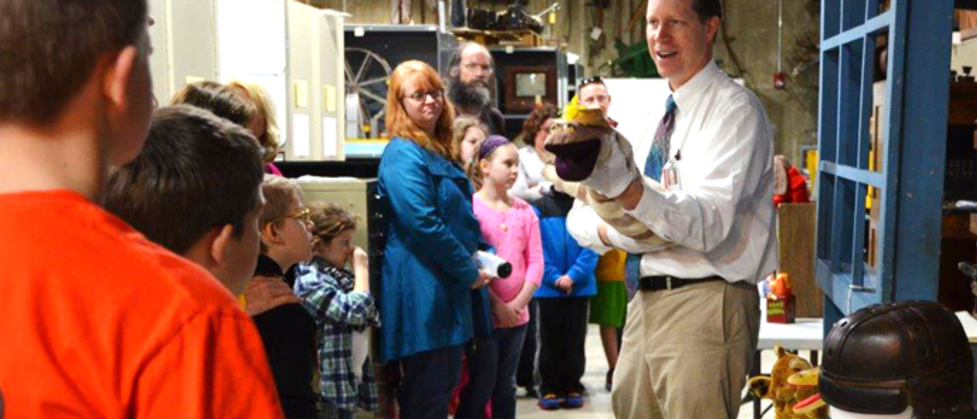 The State Historical Museum of Iowa has loads of exciting programming coming up for Spring Break week, March 16-20! Catch a full schedule that will appeal to families with children, veterans and military, and all of us in Central Iowa who have a passion for Iowa history.
| | |
| --- | --- |
| | |
A new exhibit area, Battle Flag Hall, opened Friday, March 13. Battle Flag Hall features more than a dozen flags from the Museum's collection. These flags hung in the State Capitol from 1905 through 2002 and over the last 13 years, they have been stabilized for preservation. The framed flags, from the Civil War through World War I, are a direct window to our state's past. They are the same flags that were carried into battle and used as battlefield signaling devices prior to the development of radio communication. The flags are a direct, physical item from our state's history. Many of the flags are painted with the names of the battles in which they were carried. Next to visiting a battlefield, seeing a battle flag may be the closest one can get to these moments of history.
| | |
| --- | --- |
| | |
Last summer, the State Historical Museum of Iowa opened Hollywood in the Heartland – a blockbuster exhibit celebrating Iowa's history with the silver screen. It's a 6,400 square foot exhibition where visitors can see two Oscars won by Iowans and The Lonely Goatherd puppets from The Sound of Music. In conjunction with the exhibit, free Matinees at the Museum will be shown each week day during Spring Break. The films are chosen specifically for their strong Iowa connections. Before each matinee, museum staff will share the specific Iowa connections of each movie. Films scheduled are:
• Monday, March 16: Despicable Me
• Tuesday, March 17: The Little Mermaid
• Wednesday, March 18: Happy Feet
• Thursday, March 19: The Croods
• Friday, March 20: Ice Age: The Meltdown
The Museum Collections Vault may be one of the best kept secrets in Des Moines! The museum's permanent collection is kept in a climate-controlled storage vault. Storing artifacts in a constant temperature (67 degrees) and moderate relative humidity (45%) when they are not on exhibit best preserves them for the future. With nearly 100,000 objects in the Collections Vault, there's something for everyone. Featured items on the Collections Vault Tour include children's toys and an X-Ray Shoe Fitter.
Vault Tours are normally $10 per person, but are offered for FREE during Spring Break. Tours last one half-hour and are offered daily (March 16-20) at 9:30 a.m. and 3:30 p.m. Young adults (ages 10 and up) and adults are encouraged to sign up without delay, as tours are expected to fill quickly.
Battle Flag Hall, Matinees at the Museum and Collections Vault Tours are not the only Spring Break events planned at the State Historical Museum. There's also a second new exhibit, Wall of Iowans, hands-on art activities and "Make a Mural" sessions. For more information about Spring Break at the State Historical Museum of Iowa, navigate to iowahistory.org/springbreak. Best of all? The State Historical Museum of Iowa is free! We look forward to seeing you soon!
--JR