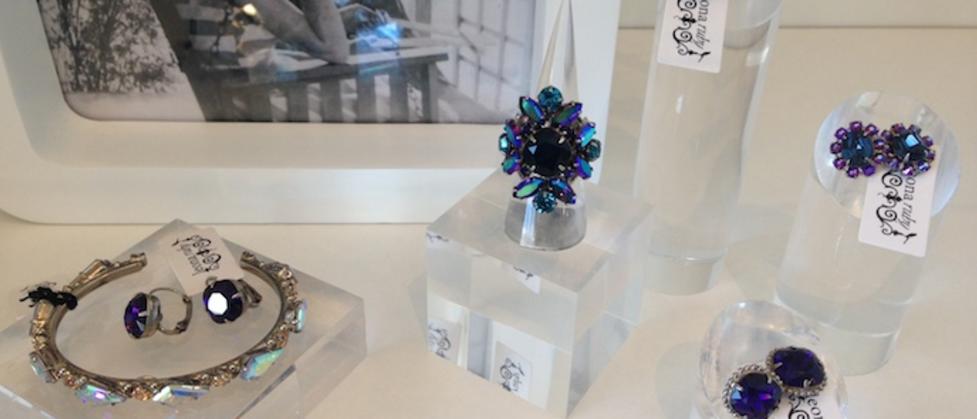 So have you packed away your turtlenecks in favor of short sleeve tops?  Just in time to jangle some new bangles.  Are the gloves tucked away until the fall?  Now you can show off a chunky, funky ring.  Let's not forget statement necklaces, either.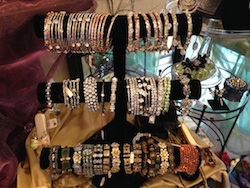 What is your pleasure?  Vintage jewelry from the Brass Armadillo Antique Mall or Cottage by the Creek?  Are you more of an art festival person so no two pieces are alike?  Perhaps you prefer a cute find at Banana Republic or Younkers?  They are all viable options and Greater Des Moines offers even more!


I love the retro and vintage jewelry from Cottage by the Creek.  Just this spring I bought a tiered black and white necklace that hails from the 1960s.  I could have found an identical piece in my mom's jewelry box when I was a little girl.  So it's not only pretty but brings back fond memories.


For artist's individual pieces, I know what I like but please don't ask me to describe it, much less create it.  No jewelry classes for me.  That could be disastrous.  So I know some places to find what I like.  There are great offerings at the Des Moines Art Center museum shop, From Our Hands and Leona Ruby in the East Village.  Even if I don't buy, I love to look.  One of my passions is art festivals so I can spot jewelry from a mile away.  Well, almost.  This month is the Spring Art Market in Valley Junction and next month the Des Moines Arts Festival in Western Gateway Park and ArtFest Midwest at the Iowa State Fairgrounds.  I actually research the scheduled artists.  Do I have their work?  Do I want more?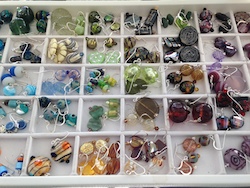 Now I don't want you to think I am jewelry snob, either!  I have many pieces from department stores.  It's fun to mix jewelry.  Remember it should not be "matchy matchy" although I have been guilty of that fashion faux pas.  Some of my favorite pieces have been purchased at Banana Republic, Von Maur and Younkers.  I always make a beeline for the sale merchandise.  You can find some great pieces at affordable prices.

I am excited as winter fades into a memory and we celebrate the warmer season with bright colors and spring bling!


-- MAM