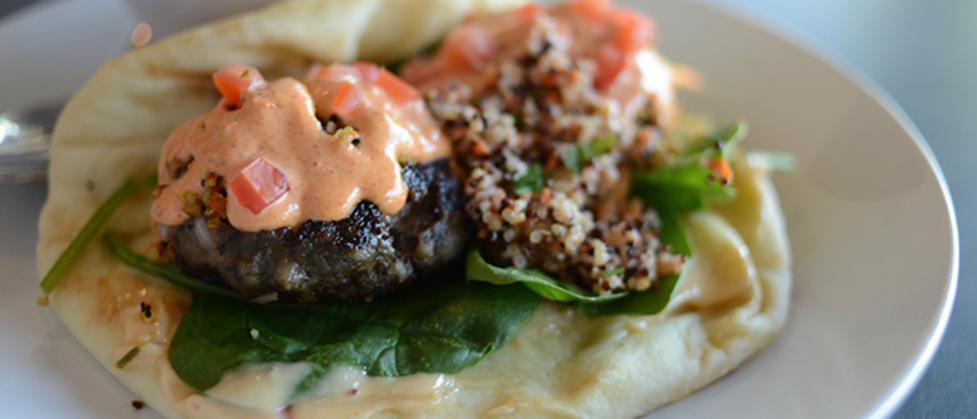 Here it is. My favorite culinary experience in the metro. And it is one you have to try. I owe this raving review to the creator himself - Chef Sean Wilson. This man has expanded my palate and officially cured my fear of beets, thanks to his well-known beet marshmallow-y goodness of a salad. And he can do these things because he's a James Beard-nominated chef (the Oscars of the culinary world!) and has trained in the kitchens of greats such as Todd English and Jonathan Sundstrom.
 
If you're looking for ordinary, this is not the place. But if you're looking for a foodie adventure, read on. It's called "Second Saturday Suppers" and they cost $100 a couple. Now sure that sounds like a lot at first, but did I mention there are 10 COURSES of perfectly plated, exquisite food? And no two suppers are alike. I happened to dine during their harvest supper which highlighted local ingredients from the great state of Iowa. My tastebuds were introduced to whimsical and delicious items such as date leather, mozzarella ice cream and a saffron fumet that almost had me licking the bowl. I'll let the pictures do the talking: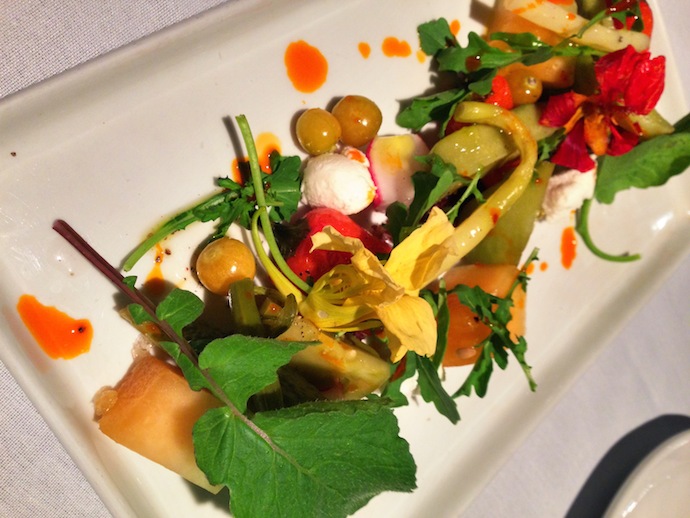 Sweet n' Salty Salad: roasted pepper, cornichon, green tomato, radish, ground cherries, melon, green bean, goat cheese, arugula, and date leather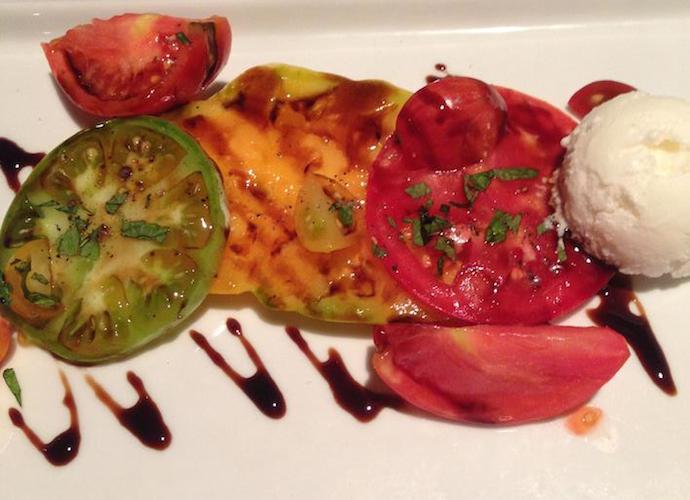 Heirloom Tomato Salad: heirloom tomato, balsamic reduction, torn mint, mozzarella ice cream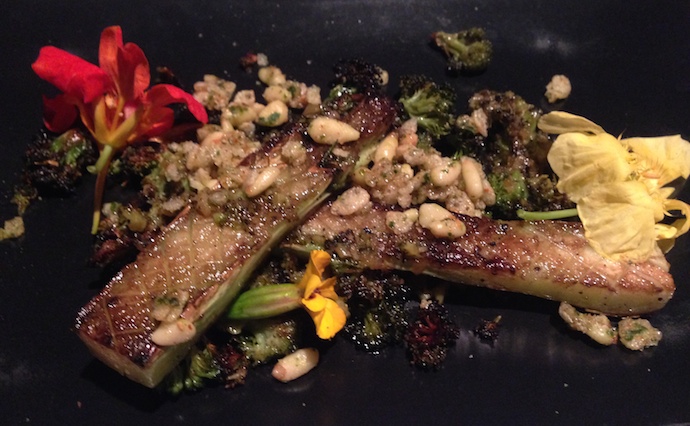 Sauteed Broccoli: Sauteed spear, roasted floret, provencal granola with a floret vinaigrette
Spanish Fried Green Tomatoes: chorizo french toast, prosciutto, fried green tomato, poached egg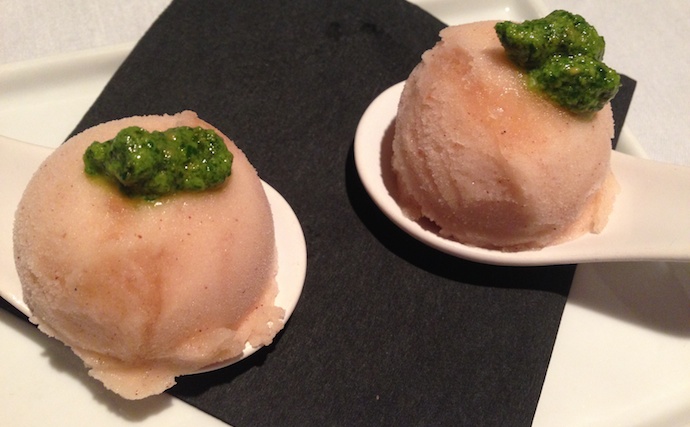 Tomato Sorbet: spiced tomato sorbet with pesto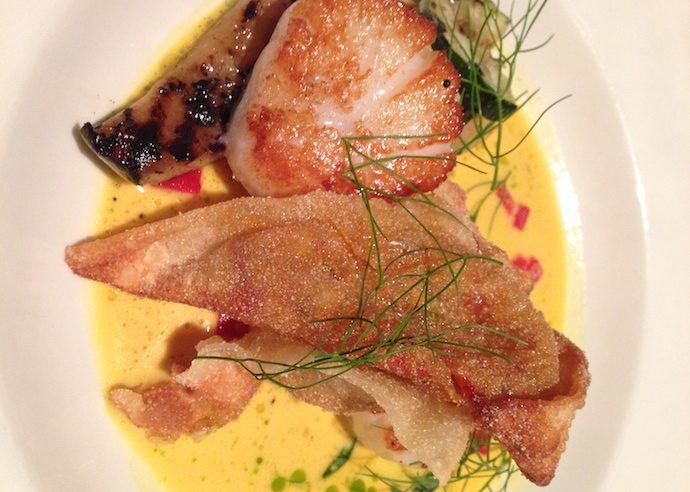 Seared Scallops: ratatouille dumpling, mixed grilled squash, caramelized fennel and saffron fumet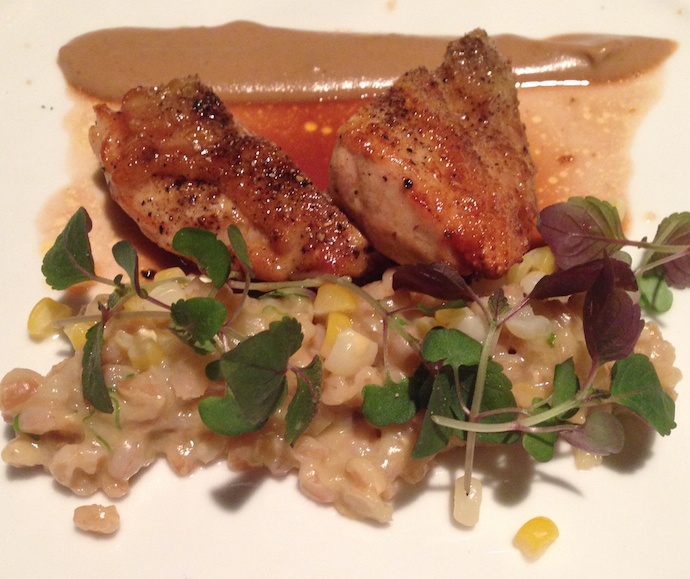 Roasted/Confit Friccasse Chicken: sweet corn and mushroom farro ragout, pickled corn, mushroom puree, shisho, chicken jus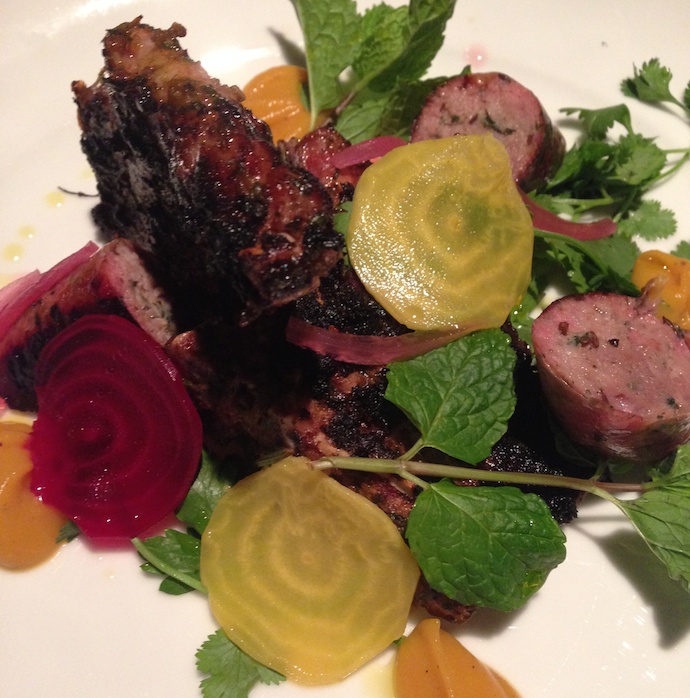 Lamb and Sausage: cumin-mint grilled lamb chops with Russian-style sausage, pickled beet, onion, roasted squash-onion sauce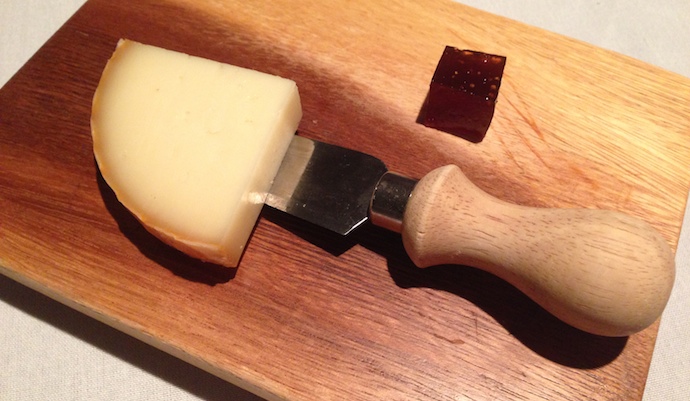 P'tit Basque: french pyrenees styled sheep's cheese, fig conserva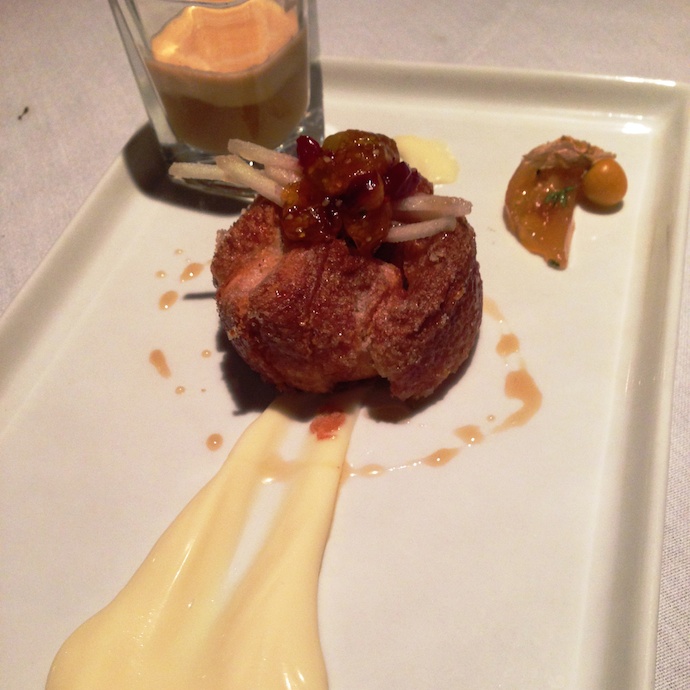 Kouing Amann: apple, ground cherry terrine, white chocolate cream, cider, coffee, salty caramel ice cream
Now that you're hungry, you should make your reservation for one of these unforgettable meals. They happen every second Saturday of the month, and I promise you will not be disappointed. The courses are perfectly curated leaving you completely satisfied. It wasn't just dinner out. It was an experience.
-LS