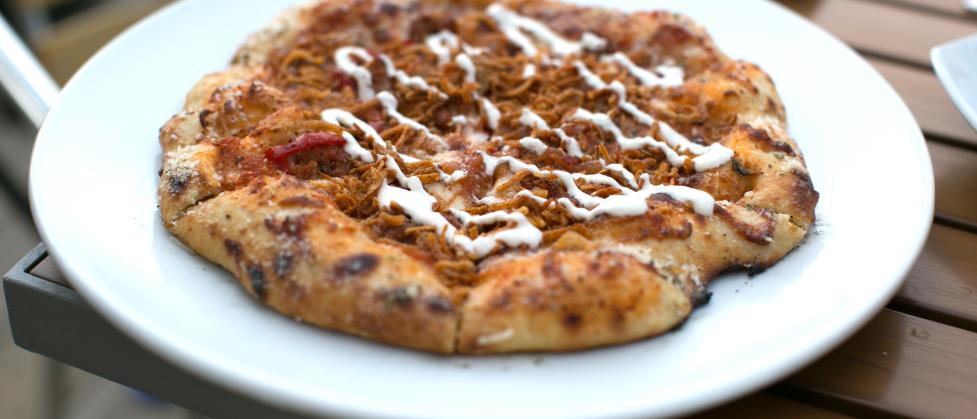 I would imagine most people would say that pizza is one of their top food choices. That holds true for me as well. While I enjoy the traditional pepperoni pizza from Dominos on occasion, Greater Des Moines is full of amazing restaurants that feature locally inspired pizza pies that will leave you craving more. I am going to take you on a ride through my favorite local pizza joints and exceptional slices you can catch in Greater Des Moines!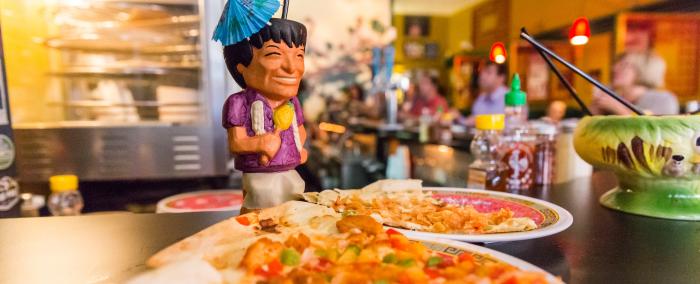 Fong's Pizza
Fong's Pizza has been a staple in Downtown Des Moines since 2009. This spot is the epitome of local dining. Opened by a group of locals, this unique dive restaurant mixes pizza with an Asian influence. From the décor to the menu, Fong's Pizza will leave you full each time you stop in!
While at Fong's, you HAVE to try their famous Crab Rangoon pizza. This one-of-a-kind pizza features a crab Rangoon base, surimi, green onion, asiago & mozzarella cheese; topped with crispy wontons & sweet chili sauce. Take a minute to let that process in your brain. Taste buds watering yet? Mine are just thinking about it! The Crab Rangoon is just one of the many exceptional pizza's created at Fong's. A few other favorites on the menu include their Loaded Potato, White Pizza and Teriyaki Beef. Most of these can be modified to be gluten free or vegetarian. So there are no excuses to not try Fong's Pizza – now with a location in Ankeny as well. 
Fong's Pizzeria and Tiki Bar is also famous for its night life. Many gather here for a drink and a slice in the late hours of a weekend night. If you are in the mood to party, try the Fong's Classic Super Terrific Kamikaze shot (vodka, triple sec, sour and lime juice). It's so intense you will have to wear a helmet (all in good fun of course)! Trust me, you won't be disappointed.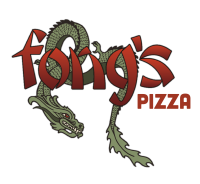 Gusto Pizza Co.  
Gusto has quickly become one of the most popular pizza spots in Greater Des Moines. With locations in Des Moines, West Des Moines and Johnston they are always just right around the corner! No matter what location you're at, the first pizza you must absolutely try is the Spartacus. It's as extreme as its name. Ok, not really, but it is one of the most delicious, distinctive pizzas this side of the Mississippi. This local favorite features red sauce, Graziano's Italian sausage, pepperoni, mozzarella, banana peppers and cremini mushrooms. While that may sound somewhat run of the mill, it's really not. The Italian sausage is local. Yep, local meat! You can't beat that when you are looking for something authentic to the area. I wouldn't be surprised to see more Gusto's popping up around Greater Des Moines soon…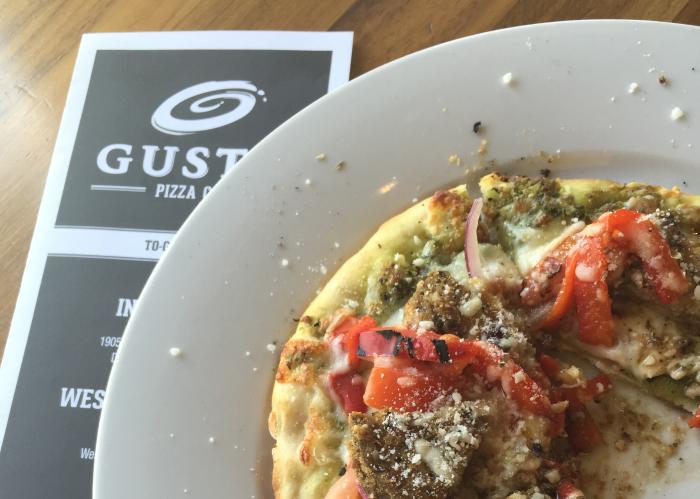 Another special attribute that makes Gusto Pizza Co. unique is their annual contest: Road to The Best Gusto. They are currently accepting new recipes from the public for a new local pizza. That means you, yes you, could be the proud creator of a popular new Gusto Pizza. How cool is that? You can enter your pizza recipe on their website and then people will vote and a winner will be announced. Doesn't get much more Des Moines than that. Not sure you can beat the Spartacus – but you can try! Good luck.
Centro
Centro has widely been known as one of the nicest restaurants you can visit in Downtown Des Moines. And while that is a true statement, their pizza is not only affordable but it is some of the best in all of Central Iowa. You can go on Monday and get a ½ price pie but really, whenever you go, you have to get George's Favorite. George's Favorite is the pizza brain child of Chef and Owner George Formaro. Known as the Bread Guy, George is a local celebrity famous for his successful eateries around Des Moines. Some of those include Centro, Django, Malo, South Union Bread Café, Gateway Market & Café and of course, Zombie Burger.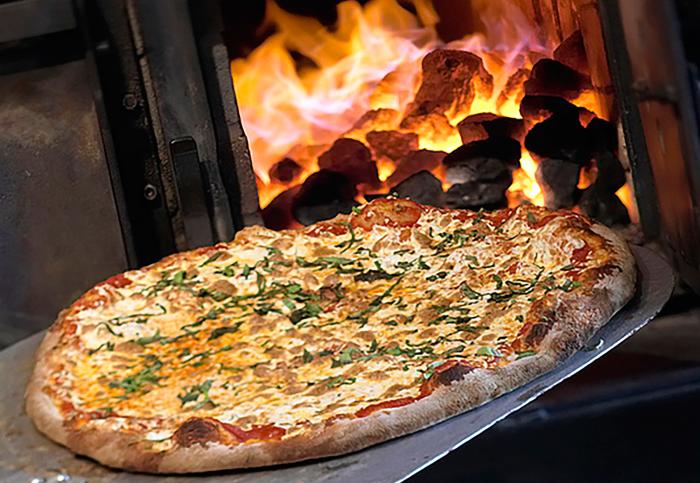 George's Favorite is also my favorite. It features mozzarella, Graziano's Italian sausage, roasted red pepper, red onion and red sauce. You know a local guy creating his own favorite local pizza has to be divine, right?  You can smell the wood fired pizza when you walk in the front door and it tastes as good as it smells! Centro is great spot for a business dinner or to take your significant other on date night. You can create your own or try one of the other many local favorites on their menu. But believe me, you cannot go wrong with George's Favorite!
Eatery A  
Now, I must admit I was very skeptical before I went to Eatery A for the first time. My wife had raved about this place as she has gone with her girlfriends multiple times prior. Now it was date night and she was begging to dine at Eatery A. I knew they had pizza but not your traditional pies. I looked at their menu online first and agreed to go. From the moment I walked in I thought this place is so cool. This restaurant has a very unique layout with a nice bar in the middle and some private space if needed. They serve local craft beer as well as cocktails made with local spirits. We sat in a neat rounded booth. The wood-fired pizza ovens are the clear staple of this joint, as you can see some flames from the grill when you walk by.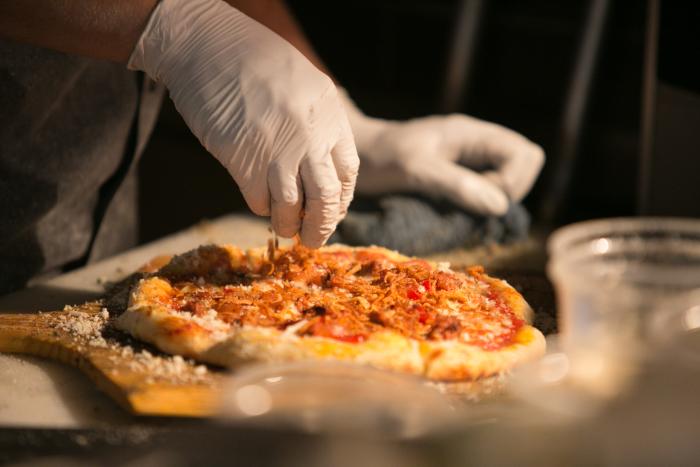 Their menu is Mediterranean-inspired, but it screams Des Moines. The owner, chef and general manager all hail from the Capital City and the restaurant is filled with reclaimed wood from Central Iowa. They stick to their Iowa roots and it also helps they are a wood-burning pizza shop! Each pizza is unique. They feature 15 different doughy, handmade pizzas on their dinner menu. My absolute favorite is #11 – Italian sausage, braised fennel, and mushroom with red sauce. #13 is also on my short list as it features pork shoulder, coppa, spicy pickles and Dijon with white sauce. Come ready to try something new and enjoy a night out in the city!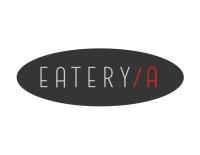 Now who's ready to eat some pizza? What's your favorite spot in Greater Des Moines?
-- RV