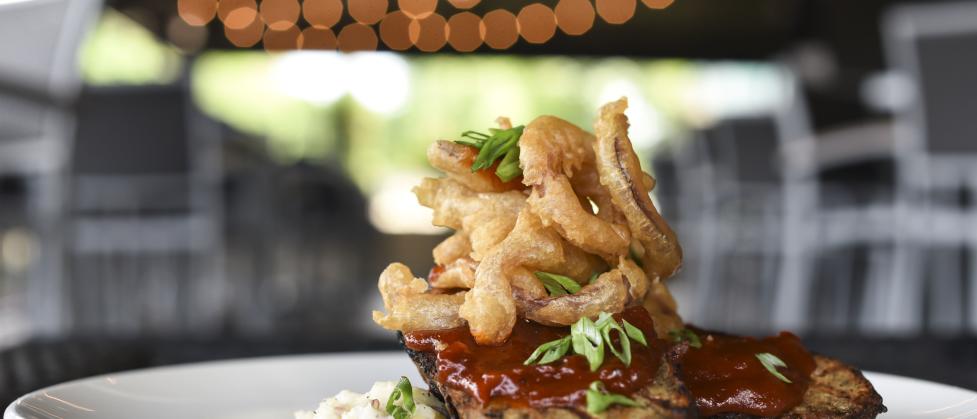 Photo courtesy of Gilroy's Kitchen + Pub + Patio  |  Photographer Sophie Saks with Sophie Rae Photo
Ah, Des Moines Restaurant Week how I've missed you. It's time to experience that restaurant you've always wanted to try. Make those reservations during August 19-28 for 3-course dinners and lunch options at a steal. (It's only $28 for two lunches or one three-course dinner.) Below are the newest additions to Des Moines' culinary scene to check out plus a few unique tidbits about other participating restaurants:
If you're looking for a taste of the South, this is it. A signature chicken and waffles dish with a chicken breading that's hand-massaged into each piece for that perfect, deep-fried crunch. TLC at its finest.
My order:
Cajun crawfish fritters – Fried crawfish, corn, green onions, jalapeno, and roasted poblano, with a buttermilk cream sauce and Bubba remoulade
Chicken & waffles – Nashville hot fried chicken with jalapeno and white cheddar Anson Mills waffle, served with whipped honey butter and bread and butter pickles
Banana pudding wafer parfait – with vanilla cookies and whipped cream
Photo courtesy of Gilroy's Kitchen + Pub + Patio  |  Photographer Sophie Saks with Sophie Rae Photo
My order:
Cheeseburger soup - house seasoned beef, carrots, celery, onions, and fried pickles
Grill blackened salmon - creamy grits, sautéed spinach in a spicy tomato sauce
Peanut Butter Pie - homemade graham cracker crust, creamy peanut butter filling, walnuts, chocolate sauce, raspberries and whipped cream
3. Prime Land & Sea Food
From the mind of culinary juggernaut, David Baruthio, Prime Land & Sea is a must-visit for Restaurant Week. Surf and turf never tasted so delicious in the middle of the Heartland.
My order:
Oyster flight - Champagne mousse, mignonette and watermelon salsa
Porcini crusted steak - truffle fries, creamed spinach, truffle jus (+$5, totally worth it!)
Chocolate bread pudding, brûléed banana
Although Café Di Scala is not new, their change in name is. Aposto will be hosting dinner all week (it's as if Café di Scala is back open).
My order:
Baked polenta cakes – tomato & zucchini rage, romano and parsley
Handmade cavatelli – graziano's italian sausage, marinara, and pecorino romano
Flourless chocolate torte with almond caramel brittle
We caught wind that Malo's Restaurant Week dinner menu was inspired by one of their cooks, Luisa who hails from La Compania in Oaxaco, Mexico. She was trained to make traditional, regional dishes by her mother and is now passing her skills and recipes on to her daughter Maricela, who also works at Malo. They've both been with the restaurant since it opened! I recommend you check out the entire menu! 
My Order:
Chile poblano relleno – Luisa's traditional relleno, overstuffed with a blend of cheeses, battered and fresh off the plancha with house guacamole, pico de gallo and shredded lettuce
Luisa's Chicken Mole De Chile Ancho – Tender, shredded chicken breast with Luisa's mole of ancho chiles, almonds, peanuts, and raisins, served with rice, beans, and fresh tortillas
Nieve con salsa de mango y limon verde – Vanilla gelato with Luisa's summer sauce of mango and fresh lime
The full list of restaurants and menus can be found here. Taste your way through the city and experience some new favorites this week. Your taste buds will thank you!
Share your Restaurant Week dishes by tagging @dsmrestaurantweek or by using the hashtags #dsmrw2016 and #CATCHdsm.
Bon Appétit!
-- LS