Let's get real. I have a major obsession with pizza. It's not that I want pizza, it's that I have to have it. Trying new pizza places around Greater Des Moines has become a sport for me, and I am always a gold medalist. I'm here to clue you in to the best pizza places in the city with my own little ode to pizza pies.
Ladies and gentleman, the victors are:
Something Italian – This stop is located in the downtown skywalk and is only open during lunch. It is a MUST TRY in Des Moines. The slices are massive and super cheap! Less than $3 for a one-topping piece. They get bonus points in my book for their breakfast pizza at the Downtown Farmers' Market. The line began to grow longer last summer as others discovered their thin crust slices with ooey-gooey cheese. I make the 10 minute trek downtown from West Des Moines every weekend for this. And this only. (Okay, maybe I buy from Thelma's, Brandmeyer's and occasionally Jasper Winery during the market as well. Maybe.)
Fong's Pizza – Let's embrace weird combinations. If hearing Thai chicken and pizza in the same sentence makes you cringe, this is not the place for you. They're best known for their Crab Rangoon slices, but I personally love the Honey Garlic (alfredo sauce with savory garlic, honey and mozzarella) on wheat crust. P.S. – it's vegetarian! Located in Downtown Des Moines.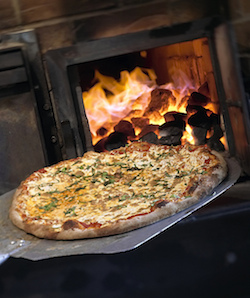 Centro – Their site says it all: "To have a great, traditional New York pizza, you need a coal-fired brick oven. Other ovens can't produce the extreme heat and impart the crust with the right amount of crispiness and smokiness a coal brick oven can. We use fresh mozzarella imported from New York's Little Italy, imported Italian tomatoes in our sauce and specialty flour to produce a pizza that has a smoky thin crust and the richest robust flavors." Starving much?
Gusto Pizza Co. – With a downtown and West Des Moines location, I've never tasted a Gusto slice I didn't love. My usual is the Fromage-A-Trois (red sauce, garlic, red pepper flakes, mozzarella, provolone, Romano and fresh basil). Although it's meatless, the garlic and red pepper flakes make it so flavorful, you're sure to be satisfied. I've also tried the Chimi-Cheeza (a seasonal Mexican-meets-Italian pie) and a bacon-banana-honey-peanut butter number that left quite an imprint on my taste buds at Bacon Fest two years ago. (Read about my love of bacon here.)
Big Tomato Pizza Co. – When you're out on the town with friends and that post-bar craving hits, you're going to want to be near Big Tomato on Ingersoll. Big Tomato serves up late-night slices for only a few bucks. They're even open until 3 a.m. Score!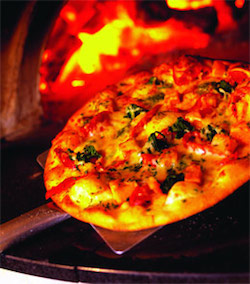 RedRossa Napoli Pizza – Located in West Des Moines, RedRossa is a quick-eat establishment with fresh and flavorful cuisine. Each pizza is handmade by order, then baked up in a wood-fired oven. The crust is crunchy on the outside and chewy on the inside, with rich marinara sauce and just the right amount of cheese. The atmosphere caters well for families and pick-up-and-go orders.
That wraps it up! Now that my mouth is watering, I'll go grab a bite to eat… but which pizza place should I choose?! --KR