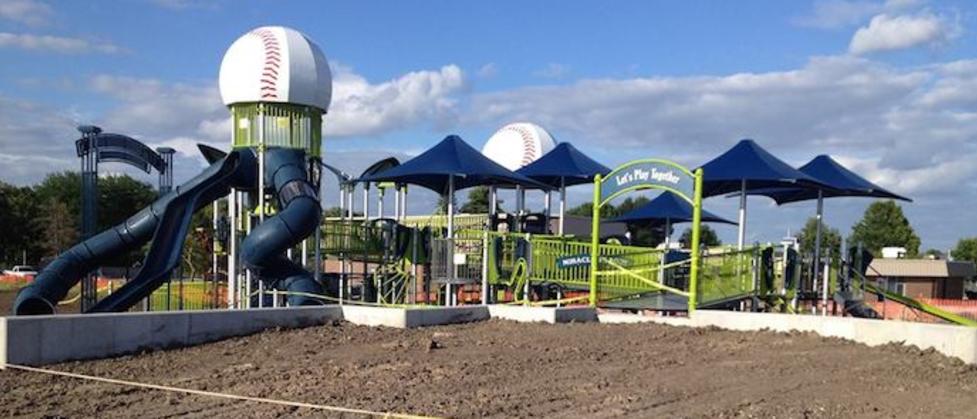 The start of the school year means the closing of our local swimming pools. Boo. I can't tell you how many hours we spend at the local aquatic centers throughout the summer. What is better than sunshine and happy, worn out kiddos?! Thank goodness that we still have several months to enjoy the local park scene. All of our metro communities have great parks. I live in Ankeny and we have 40 parks just in our suburb! Read on to learn more about some of the best parks in the Greater Des Moines area: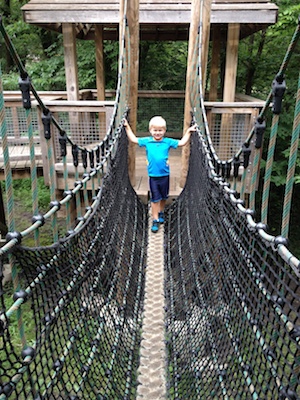 1. Big Creek State Park, located near Polk City, has a huge wooden castle playground that is the only one of its kind in the Metro. We can (and do) spend hours here. The playground is complete with tires, slides, swings and other fun things I don't know the names of. It is a great place for hide-and-seek. The play-set is next to a beach so be sure to bring swimsuits, buckets and shovels. There is a big shelter area with picnic tables as well as bathrooms in good condition (squeal!).
2. Walker Johnston Park is in Urbandale at NW 86th and Douglas. This park is big and has softball fields, green space and a skate park. The main playground here has 14 slides! Plus, they just added two giant slides into the slope of a huge hill. The kids jumped on the tire swing and zipped down all the slides. Across the way there is another smaller playground, as well as a pond and climbing area that has a rope bridge and a spider web to climb. We easily spent a couple hours here and can't wait to go back.
3. Jester Park Natural Playscape is just north of the Metro. It's nestled deep within Jester Park, and is not your typical playground. There is no playground structure or swings, but instead the park elements are made from nature. There is a sandbox (with buried fossils!), hollowed out tree, stepping stones, natural grasses and a wading pond. I love this park and think it is beautiful. My kids took one look around and immediately thought it would be boring without slides and swings. However, with a little encouragement, they found plenty of ways to stay entertained! If you're lucky, you will also be able to see the bison and elk, whose habitat is located adjacent to the playscape. There are bathrooms and a drinking fountain, and make sure you bring a change of clothes because of the wetland area and waterfall.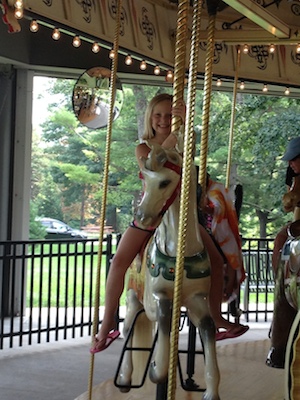 4. Union Park is home to the Heritage Carousel and the rocket slide. Located just north of downtown, this fun park has a pretty basic playground setup, but it makes the list for the infamous rocket slide and carousel. Kids ride for only $0.50. and adults ride for $1. Check the hours before you come as soon it will only be open on weekends and they are not open on Mondays. Union Park also has a fun wading pool/splash pad and plenty of green space and shelter area.
5. While it isn't open quite yet, I can't resist writing about the new Miracle League Park in Ankeny. I can already tell you that this will be one of our favorites once it opens. Designed for kids of all abilities, this brand new playground has nine foot slides with ramps to the top and a rubberized surface to provide easy and safe access for the kids. The main structure is up and soon (within the next few weeks) the playground will add swings and other ground activities.
Of course these are just a few of the great parks within the metro. We picked our favorites based on the uniqueness and variety of things to do within the park, and I gave bonus points to those with good bathrooms and available drinking fountains. What is your favorite park in Greater Des Moines?
--TF