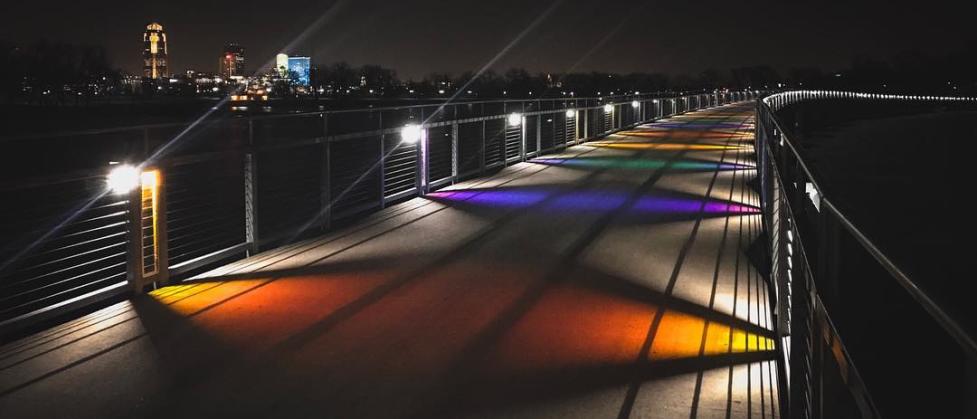 Rather than chasing the athletes down from place to place, take a seat at one of these Greater Des Moines hot spots. From anywhere to parks and Des Best restaurants in the city, cheering on athletes has never been so fun. Come experience the action on June 20, 2021!
Gray's Lake Bridge
Enjoy watching the athletes participate in the swim section of IRONMAN 70.3 Des Moines from the Gray's Lake Bridge. This 425-foot-long bridge is connected directly to Gray's Lake, allowing you to cheer on the competitors from above. This is one of the only IRONMAN courses where you can see the athletes swim under you. That's way cooler than a glass-bottom boat! Be sure to be on the look out for our Catch Des Moines signage across the entire bridge as well! 
Water Works Park
Enjoy one of the largest green spaces in Des Moines by packing a picnic and soaking up the sunshine! You'll also be in the perfect location to see the athletes in transition, so double the fun!
Courthouse at Court Ave.
Do you want to see the satisfaction of the finish line? Head to the heart of Downtown Des Moines, right at the courthouse. Celebrate alongside the athletes as they celebrate their victorious race, and experience seeing the emotions of crossing the finish line!
Sculpture Park along Locust
As if the Sculpture Park isn't cool enough, add in hundreds of athletes running through downtown with everyone cheering them on, and you've got the perfect backdrop. With plenty of room to spread your legs and snap a selfie, you can bask in the excitement at the most picture-esque spot on the course.
Court Avenue Brewing Company
Being that its namesake is literally the street that the runners will race along, this is a great place to see the action. With outdoor seating right out front as an option, enjoy some CABCo wings while sipping on a Weird Like Me lager as the runners coast by.    
Johnny's Hall of Fame
Known as Des Moines' original sports bar, this is a first ballot option to watch the athletes race to the finish. Share a Sec Taylor Sampler (cheddar nuggets, onion rings, wings, and a quesadilla) and just pretend that those athletes are burning off those calories for you.
1908 Draught House
This cool, relaxed sports bar is a great place to cheer on the athletes. Whether you stop by for a taco pizza or just for drinks and an order of cheese curds, 1908 Draught House is one of the most appetizing options along the route. They also happen to have one of the best patios downtown. Score!
Fresko
Fresko literally means "fresh", and this restaurant does just that. A farm to table style restaurant, Fresko has quickly made a name for themselves. With an extremely light and diverse menu, there is something for everyone. If you're looking for something light before cheering on the athletes, Fresko is the place for you.
Americana
A local favorite, Americana is sure to please. Located right on Locust Street, it is in perfect location to grab something to eat before or after the race. Americana may be known for their dinner options, but we recommend their Bombshell Brunch on the weekends. It's available from 9am - 3pm, and includes bottomless mimosas. Sign us up.