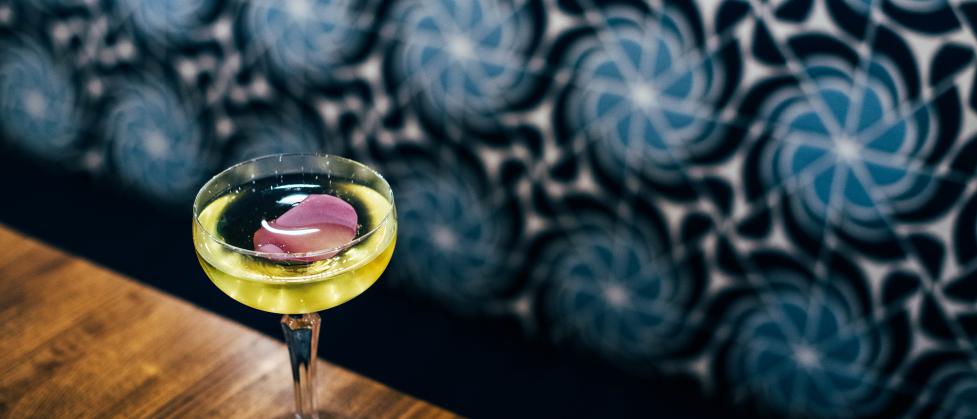 Locals and visitors have been missing the tableside guacamole and homemade chips of the former Dos Rios this past year, but after a peek inside of Goldfinch, the new restaurant concept at 316 Court Avenue, the wait will be worth it.
RELATED: Greater Des Moines Restaurants
Walking up to Goldfinch, set to open November 10th, I was utterly amazed at the transformation this restaurant incurred (and I hadn't even been inside yet). Gone are the black planters full of over grown flowers and dark patio, and taking its place is bright white planters, full of fresh cut flowers (even in October) with wood like patio furniture and silver railings. The patio itself has extended the length of the front of the restaurant.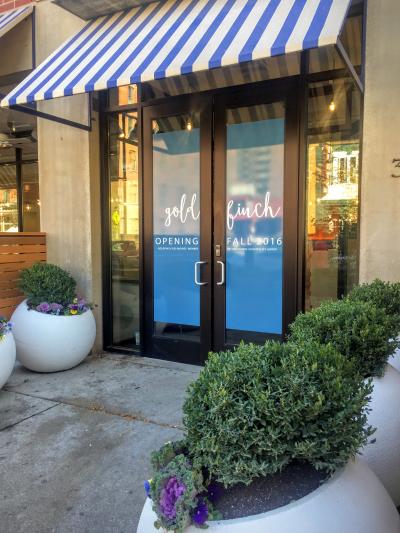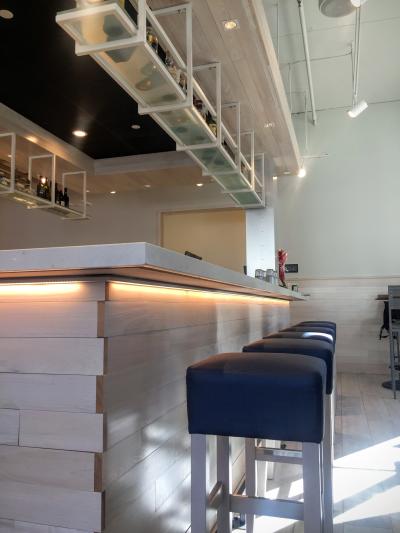 Walking in the front doors, you immediately forget this was once Dos Rios. Bright white, navy, orange and silver colors pop out from the clean cut space. Slabs of tile take over the once dark floor and light fixtures make all the new and shiny features stand out. Tables consist of white marble tops and wicker brown chairs. Booths with navy upholstery and light wood tables with big white plates line the back half wall, with an open view to the sparkly kitchen. Wood panels hang from the ceiling and line the pillars, creating a mix of country and modern feel. Greenery shrubs line the east wall, which now separates one of the two private dining spaces with a sliding barn door.
RELATED: Food and Drink Events in Greater Des Moines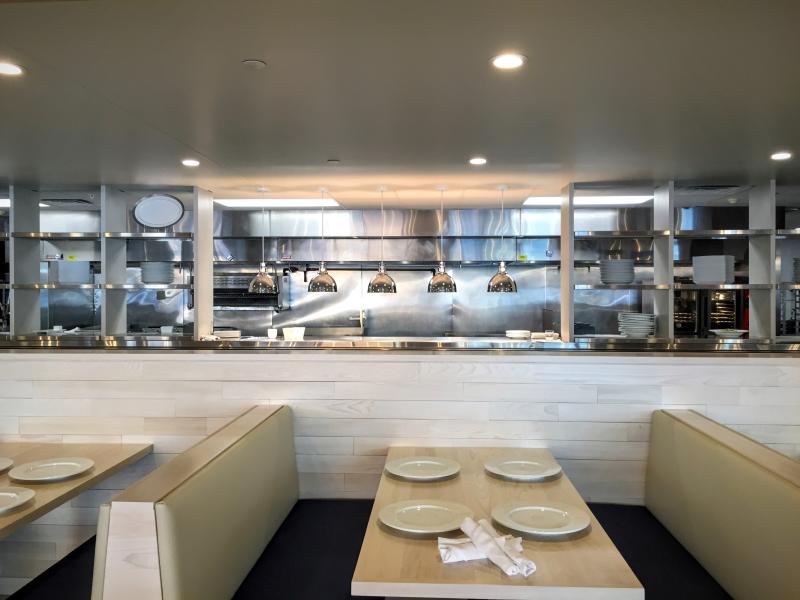 The bar location stays the same, but now consists of navy upholstered bar stools with a marble counter top. Bottles of liquor hang from the ceiling on suspended shelves and flowers in different shaped glasses sit on top of the beer drafts.  With only one large TV, this bar is made specifically for enjoying each other's presence and the ambiance of the meal, not to cheer on your favorite team.
The space is welcoming, vibrant and beautiful.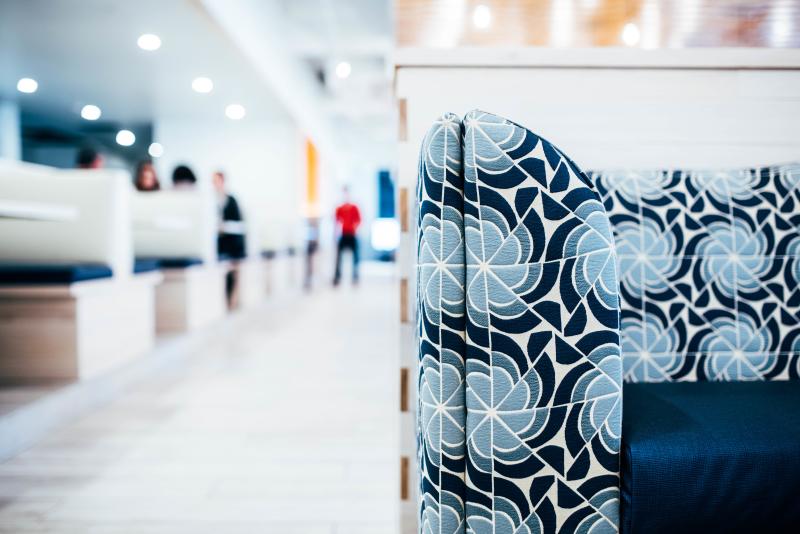 A midst of all the hustle inside, prepping for photos and getting staff accommodated with the new updates, I was able to chat with a dear friend, Caely Roby, Director of Operations for Two Rivers Hospitality:
What was the vision/motivation behind the change and remodel? It was perfect timing to bring something new to downtown – everything is evolving, and it's exciting to be a part of the change!
What is your goal of bringing Goldfinch to Court Avenue? Court Avenue is transforming, as more business and more people move downtown - a restaurant like Goldfinch is needed.  
RELATED: Only in Des Moines | Greater Des Moines Restaurants
Menu items? Who designed the menu? Drink menu? What is the focus of the menu? Pricing? Khanh Hamilton and Justin Comer have diligently worked on the food menu – bringing dishes to the table that satisfy any persons taste. Working with Sunstead Farm and other local sources has been a main focus. Jeff Naples – Beard Behind the Bar, helped bring the flavors of the menu, and the accessibility of the farm into a perfectly curated cocktail menu. Pricing, salads $10-14, sandwiches $11-14, specialties $14-29, social plates, $6-$20. Be sure to check out the grilled pork chop with pineapple salsa, lobster mac and cheese or the braised short ribs with creamy polenta. One special menu item to check out is our baked halibut, wrapped in crispy prosciutto with sautéed leaks & corn cakes.
You can check a preview of our menus here.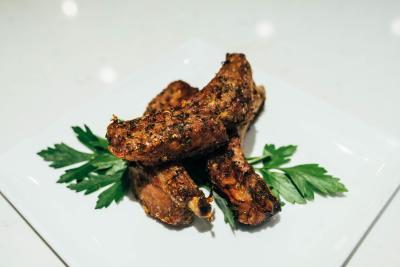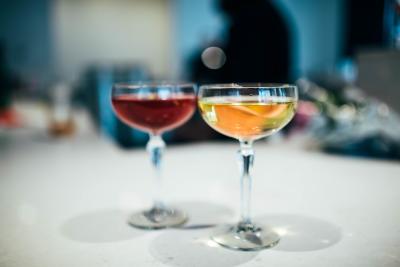 Where is the food grown? Sunstead Farm in Waukee, IA
Why Goldfinch? Why the color scheme? What was the branding behind it? Goldfinch pays tribute to our state, and our roots, and home. The color scheme is warm and light – somewhere where you can be comfortable staying for a long period of time with friends and family. As for branding, we want people to come see us often and to be the place they want to go to multiple times a week because the food is fabulous and the atmosphere draws them in. We have a fabulous team operating this restaurant and we are so excited for November 10th.
RELATED: As Seen On TV | Greater Des Moines Restaurants
Goldfinch is the fresh taste Court Avenue is needing. We all love our sports bars and dinner spots like RoCA, but this restaurant provides a fresh twist to the scene. Open for lunch and dinner, it's going to be a tough place to get into, so make your reservations now!
Oh, and don't worry, they will still have the famous chips and tableside guacamole.