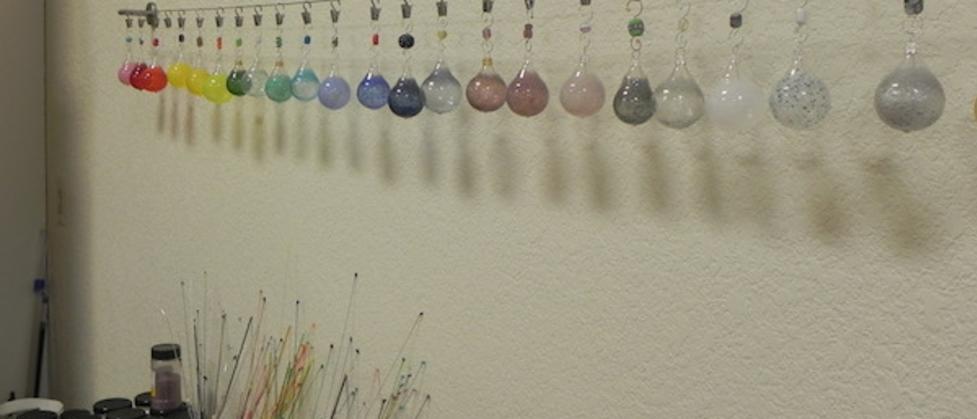 I love uncovering the hidden gems of Des Moines. My latest adventure led me to Studio Fuzzishü nestled just beyond Valley Junction. Fuzzishü (fuh-zee-shoo) – is the perfect name for this artistic hot spot. But what exactly does Fuzzishü mean? Designer and owner Rachel Sims puts it best, "A word expressing a child-like sense of wonder, whimsy and playfulness while retaining all of one's discerning taste." The inspiration came to Rachel in college when she had a cute pair of fuzzy shoes on her desk.

So I set out to test my artistic skills at Studio Fuzzishü last Saturday afternoon. One of Studio Fuzzishü specialties is blowing your own glass ornaments. (Yes, Christmas is over but it's never too early to start collecting gifts…342 days and counting!)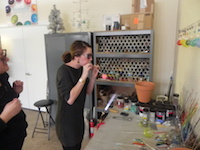 Hair tie needed. Sleeves up. And safety glasses on. It's torch time! Working the glass back and forth until it's glowing a lava-rich, fiery red. Then comes the moment where you actually blow glass. Perhaps the most nerve-wracking part because there is such a thing as blowing too hard. But Rachel walks you through confidently step by step. And voilà, you've mastered your ornament in a matter of minutes. Your heart is beating fast as you examine your perfect specimen. And by perfect, I mean it has lots of "character." I have to say, shaping a mass of molten-hot glass is not easy. But Rachel makes even novices, like myself, feel like they have mastered something incredible.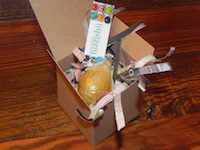 This is what makes Studio 
Fuzzishü
 so great. It's unique, artistic and FUN. Perfect for a group of co-workers, family, or friends. Rachel Sims has people from all over the country visit her studio and she will customize the experience for you. Want to do something besides blowing glass? Studio 
Fuzzishü 
 also offers a variety of jewelry workshops, including a couples ring-making class in February. Just in time for Valentine's Day with your sweetheart!
All in all, Studio Fuzzishü is definitely a must-try experience. Another great bonus for the growing arts scene here in Des Moines!   
                                                   
-- LS