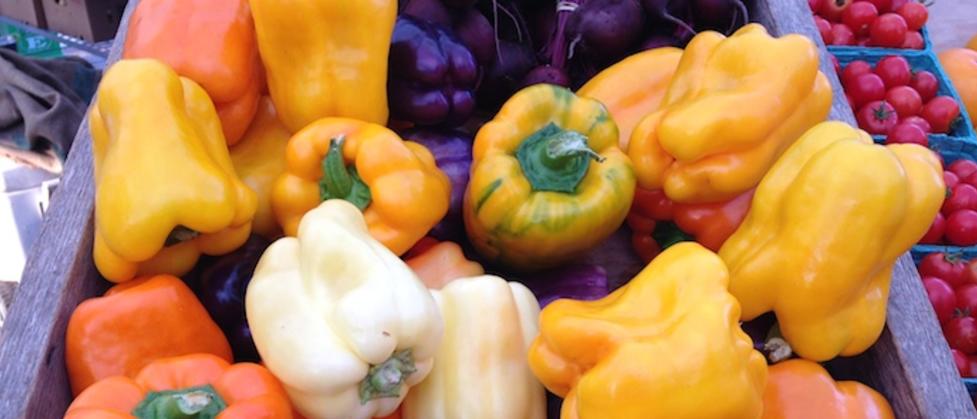 Do you know about the Des Moines Downtown Farmers' Market?  If you don't, you should.  Every Saturday morning from May until October, hundreds of vendors from across the state sell produce and a variety of products in Downtown Des Moines.  Everything from crafts and pottery to wine and artisanal cheese.  If you can't find it there, you can't find it anywhere.  If you can't carry it home, perhaps you can ship it home?
This time of year, I focus on heirloom tomatoes which are available at the Farmers' Market.  Even though I consider myself a foodie, I was only introduced to heirloom tomatoes a few years ago.  I thought they were just fancy tomatoes from Granny's garden.  Boy, did I have a lot to learn.  Not only are they incredibly delicious but they are high maintenance and low yielding plants so get them while you can.  Once you taste heirlooms, other tomatoes do not compare.  Now I know what all the fuss is about.
Recently, I bought almost two pounds of heirloom cherry tomatoes at the Farmers' Market and prepared them in a phenomenal pasta dish.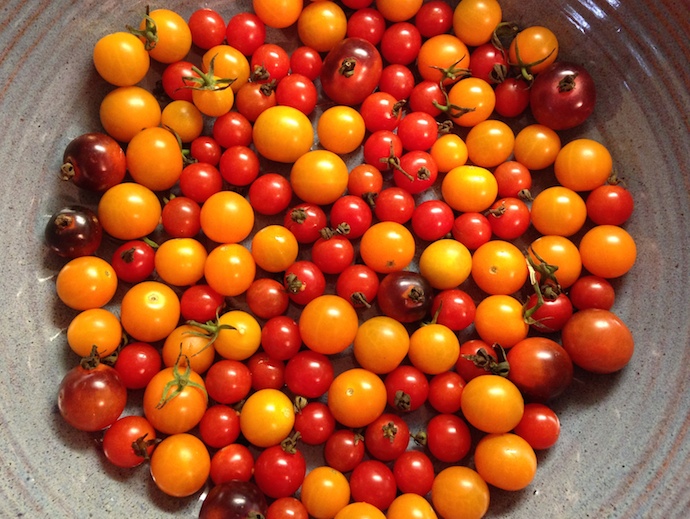 was transformed into this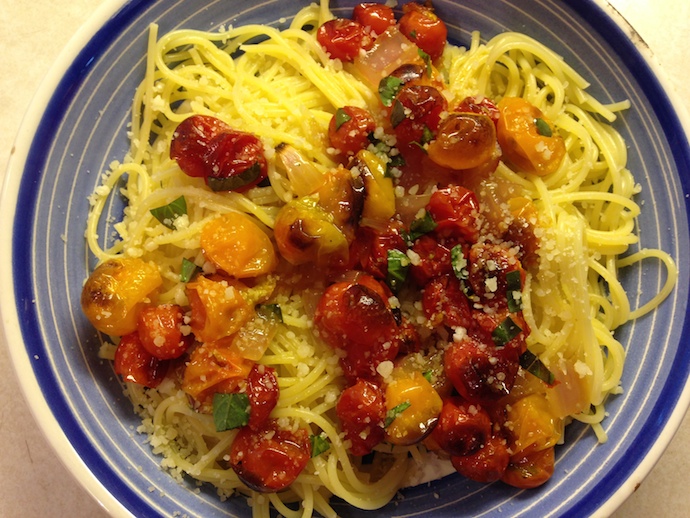 and this is how! 
Move a rack to upper portion of oven and preheat oven to 450 degrees.  You will need 1 to 2 pounds of heirloom cherry tomatoes (enough to fill the bottom of a heavy baking dish such as Le Creuset).  Remove stems, rinse and dry tomatoes.  Place tomatoes in baking dish and add a splash of infused olive oil (Tuscan Herb from Allspice or your favorite), a liberal amount of kosher salt and one quarter to half of a purple onion – chopped.  Slather with extra virgin olive oil and use fingers to make sure all ingredients are thoroughly coated.  Placed uncovered baking dish in preheated oven for about 30 minutes.  While tomatoes are roasting, prepare your favorite pasta on the stove top (I use thin spaghetti).  Tomatoes will start to turn brown and rupture when they are ready. When tomatoes have finished baking, remove from oven and top with a small handful of fresh basil (chiffonade, torn or just cut it with kitchen scissors).  Drain pasta and place in serving dish, top pasta with tomatoes, onions, basil and all liquid from baking dish.  Toss thoroughly then top pasta with a generous amount of grated Parmigiano-Reggiano.  Serve with a leafy green salad and a loaf of ciabatta from La Mie.  
Buon Appetito! -- MAM