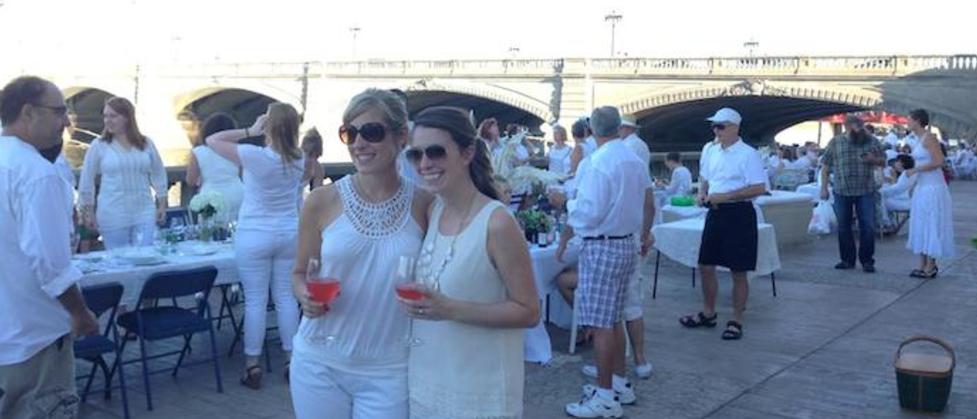 Looking for the most unique dining experience in the Metro? This one takes the cake. A pop-up dinner where the only rule is to dress in white and BYOE (bring your own everything). The idea is inspired from Diner En Blanc which originated in Paris and has become a worldwide phenomenon. And for good reason.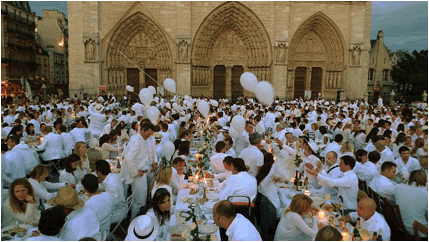 Photo: Luc Legay from Paris, France
The drinks, gourmet food, folding chairs, table, plates, utensils, white linens, sparklers and centerpieces are all a must! The most exciting part is where you will be eating and you don't find out until the day-of. Which definitely builds the anticipation for your dining experience! I promise the location will not disappoint. Last year we dined along the Riverwalk and the year before amongst multi-million dollar artwork in the Pappajohn Sculpture Park.  Fab location. Fab food. And fab people. This is the recipe for memories.
On the menu: cherry turnovers, berry salad, fresh peach crostini with balsamic drizzle, caprese salad, a charcuterie board and peach sangria
There's something about sharing a meal together with friends, family and of course the company you will meet. Half the fun is wandering amongst tables, sharing food and drinks and ooo-ing over the gorgeous centerpieces (I think there were candelabras as tall as me last year). Socializing over a great meal in an unforgettable setting triggers all the senses and makes this the best foodie event of the year.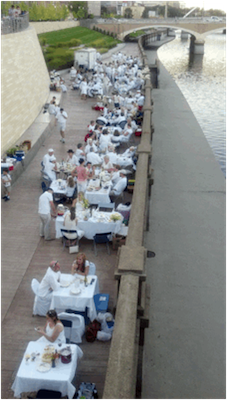 So gather your dining partners and start planning your picnic menu for this year's Flashdine on Sunday, August 31 at 6 p.m. --- location is still a mystery. Choose a romantic table for two or 20 of your closest family and friends! This is a community-wide event with no invitation required. More details can be found on the Flashdine Facebook page or on Twitter @FlashDineDSM.
Bon Appétit Des Moines!
--LS