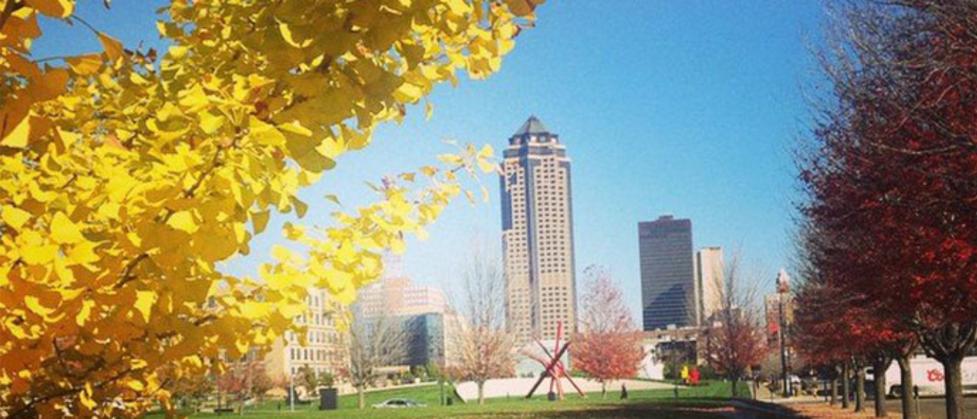 Finally, it's here. The season everyone enjoys. Gone are the bikinis, swim trunks and diets of summer and back are the scarves, flannels, boots and jeans. Pumpkin EVERYTHING hits the shelves and stores, leaves start falling and, let's be honest, you've probably already ordered your first PSL (pumpkin spiced latte…so basic of you)!
We're lucky to live in a city that offers so many "must see must do, must photograph in the fall" and with the weather being as beautiful as it has been…get outside people! Trust me, snow will be upon us very shortly. Not sure where to start or what to do? You're in luck, here is your fall bucket list.
RELATED: Fall in Greater Des Moines
FIND FESTIVE VIEWS
Start at the Pappajohn Sculpture Park around lunch time. The leaves have already started turning, the grass is still green and the food trucks are still out. Snap a quick photo and be SURE to include the trees, sculptures and the skyline. Perfect spot for family photos!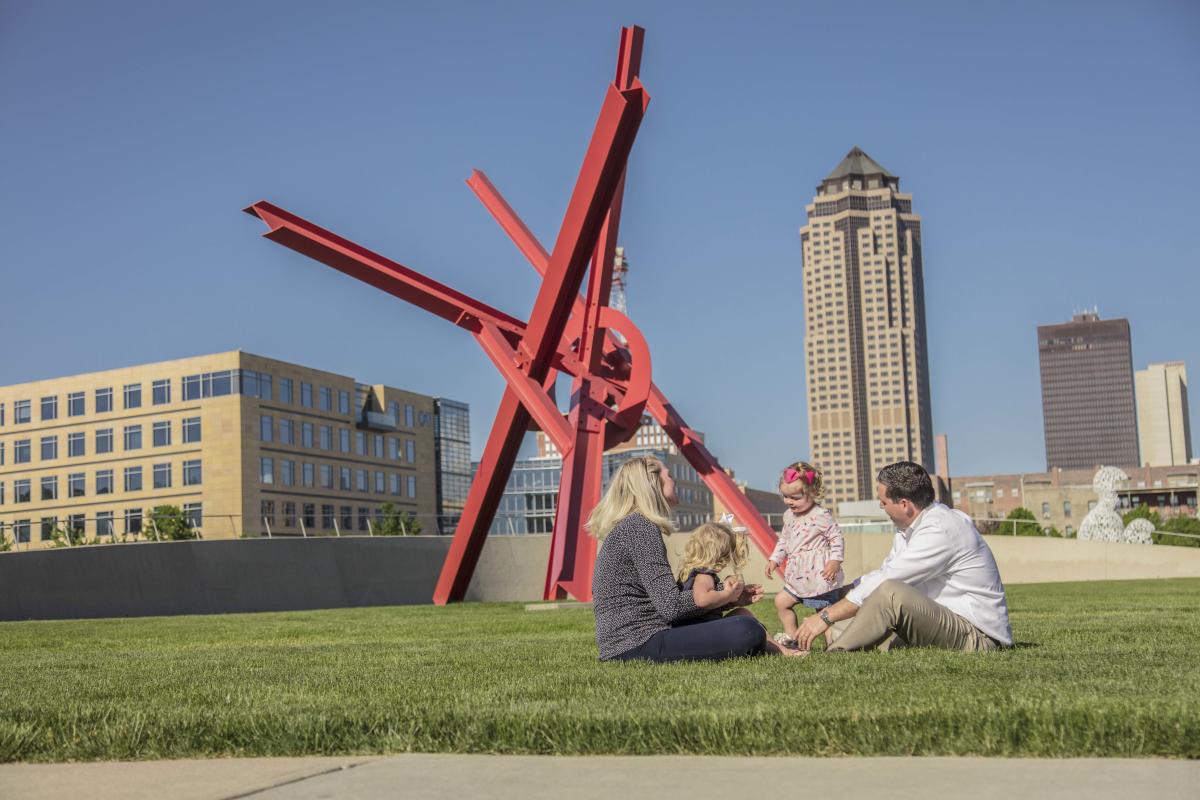 SIP FALL DRINKS
Every brewery in town always delivers a great seasonal beer in the fall. Some places, like Firetrucker Brewery, pair it with an event and others just start serving it. Whether you are looking for an Oktoberfest brew or want something more non-traditional, stop by one of the many local breweries including Exile Brewing Company, Confluence, 515 Brewing Company, Madhouse Brewing Company, Peace Tree, Fox Brewing,  and Court Avenue Restaurant & Brewing Company. All of them offer seasonal delights that will kick your taste buds into fall gear!
RELATED: Food & Drink Events in Greater Des Moines
FAMILY FRIENDLY FUN
Can you believe Night Eyes at Blank Park Zoo has been around for 25+ years? It's because this is the perfect event to bring the kiddos to, making Halloween last more than just one night! Enjoy gathering treats, face painting, costumes, train rides, Disney characters and animals. What better way to get in the Halloween spirit? October 18-21; 25-28 Thursday and Friday from 5:30 – 8 p.m. or Saturday & Sunday from 1- 8 p.m. Advance tickets $4 – Available at any Des Moines area Hy-Vee, at Blank Park Zoo or at www.blankparkzoo.com until October 17. Non-member ticket: $6.00 and Member ticket: $5.00. Kids 12 months and under do not need a ticket.
RELATED: Family Friendly Things to Do
SPOOKY SPIRITS AND GERMAN BEER
Be sure to check out our events calendar, for Halloween celebrations such as Living History Farms Family Halloween, the Pumpkin Walk in Historic Valley Junction, and Mysteries of the Castle at Salisbury House & Gardens.
If you are a beer lover, be sure to mark your calendar for Des Moines' Annual Oktoberfest, September 28-29 in Downtown Des Moines.  A stage featuring polka music, the seasonal craft beer village and Hofbrau Rooftop Bier Garden are just a few things to expect. You should also mark your calendar for October 6 too. Adventureland will host its fourth annual Oktoberfest, opening the park for those 21+ to drink beer and enjoy the parks rides. The event will feature live music, German beer and special contests. Admission is $40 at the gate.
There's so many things on the fall bucket list, it's hard to hit them all. What are some of your favorites?