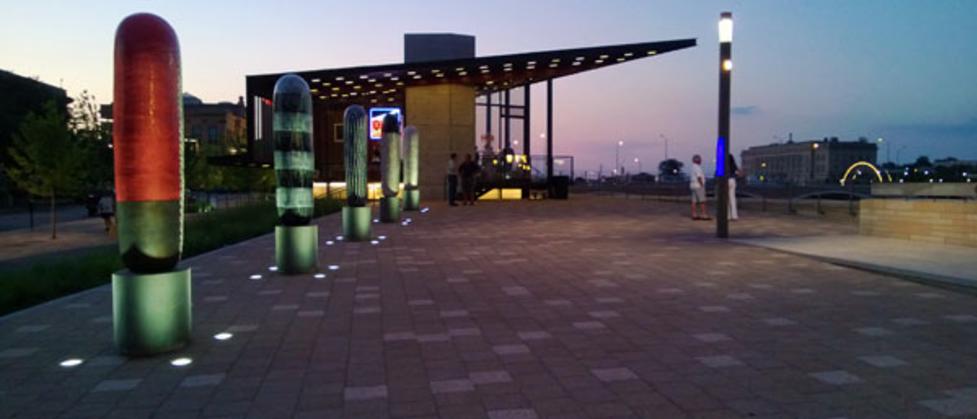 The Riverwalk Hub Spot is my favorite choice to relax and enjoy an afternoon or evening with friends. Visitors and locals alike will love the distinctive environment, convenient downtown location and friendly service. It's a versatile meeting place, whether for a business coffee meeting, glass of wine before a show at the Civic Center or as a pit stop while biking the trails.
The Hub Spot offers espresso and coffee, beer and wine, snacks and sandwiches with a super friendly staff. My favorite beverage choice is from their local draft beers! Madhouse Brewery (Des Moines), Peace Tree Brewing Co. (Knoxville) and Confluence Brewing Company (Des Moines) and other local favorites are available.
TIP: Food becomes more limited in the afternoons and later evenings!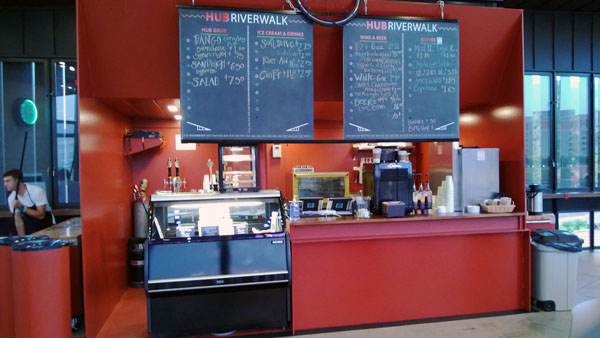 After you received your order, choose a table on the expansive outdoor patio or inside for a stunning view of the Principal Riverwalk and surroundings. Feel free to move around chairs and enjoy the view!
The striking modern glass and steel facade of the Hub Spot, designed by Substance Architecture, contrasts beautifully with the City Beautiful Movement inspired river bridges and surrounding Beaux-Arts style buildings. With the Iowa State Capitol looming tall in the distance and the soothing sounds of the Des Moines River, the Hub Spot creates a sense of place that is distinctly Des Moines.
TIP: Walk down to the lower level of the plaza to get a different perspective of the arched bridges and Des Moines River!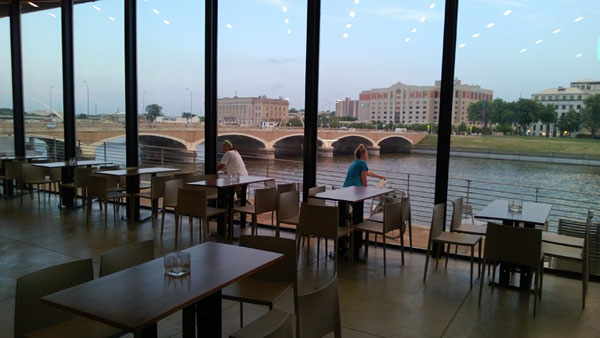 The Hub Spot is home to artist Jun Kaneko's "Dangos" ceramic sculptures and "Expansion" mural. Five signature "Dangos" located in the west plaza stand about 7.5 feet tall and resemble vases with bold glazed patterns. Kaneko's "Expansion" across Court Avenue is a blown glass mural that measures over 15 feet high and 21 feet wide. The patterns of vivid colors illuminate at night with over 39,000 LED lights. 
TIP: Check out the Greater Des Moines Public Arts Foundation for an informative website and walking app for downtown art installations!
Located between Walnut and Court Avenue on the west bank of the Des Moines River, the Hub Spot sits in the epicenter of Downtown Des Moines and within walking distance of major destinations, including Court Avenue, Historic East Village, Wells Fargo Arena and downtown hotels.
TIP: If you are bringing a group to the Hub Spot, call ahead to see if a private event is planned. If you get there and find a private event, there are many bars and restaurants within the nearby Court District or Historic East Village.

General Info:
Address: 215 Water Street, Des Moines
Phone: (515) 883-2628
Adjacent to Central Iowa trails system with multiple bike racks
Street parking is available on adjacent streets and bridges
Skywalk access is within one block (either at the Polk County Office Building or Third Street Parking Garage)
Dogs are welcome on outdoor patio
Well-maintained bathrooms located on the lower level (accessible via the trail)
Wi-Fi also available
Whether art lover, cyclist, craft brew drinker or dog owner—you're sure to find something to enjoy at the Hub Spot!