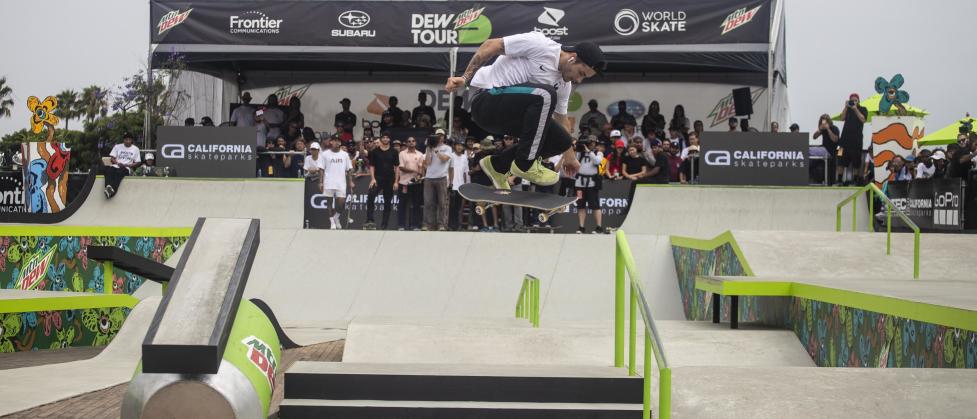 In Dew Moines for the Dew Tour? Check out the information below for ways to be part of the action all week long! 
How to watch in person
Many days are sold out but be sure to follow @DewTour in case they release more tickets. 
Schedule of Events
You can find a full schedule of events for the Tour. You can also find the schedule within the Dew Tour App, so be sure to download that! 
Livestream Info
The Dew Tour in its entirety will be live streamed on DewTour.com, Facebook Live, YouTube and other major platforms for a total of 25+ hours of LIVE video. 
Skatepark Info
Lauridsen Skatepark is located in the heart of downtown Des Moines on five acres at the northern edge of the Principal Riverwalk and just east of Wells Fargo Arena and Iowa Events Center. Designed by California Skateparks, Lauridsen Skatepark is an attractive extension of the city's beautiful Principal Riverwalk. The Lauridsen Park course design is consistent with professional-level park course venues, such as those on the Vans Park Series world tour and is capable of hosting amateur through world-class professional events.
Broadcast Schedules
Portions of the Dew Tour will be broadcasted on NBC. The first airing will be on May 29, 2021 from 2:00pm - 3:00pm ET. The next airing will be on July 11, 2021 from 12:00pm – 1:00pm ET.
How to enjoy if you don't have tickets
These Des Moines favorites will all be streaming the Dew Tour all weekend long. Keep your eyes out for other specials and events as well!
• Exile Brewing
• Lua Brewing
• Peace Tree Brewing
• Gas Lamp
• 300
• Court Avenue Brewing - they will have a new beer available inspired by the Dew Tour - The OLLIE is a Berliner Weisse-style sour rested on blueberry, Meyer lemons and granola. Plus, $1 for every crowler and pint sold going to Skate DSM, the charitable arm of the Skatepark.
• Buzzard Billys
• The Iowa Taproom
• Truman's KC Pizza Tavern and Rita's Cantina - Housed right next door to each other, both restaurants will be live streaming all weekend! Grab a pizza or a margarita and don't miss a second of the competition.
• el Bait Shop
• The High Life Lounge
• Hessen Haus
• The Royal Mile
• Fong's Pizza
• Coa Cantina - They will be livestreaming the Dew Tour on a 14' X 9' screen outside as well as on all the TVs inside. 
Who to Watch
With athletes of all ages competing, the Dew Tour is sure to entertain. We've rounded up a few athletes to keep your eyes out for. 

Sky Brown: Sky is a 12 year old with dual citizenship in Japan and Great Britain. She has been skating and surfing since the age of two, and will be one of the youngest competitors of the tour. Not only is she an extremely competitive surfer, but she also was the first winner of Dancing with the Stars: Juniors.
Yuto Horigome: Currently ranked second in the world, Yuto Horigome is someone to keep an eye on leading up to Tokyo. As someone still pretty young, he has already gotten the attention of April skateboards, Nike SB and more. 
Nyjah Huston: As the defending Dew Tour champion, Nyjah has his eyes set on qualifying for Tokyo. At just 11 years old, he was competing in the X-Games and hasn't slowed down since.