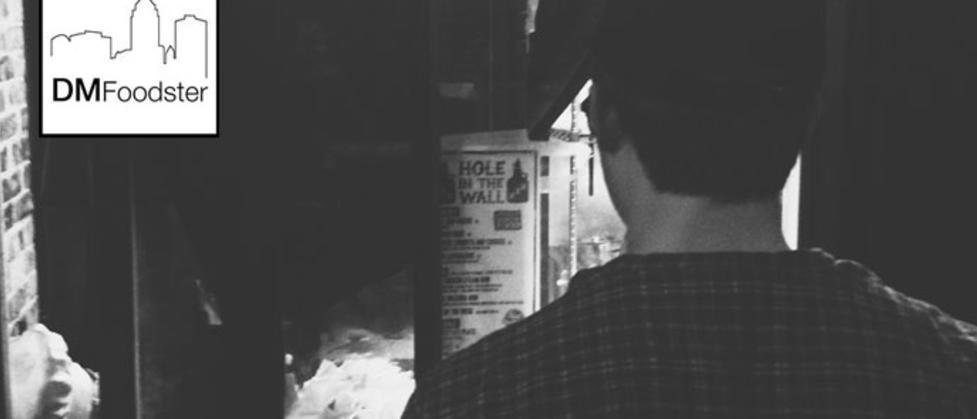 There's a stereotype these days that good food only gets served in high-class atmospheres. What most people don't realize is that you can find the classiest delicacies served in paper boats and styrofoam bowls. Don't judge a book by its cover, or in this case, don't judge an entree if it comes from the Hole in the Wall (literally). Great taste doesn't have to come on a great plate. What matters more is what is in your paper boat. Living up to its name, this place is off the grid but definitely a pin you need to put on your summer food map.
This little place with mighty flavor that I'm talking about is located on 15th street and Grand Avenue in downtown Des Moines.
Don't blink or you'll miss it, let your nose guide you.
You have the option to eat and order in Gas Lamp or you can order from the window on the street.
Most of the time I've ordered from inside because it's too cold but when it's nice out, you get to eat out on the sidewalk with a sculpture garden view and the Principal building peeking over the skyline.
The best time is the summer nights when it's hot enough you can eat off of TV trays while sitting in white, plastic, lawn chairs.
Each time you visit it's a unique treat. There are some standard options like mac and cheese and bologna sandwiches but they are prepared in the most un-basic way.
The mac and cheese isn't just simply Kraft from a box, it is a mildly tangy blend of pure muenster cheese topped with squash puree and garnished with swiss chard. The bologna is not just a bunch of bologna. Zach, the one of a kind master chef, make his own style with -get this- beef rib-eye. Add that to a soft, steamed tortilla-like bun and you're in for something that will rock your taste-buds.
On any given night there will be a weekly hot plate and a bun of the week. A hot plate I've enjoyed there before is bay scallops (from Nantucket) with La Quercia (from Norwalk), prosciutto, fennel puree, fried fennel fronds, coupled with apples and daikon salad. All of those ingredients were then tossed in a lemon thyme vinaigrette. 
Zach can whip up some pretty impressive desserts too. One of the most memorable desserts was a Twinkie. No, not just from the wrapper, but a homemade one that featured: Mint Bavarian cream, bourbon condensed milk, whiskey snow, dehydrated apples, applesauce, and whiskey spritz. The actual Twinkie is their own version, which is angel food cake with house-made marshmallow cream. Don't forget, you're eating this at a dive bar.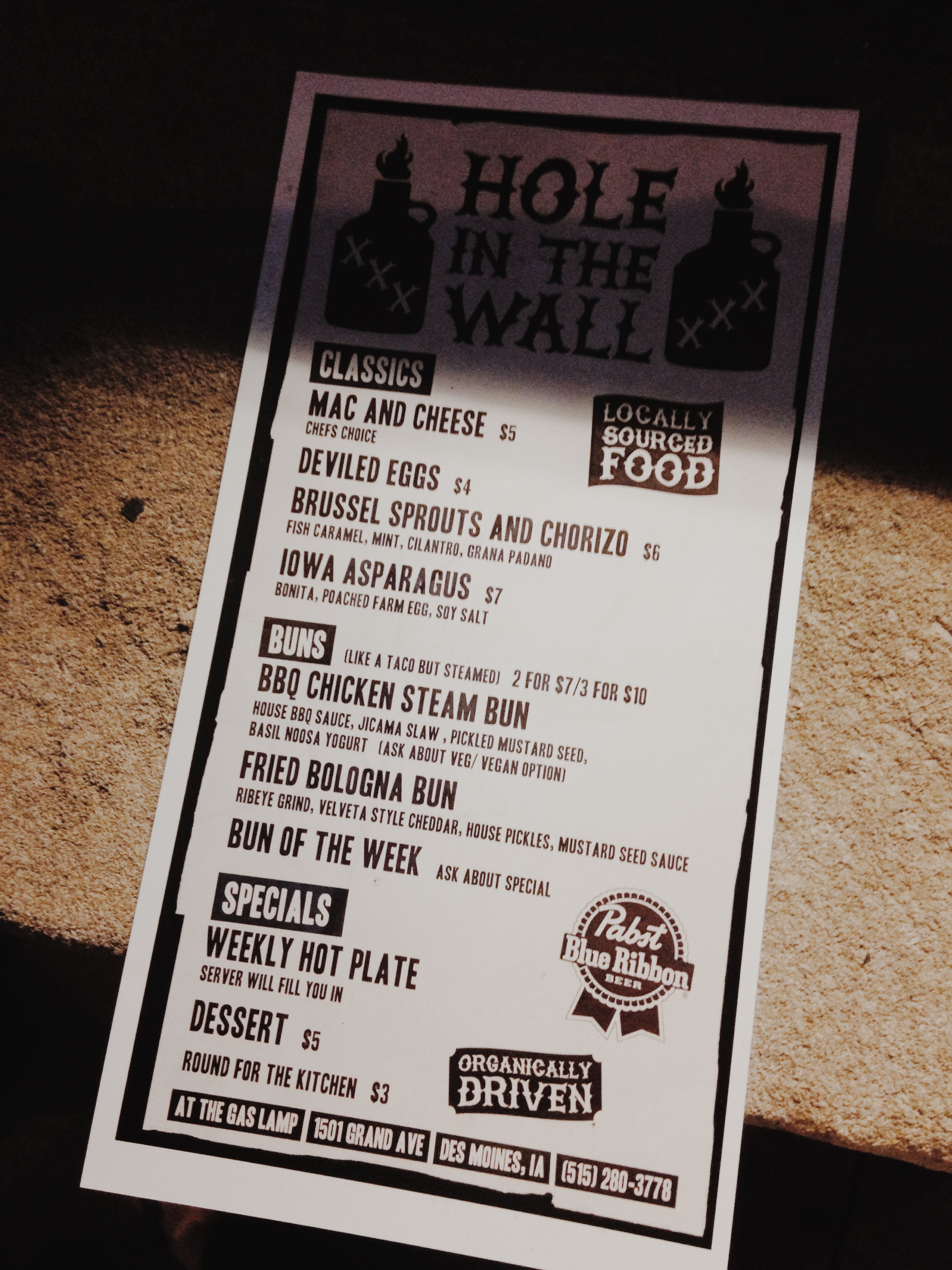 This is just a preview to something you can only truly capture with your own taste buds. I do believe that this is Des Moines' best-kept secret for eating great food. If you care about what you eat, love getting off the beaten path, and want to experience the most creative, primitive DSM chef then you should visit on your next food outing. Actually, why not make it tonight? It's not like your frozen pizza or second night of take out this week has any chance of beating this.
Hole In The Wall
1051 Grand Ave.
Hours: 6 p.m.-2 a.m. Tuesday, Thursday through Saturday.

Nick Lucs
Owner, Des Moines Foodster
Follow Nick on Twitter: @nicklucs & @dmfoodster