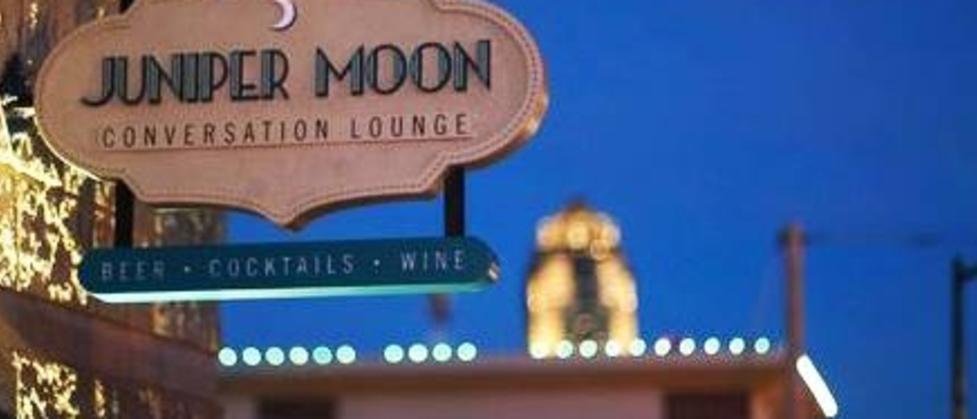 I was extremely fortunate over the weekend to hit up Des Moines' newest and "sexiest" bar, Juniper Moon. Located in the Ingersoll District, across the parking lot from Gusto Pizza (same owners) it is definitely the new hot spot in Greater Des Moines.
My fiancé and I showed up around 9:30 on a Friday night and the bar was packed, shoulder to shoulder. I'm not one to go "out" anymore and frequent the bar scenes in Des Moines (I prefer happy hours at the local establishments and, be in bed by 10 p.m., if we're honest), but as a birthday celebration, I felt obligated and why not check out the newest, hippest bar? I had to see if this place lived up to all the recent hype!
Upon our first steps in the door, I could already tell that this was the place to be. It had a very swanky vibe, with dark colors on the wall, low industrial light fixtures hanging from the ceiling and exposed ductwork. The bar was separated by a short wall, with tall cocktail tables lined up against it. The other side has lounge furniture with tables, perfect for casual conversation or board games (Didn't bring your own? They have you covered, check out the cabinet by the bar for your all-time favorites). The tall windows gave light to a new patio that I guarantee will be packed once the winter blues melt away. Not to mention the phone booth in the corner by the bar. Just shut the door and order your favorite Gusto Pizza and have it hand delivered by the crafty guys/girls next door!
As I get into my wiser years, I'm becoming more of a wino and Juniper Moon's drink menu hits the spot. It has just enough choices for craft cocktails, beer and a great wine list that doesn't overwhelm you but gives a little bit of something for everyone, no matter what you're craving. This particular night, I opted for the fan favorite, Moon Mule, which entailed Ciroc Peach Vodka, Amaretto and Barritts Ginger Beer. It took all I had to not chug it on the spot, because it was THAT delicious. My fiancé opted for the Ingersoll Manhattan which included cherry infused Old Forester Whisky, Sperone Sweet Vermouth and Black Strap Bitters. I heard nothing but praises from him.  There is also a munchie and "happy ending" dessert menu to check out. I hear the Butterscotch Bread Pudding is to die for.
Unfortunately, since we arrived at peak bar time, we had to stand in the hallway by the coat hooks and Des Moines mural, which I, the optimistic person I am, found extremely entertaining. Along the walls to the bathroom are several frames of old-school Des Moines pictures, circa 1950, if I were to assume.  You could tell the thought behind the creation of this place was all-inclusive, showcasing Des Moines in an earlier time, while still showcasing the swanky, spunk Greater Des Moines currently has to offer.  Plus, did I already mention you can order Gusto Pizza from a phone booth? That literally is the cheese on top! (See what I did there?)
To take a quote from their website, "a place where deals are done. Where Fitzgerald toasts Gatsby over classic cocktails for the modern person. Where companions raise a glass of craft beer forged by American hands. Where love is bolstered, sharing a worldly boutique vintage. Where life is the celebration and every day is special at the Juniper Moon." Owners Josh Holderness, Anthony Lemmo, Joe McConville and Daniel Smith. Thank you for adding this amazing place to our restaurant/bar scene. Those of you visiting Des Moines, make sure you catch this swanky new bar, it's one you won't want to miss.
Cheers!
-Jen
***Thank you to Juniper Moon for the use of photography from their
Facebook Page
.